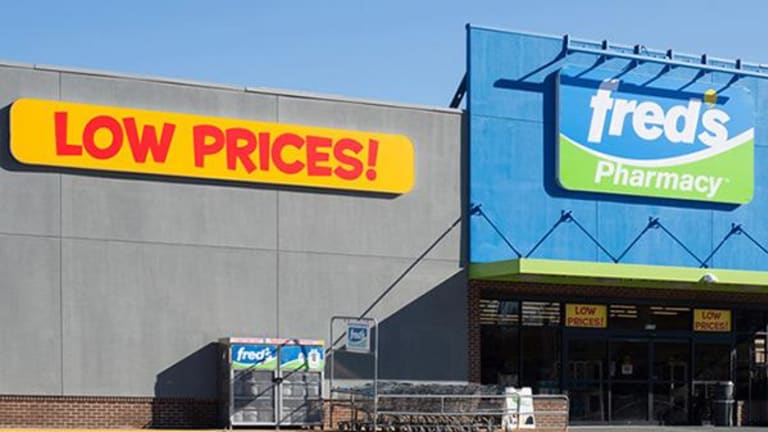 Drugstore Chain Fred's Deal Looks Promising, but Investors Should Be Cautious About the Stock
The company announced Tuesday that it would acquire 865 Rite Aid stores, but its recent earnings report was mediocre.
With the announcement last Tuesday of its acquisition of 865 Rite Aid stores, Fred's (FRED)  has hit the national spotlight. If the purchase meets regulatory and other concerns, Fred's would become the country's third largest drugstore retailer. 
But the Memphis, Tenn.-based company is not a great investment unless you're willing to take a chance on its long-term prospects. Fred's, which was founded in 1947, has not reported stellar earnings, lately, and it faces activist pressures. 
Fred's owns about 650 stores in 15 Southern states selling pharmaceuticals, personal care products, cosmetics and food. Last year, the company's revenue was about $2.2 billion.
The Rite Aid deal has a back story. In October 2015, mega-retailer Walgreens Boots Alliance signaled its intention to purchase Rite Aid in a deal worth $9.4 billion. However, the Federal Trade Commission expressed antitrust concerns about the acquisition. Rite Aid needed to shed some of its stores and Fred's was a willing buyer.
This will more than double Fred's current store count and make the company one of the largest drugstore chains in the U.S. The terms of the deal haven't yet been disclosed, but Raymond James analysts estimate that Fred's will pay roughly $1.1 million for each Rite Aid store.
"This will be a transformative event for Fred's Pharmacy that will accelerate our healthcare growth strategy," said the company's CEO, Michael Bloom. That strategy is pushing Fred beyond its old roots as a five-and-dime. Although the company operates 650 stores, only 370 contain full-service pharmacies. The goal is to make Fred's a chain on par with Walgreens, rather than just a discount store a la Dollar General.
Helping to push this initiative is Fred's new CFO, Rick Hans, who joined this year after a more than 25-year tenure at Walgreens. While at Walgreens, Hans was a real estate executive who helped the company open more than 250 locations.
Fred's is also being pushed along by activist hedge fund Alden Global Capital, which reported on Thursday that it owns a nearly 25% stake in Fred's. The retailer's largest shareholder, Alden Global Capital reported that it will enter talks with the company's management to discuss its performance and strategic plans going forward.
Investors were more than pleased with the news. Shares skyrocketed nearly 85%. Year to date, Fred's is up by just under 23%.
Still, that increase seems based more on potential than performance, which has been mediocre. During the third quarter, Fred's recorded a net loss of $38.4 million, or $1.05 per share, versus net income of $1.4 million, or 4 cents per share, in the third quarter of last year. Most of these losses were attributable to recorded charges of $38 million, or 78 cents per share, related to inventory write-downs as Fred's closed underperforming locations.
To be sure, bricks-and-mortar retail is a big gamble in the days of e-commerce's ascent.
But discount-style retailers have done better than others in the space. It's worth watching Fred's. The company may be a good buy for the long term.
---
85% Accurate Trader gives his Personal Guarantee: "Give Me 9 Minutes a Week and I Guarantee You $67,548 a Year."
What if I told you I know a way you can see a $67,548 per year - or more - in profitable trades just by following this simple step-by-step process? The trader who is sharing this secret has been right more than 8 out of 10 times, turning $5,000 into more than $5 million for himself. Click here to see how easy it is to follow his lead and collect thousands of dollars in "Free Money" every month.
The author is an independent contributor who at the time of publication owned none of the stocks mentioned.