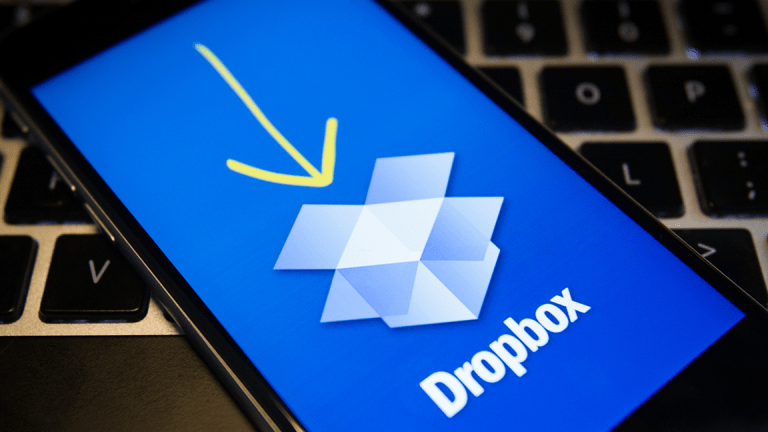 Dropbox Raises Offering Range, Looks Poised to Have a Robust IPO
The cloud storage provider has done a good job of fending off larger rivals, as its revenue and cash-flow growth makes clear.
The last couple of years have seen many cloud software and services firms turn in strong IPOs. There are plenty of reasons to think that Dropbox is about to join the list.
Dropbox, which is going public under the symbol DBX, raised its initial IPO price range by $2 to a range of $18 to $20 this week. After accounting for outstanding stock options and restricted stock units (RSUs), that spells a valuation of $8.2 billion to $9 billion. The cloud storage/file-sharing platform is looking to raise $576 million to $648 million by selling 36 million shares.
The company set a final price of $21 Thursday evening, above the projected range, with shares ready to begin trading on the Nasdaq on Friday.
As many have pointed out, Dropbox is aiming for a lower valuation than the $10 billion valuation it received in a 2014 private funding round. A tougher competitive environment -- particularly for enterprise cloud storage and file-sharing, where Box (BOX) - Get Box, Inc. Class A Report and Microsoft (MSFT) - Get Microsoft Corporation Report loom large -- probably has something to do with this.
But stiffer competition hasn't kept Dropbox from continuing to post strong top-line growth. The company disclosed in its IPO filing that revenue rose 31% last year to $1.11 billion, after having grown 40% in 2016. Paying individual and business users grew 25% to 11 million, and Dropbox's annual average revenue per user (ARPU) rose slightly to $111.91.
This column has been updated from March 13 to note that Dropbox has hiked its IPO price range, and is expected to begin trading on Friday.
Needless to say, Dropbox's core services remain quite popular with consumers and small and mid-sized businesses (SMBs). The company, which provides users with 2GB of storage through its free service, and larger amounts via paid individual and business plans, reports having over 500 million registered users, up from 300 million in May 2014. The company hasn't disclosed what percentage of those registered accounts are active, however.
Dropbox's focus on speed and simplicity have helped it to keep growing even as the likes of Microsoft, Alphabet/Google (GOOGL) - Get Alphabet Inc. Class A Report and Amazon.com  (AMZN) - Get Amazon.com, Inc. Report have moved to offer larger amounts of free storage and cheaper paid plans, and promoted their cloud storage offerings to their massive user bases. Easy-to-use collaboration and file-sharing tools have also helped Dropbox's cause, and so has a vibrant ecosystem: The company's services now integrate with dozens of popular business and productivity apps, including ones from Microsoft, IBM (IBM) - Get International Business Machines Corporation Report , Adobe (ADBE) - Get Adobe Inc. Report , Slack, Atlassian (TEAM) - Get Atlassian Corp. Plc Class A Report  and Autodesk (ADSK) - Get Autodesk, Inc. Report . An integration deal with Salesforce.com (CRM) - Get salesforce.com, inc. Report was just announced.
Jim Cramer and the AAP team hold positions in Microsoft, Alphabet and Amazon.com for their Action Alerts PLUS Charitable Trust Portfolio. Want to be alerted before Cramer buys or sells MSFT, GOOGL or AMZN? Learn more now.
In addition to boosting Dropbox's value proposition, this ecosystem serves to increase switching costs. If it was possible for tech giants to kill Dropbox's momentum via cheaper services bundled with other offerings, they would've already done so.
Just as importantly, Dropbox, though still reporting net losses due to large depreciation and stock compensation expenses, is now producing healthy amounts of free cash flow (FCF). The company turned cash-flow positive in 2016, and then saw FCF more than double in 2017 to $305 million (27% of revenue).
2017 FCF did admittedly benefit from a low capital spending level of $25.3 million -- capex will likely be higher going forward. But it still makes for quite the contrast with Box, which was hemorrhaging large amounts of cash when it went public in 2015 and needed years to convince Wall Street it had a path to sustained profitability.
Helping Dropbox out: The company's sales and marketing spend, which equaled 28% of 2017 revenue, is relatively restrained. The fact that Dropbox's paid customer base features a large mix of individual and small-business users plays a role here, as does the fact that some of its enterprise traction comes from word-of-mouth rather than salespeople inking deals with CIOs. The company claims 90% of its revenue comes from "self-serve channels."
Dropbox's cash-flow statement has also benefited from strong margin expansion. Even as revenue rose 31% last year, the company's cost of revenue fell 6%. That allowed gross margin (GM) to rise to 67% from 54%; in Q4, Dropbox's GM hit 70%.
This, in turn, has a lot to do with Dropbox's decision to migrate the lion's share of its stored content away from Amazon Web Services (AWS) in 2016. Unlike Snap (SNAP) - Get Snap, Inc. Class A Report , whose reliance on Google and Amazon's cloud infrastructures still places heavy pressure on its bottom line, Dropbox's reliance on a home-grown infrastructure based on commodity hardware helps keeps its costs down. As a 2016 Wired article discussing the migration makes clear, this isn't the kind of thing that many firms with Dropbox's needs can easily pull off.
Even with some capex growth and ongoing operating expense growth, Dropbox's revenue and billings growth leave it well-positioned to keep growing FCF in the coming years. If one is confident that Dropbox can grow its FCF to, say, $450 to $500 million within a couple of years -- and there are good reasons to think it can -- then even Dropbox's elevated IPO price range look pretty reasonable.
Dropbox's IPO does come with a couple of minor concerns attached. One is that the company's top-line growth, though still quite healthy, has been gradually slowing. And as this slowdown has happened, billings growth (26% in 2017) has trailed revenue growth (31% in 2017, and 28% in Q4.
Another concern is that Box and Microsoft's enterprise momentum -- Microsoft bundles 1TB of OneDrive storage with its cheaper consumer and business Office 365 plans, and provides unlimited storage with its most expensive enterprise plans -- limits Dropbox's addressable market.
Though the company says 56% of Fortune 500 companies contained at least one "Dropbox Business team," it also reports that only 30% of its paid users are on Dropbox Business team plans. Another 50% are said to use Dropbox for work via individual plans; the other 20% are presumably consumers using Dropbox for other purposes. If Dropbox ever decides to seriously challenge Box and Microsoft in the enterprise, it will have to significantly up its sales and marketing spend to do so.
That said, judging by its registered user count, Dropbox still has meaningful headroom to convert active users of its free service to paid plans. And the numbers shared in its IPO filing suggest the company can reap healthy cash-flow margins (and eventually, profit margins, too) while doing so.
Throw in a a powerful ecosystem, good customer loyalty and conservative IPO pricing, and you have the makings of a strong public debut.