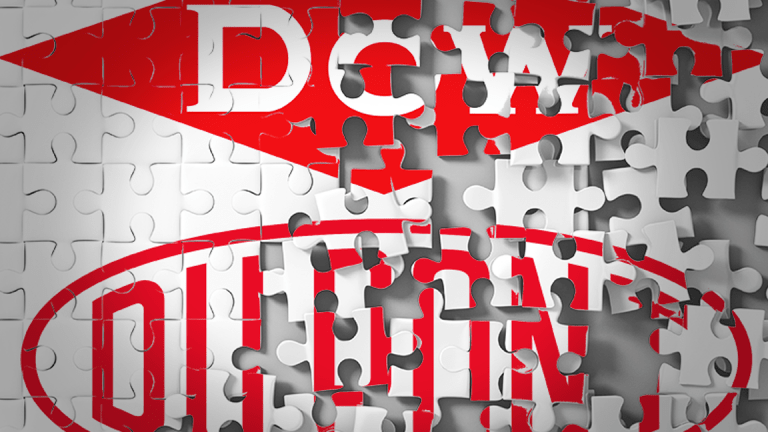 The threat of a global slowdown looms, due mostly to tough trade negotiations between the U.S. and China. And as usual, markets price stocks with the forward valuations in mind.
Already, resource stocks are down in anticipation of slower economic activity ahead. Some companies tried to head off the decline in stockholder value by splitting up their units to realize the value of the parts. DowDuPont undefined split off Dow on April 1 but its shares keep falling. Why?
Cost Synergies and Share Repurchases
DowDuPont realized an additional $400 million in cost synergies in the first quarter that it did not expect. Since the initial $130-billion merger of chemical giants Dow Chemical and DuPont in 2017, the companies found $2.2 billion in savings. It also bought back $1.6 billion in shares in Q1 to bring the total buyback to $3 billion. On Wednesday, however, DowDuPont announced it was taking a $800 million to $1.3 billion non-cash write-down, due to slow demand and a weak market for its biomaterials and U.S. bioethanol businesses.
In the current second quarter period, the company will spin off Corteva, its agricultural business, set for June 1. The reverse share split at between not less than 2-for-5 and not more than 1-for-3 is also scheduled for June 1. Even though the reverse split will do nothing to enhance shareholder value, spinning out Corteva might unlock the stock's total value for suffering investors. Yet shares dropped 17% in the last month because the company is not cutting costs fast enough to outpace falling revenue.
DowDuPont's revenue fell 9% from last year to $19.6 billion and EPS fell 25% to $0.84. The company faced worsening margin pressure in the Dow business as it suffered when sales related to smartphones and autos slowed. Specifically, the smartphones market comprised approximately 25% of Electronics and Imaging sales. Management did not blame a slowdown in China for its shortfall in the last quarter, but looking ahead, the stimulus package in China is a potential catalyst for reigniting growth in the region. This would imply a second-half recovery, while still assuming the trade tensions do not yet get resolved.
Weather-related trouble, such as the effect of weather on the U.S. Corn Belt, hurt Corteva's performance, so favorable weather conditions would help Corteva rebound. To offset the possibility of unfavorable weather continuing in the second half of the year, the unit will turn its focus towards higher-priced, higher-margin products while continuing to realize cost synergies.
Investment Opportunity
Weak demand for high-end smartphones may continue to hurt DowDuPont's electronics business. OLED and 5G are two major features that could lead the recovery. Similar to other companies reliant on this market, the company expects product upgrades to drive demand in the second half.
The Display Technologies unit once again offset the company's overall weak performance. Volumes grew in the double-digits percentage in the first quarter, led by demand from China.
Net sales from the Safety and Construction unit grew slightly, with operating EBITDA improving from 27.3% last year to 31.1%. Year-over-year revenue from both Transportation and Advanced Polymers and Nutrition and Biosciences did not change by much. Lower demand hurt the performance of both units. Investors should not expect much of a recovery unless the global economy picks up.
"We are bullish on shares of DWDP as we approach the coming breakup into now two separate companies and believe this is the main catalyst to watch in 2019," write the team at Jim Cramer's Action Alerts Plus portfolio, which owns DowDuPont.
Outlook
DowDuPont expects flat revenue growth for the full year and operating EBITDA falling slightly. This uninspiring outlook is despite the forecast for auto builds rising 4% and global smartphone deliveries rising 2%. China accounts for20% of its Auto and Smartphone portfolio but management is not lowering its outlook even as the Chinese economy slows. Customers in the region have already largely completed their inventory draw-down. Chances are good that demand will recover from there.
The rebound in smartphone and equipment demand due to the implementation of 5G this year is another positive catalyst. DowDuPont is not getting left out of this market as it offers connectivity solutions to customers. It invested significantly in R&D, with the opening of another innovation as an example of such efforts.
Risks
DowDuPont's exposure to the agriculture business could drag on overall results. Revenue from the Crop Protection unit netted $1.4 billion in Q1, down from $1.5 billion last year. Sales from Seed also fell from $2.3 billion to $2 billion. Although the company blamed the weather, local price increases failed to offset the drop in revenue. More likely, agricultural products are often hurt when the economy weakens. This is a headwind that may continue to persist in the near-term.
Despite the weak Q1 results from agriculture, DowDuPont forecast full-year revenue growing flat Y/Y, with organic net sales up in the low-single digits percent.
Valuation
Based on 12 analysts covering DWDP stock, the average price target is $43.83. With the stock closing recently at $31.08, the stock has a potential upside of 41% (per Tipranks). The pessimistic investor may use a 5-year DCF EBITDA Exit Model and assume revenue only grows in the single-digits annually at best. In that scenario, the fair value of the stock is around $28.
The Bottom Line
DowDuPont dipped suddenly in the last month, potentially due to nervousness over the reverse share split. More likely, markets are over-reacting to the unusually weak first-quarter report. This creates an opportunity for investors who are willing to bet that the next quarter and the full year results will improve from here.
DowDuPont is a holding in Jim Cramer'sAction Alerts PLUS Charitable Trust Portfolio. Want to be alerted before Cramer buys or sells DWDP? Learn more now.
As of this writing, the author did not hold a position in any of the aforementioned securities.