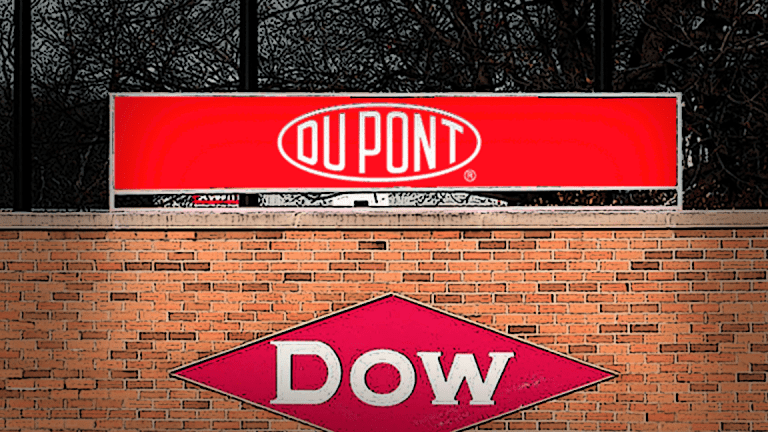 DowDuPont Is Worth At Least 25% More
The market may need to start showing DowDuPont some love after a 6.5% decline this year. In short, the stock could be too cheap to ignore.
Look closely and you will slowly see a bullish case for DowDuPont's stock emerging after a 6.5% tumble this year.
"DowDuPont is one of our top chemical stocks owing to: (1) optionality of revenue synergies, (2) projects ramping in Materials Co. (Dow Chemical) and strong product backlog in Ag Co. (Corteva), (3) CSe upside to current cost synergy targets; about $35 billion procurement opportunity underappreciated, and (4) portfolio optionality," says Credit Suisse analyst Christopher Parkinson, who put the industrial giant's stock on his "Top Pick" list on Monday. Parkinson added, "We view Specialty Co. (DuPont) as having multiple avenues for value creation including sales/acquisitions prior to the spin."
Also bullish: DowDuPont CEO Ed Breen is putting his money where his mouth is after a strong second quarter.
Breen purchased 29,580 more shares of DowDuPont at $67.61 according to a new regulatory filing on Aug. 8. The purchases increased Breen's ownership to 364,232 shares.
DowDuPont said adjusted non-GAAP earnings for the three months ending in June rose 41% to $1.37 per share, topping the consensus forecast of $1.30. Net sales rose 17% to $24.2 billion, with volumes and local price gains recorded across all of its divisions and regions.
The group said it sees third quarter sales rising 10% and operating earnings rising 12% even as it cited "discrete" headwinds related to currency movements and higher raw materials costs.
"Volume growth, local price gains and operating margin expansion were the key highlights, reflecting a clear focus from the businesses on execution," said Breen. "Our new product launches are resonating with customers, resulting in strong demand across each of our targeted end-markets. These are indicators that our three divisions are making a difference in the marketplace and for shareholders."
"We have great momentum and our employees are enthusiastic about the future of our intended industry-leading companies," he added.
Jim Cramer Says
"Overall, it was a very solid quarter for the company. While the earnings outlook is tempering excitement, we believe that three months of now that guidance may prove conservative due to the synchronized growth across the company's end markets and the robust synergy targets. Furthermore, with the Form 10s quickly approaching, we reiterate that the company's label that it is in a "boring period" is coming to a close. Once that overhang is lifted, we think the stock will be able to break out of it the trading range it has become victim to because investors will embrace the company's above market comp performance, operating margin expansion, and the stock's cheap valuation."
Here's what else Jim Cramer is saying about Action Alerts PLUS holding DowDuPont.