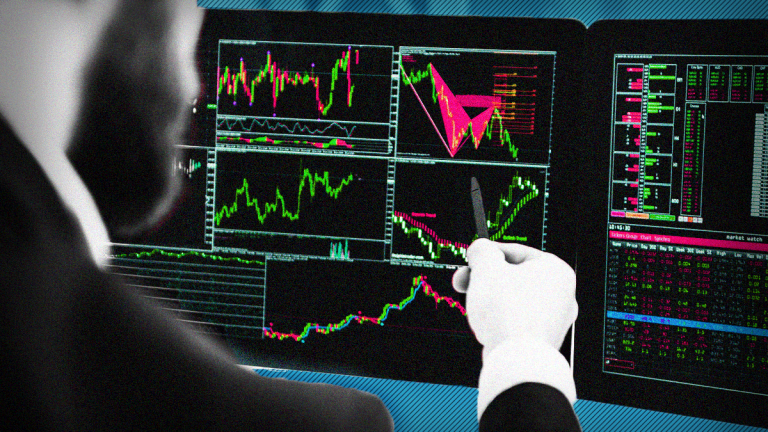 Dow Utilities Hitting All-Time High Can Precede Recession -- But Not Always
The past several recessions have been preceded by all-time highs in utilities. But it's not a sure signal.
The Dow Jones Utilities Index just hit an all-time high. And that might mean a recession will follow on.
The index on Friday morning hit 845.65, up 18.6% year to date, a gain exceeding the S&P 500's 16% advance. 
Almost every recession in the past several decades has been preceded by a runup in utility-stock prices, analysts say.
In early December 2007, the index hit a record 539, the same month of the peak of that expansion, just before the recession that lasted until June 2009. In early November 2000, the Dow Utilities index reached 393, a few months before the recession that began in March 2001. In early January 1987, the index hit 222, less than a year before stocks crashed that October. A recession hit in July 1991.  
And after reaching those record levels, utility stocks tend to fall hard as the recessions kick in.
Most recently, the index fell 38% from its 2007 peak of 539 to 334 in April 2009. It fell 52% from its 2000 high of 393 to 187 in October 2002. And it lost 20% from 222 in January 1987 to 187 in December of that year. 
But utilities are largely seen as a defensive sector, with demand unaffected by the economic cycle. And that begs the question of why they look to be so boom-bust around recession times.
At a quick glance, it may seem more intuitive that cyclical stocks like industrials, materials and consumer discretionary would show these stock movements -- and they do.
There are several reasons for the trend in utilities.
Stocks Are Anticipatory  
First, the stock market tries to price in outcomes before they happen. That means when investors expect a recession is around the corner, they'll seek shelter from cyclicals and pile into defensive stocks, which drives up utility-stock prices.
"Equity markets are a leading economic indicator," said Mike Loewengart, vice president of investment strategy at E*Trade. "You try to skate to where the puck is going to be, not where it's been."
As for utilities' defensiveness, the average company in the third quarter will see earnings contract 3%, while utility companies will see earnings grow 4%, according to FactSet. 
This then raises another question: Why do utilities plummet after they run up pre-recession? 
The stock market tends to be oversold or overbought in its bear and bull modes. And when investors pile into defensive utilities before a recession hits, they're just as likely to sell utilities when the recession hits and stock prices across the board plummet, creating bargain opportunities.
"As you hit the bottom of the market, the upside risks tend to outweigh the downside risks, and you want to pick up more beta and more risky stocks," said Michael Reynolds, investment strategy officer at Glenmede, which has roughly $42 billion under management.
There is "more opportunity to rotate out of defensive stocks and into stocks with a higher risk profile -- you see this with big market moves."
Search For Yield 
Along with the effort to preserve capital ahead of a stock market sell-off and ahead of recession, investors look for yield.
Utilities are often seen as a bond proxy, with their consistent dividend payments from stable earnings. But the quest for yield has arguably never been more intense than it is now.
The 2008 financial crisis brought about a global recession that preceded a slow and meager recovery.
As inflation has been muted worldwide, so have interest rates. Safe government paper in many European economies yield negative interest rates. The U.S. 10-year treasury yield sits at around 1.6%, as bond investors price in more rate cuts amid fears of another recession. 
Now, investors looking for premium real yields are pivoting into utility stocks, as seen by the Dow Utilities Index's outsized 2019 gain. "People are looking for alternatives for yield," Reynolds said. "For some people, negative yield is no option." 
Loewengart agrees. The move into utilities "is for the search for yield," he said. "They are seeking out income first because interest rates were being held at zero. I think it's really in response to the extraordinary monetary policy." 
Con Edison (ED) , for example, a Dow Utilities component, currently pays a dividend that yields 3.36% to its current stock price, far better than most government bonds. 
Record Highs in Utilities Don't Always Indicate Recession
Still, the Dow Utilities Index has hit all-time highs amid economic expansions. 
In January 2015, which proved not to be the end of the current expansion, the index hit a record 637. In August 2005, the index hit 401, a record at the time. That was even before its next all-time high in 2007. 
A DJU all-time high is "not a [fool-proof] indicator that recessions are imminent," Loewengart said.