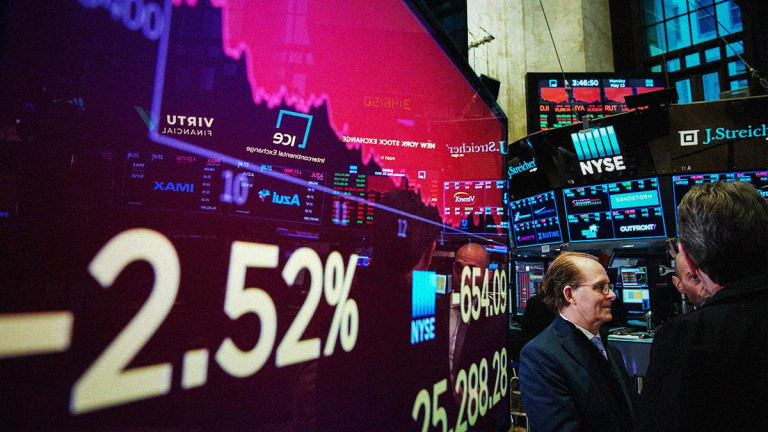 Dow to Test Record Highs, S&P Poised for 3,000 Open as Rate Cut Rally Extends
U.S stocks look set to open at fresh record highs Thursday as investors extend their market reaction to Federal Reserve Chairman Jerome Powell's testimony on Capitol Hill yesterday that rekindled hopes of deeper near-term rate cuts.
The Thursday Market Minute
Global stocks bounce higher as investor rekindle bets on deeper Fed rate cuts following dovish Powell testimony to Congress yesterday.
Dow futures suggest a fresh intra-day high for the benchmark at the opening bell, while the S&P 500 is slated to open north of the 3,000 point threshold.
CME Group futures prices suggest a 27% chance of a 50 basis point cut after Powell said the Fed would "act appropriately" to slowing growth and inflation signals.
Global oil prices extend gains as storm Barry heads towards the Louisiana coast, forcing U.S. drillers to shutter rigs and platforms as the Governor declares a state of emergency.
Market Snapshot
U.S stocks look set to open at fresh record highs Thursday as investors extend their market reaction to Federal Reserve Chairman Jerome Powell's testimony on Capitol Hill yesterday that rekindled hopes of deeper near-term rate cuts.
Powell told lawmakers on the House Financial Services committee that slowing global manufacturing growth, tame inflation readings and the lingering U.S.-China trade dispute were all having an impact on business confidence and investment.
If continued, he said during his first of two sessions before Congress that continues later today, near-term growth and inflation levels could slow further, and thus there could be some merit in an "insurance" rate cut in order to prevent those conditions from developing further.
"Based on incoming data and other developments, it appears that uncertainties around trade tensions and concerns about the strength of the global economy continue to weigh on the U.S. outlook," Powell said. "Manufacturing, trade and investment are weak all around the world ... we have agreed to begin discussions again with China, and that is a constructive step. It doesn't remove the uncertainty."
Wall Street futures suggest investors are ready to print new all-time highs, with the prospect of a softer-than-expected inflation reading at 8:30 am Eastern time providing a potential extra boost, with contracts tied to the Dow Jones Industrial Average suggesting an 106 point gain that would take the benchmark close to its peak of 26,983.45 points from yesterday's session.
Contracts linked to the S&P 500 are indicating a 8.4 point advance that would take the broadest measure of U.S. stocks back past the 3,000 point threshold to a fresh all-time high while the Nasdaq Composite, which closed at a new peak of 8,202.53 last night, is forecast to rise by around 30 points.
Delta Airlines Inc. (DAL)  shares were an early market mover, rising 2.1% after the carrier posted stronger-than-expected second quarter earnings Thursday, and lifted its full-year profit guidance, as non-ticket and premium product revenues boosted topline growth.
Bed Bath & Beyond (BBBY) shares, however, were indicated sharply lower after the home retailer posted stronger-than-expected first quarter earnings but cautioned full-year profits and sales would be at the lower end of previous guidance.
Critically, Powell's assessment of the trade impact on growth, investment and inflation was echoed yesterday by the European Commission, which downgraded Eurozone growth forecasts -- as well as its assessment of consumer price gains -- citing the heightened uncertainty linked to U.S. trade policy.
Collectively, those views have not only revived bets on a 50 basis point rate cut from the Fed later this month -- CME Group futures are pricing in a 27% chance, compared to just 2.5% before Powell's testimony yesterday -- but also the prospects of near-term easing from the European Central Bank as well.
Minutes from the ECB's June 6 rate decision, which noted there was "broad agreement that, in light of the heightened uncertainty, which was likely to extend further into the future, the Governing Council needed to be ready and prepared to ease the monetary policy stance further."
That has both the euro and the U.S. dollar on the back foot in early European trading and is also adding renewed downward pressure on benchmark government bond yields, with 10-year Treasury notes marked at a yield of 2.05% and similarly-date German bunds, a proxy for risk-free interest rates in the Eurozone, trading at -0.311%.
The Stoxx 600 benchmark bumped 0.13% higher by mid-day of trading in Frankfurt while Britain's FTSE 100 rose 0.27% on the back of basic resource and energy stocks gains.
Overnight in Asia, stocks bounced firmly higher as the dollar index, which tracks the greenback against a basket of its global currency peers, retreated and bullish sentiment advanced, helping the MSCI Asia ex-Japan index gain 0.75% into the close of the session while the Nikkei 225 in Tokyo jumped 0.51% to close at 21,643.53 points.
Global oil prices extended gains overnight, as well, taking U.S. crude prices to a five-week high as drilling in the Gulf of Mexico evacuated staff in the face of Tropical Storm Barry, which could accelerate to hurricane strength as it heads towards the Louisiana and upper Texas coast.
The upward price surge, which saw U.S. contracts rise 4.5% yesterday, was given further support from data from the Energy Information Administration which showed domestic crude stocks fell by a much-larger-than-expected 9.5 million barrels last week.
Brent crude contracts for September delivery, the global benchmark, were seen 34 cents higher from their Tuesday close and changing hands at $67.35 per barrel in early European trading while WTI contracts for August, which are more tightly linked to U.S. gas prices, were marked 26 cents higher at $60.69 per barrel.