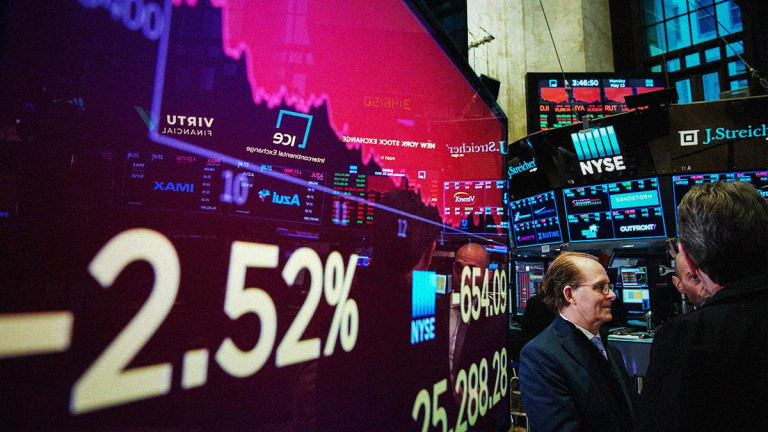 S&P 500 Set for Fresh Record High as U.S.-China Trade Truce Sparks Global Rally
Global stocks roared higher Monday, setting up a the chance of fresh record highs on Wall Street, following a weekend G20 Summit that triggered a re-start in U.S.-China trade talks and a likely agreement on crude production cuts that has oil prices surging past $60 a barrel.
The Monday Market Minute
U.S. equity futures point to fresh record highs on Wall Street Monday following a breakthrough in U.S.-China trade talks and a surge in global oil prices.
President Trump says the U.S. is 'back on track' after agreeing to re-start talks with China, pause fresh tariffs and loosen export restrictions on Huawei Technologies
European stocks book solid gains, led by the trade-sensitive DAX index in Germany, while Japan's Nikkei jumps to a two-month high following the weekend G20 summit in Osaka.
Global oil prices surge as swing producers Saudi Arabia and Russia agree to push for an extension of OPEC production cuts at this week's meeting in Vienna. 
Wall Street futures suggest another set of record highs for both the Dow and the S&P 500, following the best first half gains in more than two decades, with June manufacturing data published at 10:00 am Eastern time.
Market Snapshot
Global stocks roared higher Monday, setting up a the chance of fresh record highs on Wall Street, following a weekend G20 Summit that triggered a re-start in U.S.-China trade talks and a likely agreement on crude production cuts that has oil prices surging past $60 a barrel.
President Donald Trump and China's Xi Jinping agreed to resume stalled trade talks between the world's two biggest economies, while simultaneously pledging not to apply fresh tariffs to either country's imports, following a meeting on the sidelines of the G20 leaders' summit in Osaka.
Trump also said he would loosen restrictions on the shipment of tech equipment to Huawei Technologies while China agreed to buy an unspecified amount of U.S. agricultural goods in return,  although no time limits were placed on any agreement and no schedule for new talks was released by officials from either Washington or Beijing. 
"The quality of the transaction is far more important to me than speed", Trump said later via his official Twitter account. "I am in no hurry, but things look very good! There will be no reduction in the tariffs currently being charged to China."
The trade detente, although lacking in detail and substance, was in many respects the best possible outcome from a weekend summit that included talks on climate, security and host of issues facing the leaders of the world's 20 largest economies. It was also, when set against the impending interest rate cuts from the Federal Reserve, more than enough for investors to pile back into risk markets all over the world.
Early indications from U.S. equity futures suggest a record open on Wall Street, in fact, following the strongest first half start for domestic stocks in more than two decades, with contracts tied to the Dow Jones Industrial Average indicating a 258 point surge and those linked to the S&P 500 suggesting a 32 point advance for the broader benchmark.
The decision to lift some export restrictions place on U.S. tech companies dealing with Huawei, the world's biggest maker of both smartphones and 5G networking equipment, has also lit a fire under the Nasdaq Composite index, which is expected to gain 135 points at the opening bell.  
"U.S. companies can sell their equipment to Huawei. I'm talking about equipment where there is no great national emergency problem with it," Trump said. "Huawei is a complicated situation. We agreed to leave that - we're leaving Huawei toward the end. We're going to see. We'll see where we go with the trade agreement."
Apple Inc. (AAPL) was another notable pre-market gainer, rising 2.75% to $203.37 each, as investors bet the trade detente between Washington and Beijing, and Trump's move to ease restrictions on Huawei, would reduce the chances of reprisal tariffs on the iPhone maker in China, where it generates around 20% of its revenues and sources important components of its supply chain.
Stocks in Asia were also notably stronger across the board Monday, with Japan's Nikkei 225 surging 2.13% on the session to close at a two-month high of 21,729.97 points as the yen eased and regional risk appetite returned following weeks of trade-related indecision. China's Shanghai Composite added 2.14% on the session to close at the highest since April 30 while the tech-heavy CSI 300 rose 2.82%.
European stocks spiked at the start of trading in Frankfurt, taking the Stoxx 600 benchmark 0.9% higher by mid-day, its strongest level since early May, with benchmarks around the region rising more than 1% across the board as basic resource and tech stocks lead the advancers.
Away from equities, the U.S. dollar index, which tracks the greenback against a basket of six global currencies, was marked 0.3% higher from last week's levels as investors pared bets on a 50 basis point rate cut from the Fed later this month and retreated from risk-free positions in gold and fixed income markets in the wake of the G20 breakthrough.
Benchmark 10-year Treasury note yields were seen marked at 2.03% in the early European trading session, while the changes of a 50 basis point rate reduction slipped under 20%, according to the CME Group's FedWatch tool. Traders are still, however, completely pricing in at least a 25 basis point move from the Fed when its meeting concludes on July 31.
Global oil prices were also on the move Monday, sending U.S. crude prices north of $60 a barrel, ahead of OPEC's annual two-day gathering in Vienna, which kicks off later today, and following weekend comments from swing producers Saudi Arabia and Russia that the cartel and its allies will likely extend their agreement on production cuts, which are taking 1.2 million barrels from the market each day, well into the second half of the year.
Brent crude contracts for August delivery, the global benchmark, were seen $1.81 higher from their Friday close in New York and changing hands at $66.55 per barrel in early European trading. WTI contracts for the same month, which are more tightly linked to U.S. gas prices, were marked $1.68 higher at $60.15 per barrel.
Can You Name the Companies Behind These Clever Stock Tickers?