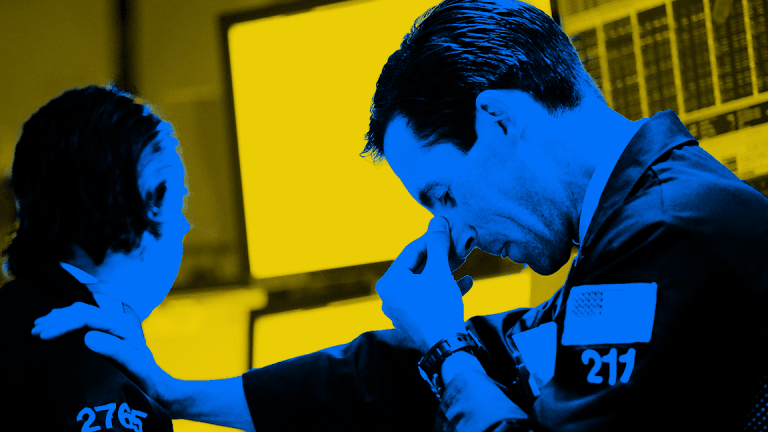 Unreal: If you are trying to recover from the Dow Jones Industrial Average's mind-blowing 1,175-point beating on Monday, Feb. 5, don't bother. Dow futures are under big-time pressure yet again on Tuesday, Feb. 6, after panic on the health of stocks swept throughout overseas markets. TV cameras have descended on Wall Street as mainstream media try to explain to their normal viewers what the hell happened on Monday. More sophisticated investors are still searching for an explanation for the violent plunge in markets, which saw 800 points on the Dow go up in smoke in mere minutes in afternoon trading. Some have pinned the blame on a blown up VIX ETF, others have assigned the selloff to the rise of program trading. Yours truly thinks the real cause of this volatility has yet to surface. Whatever the case, the collective investing world should be learning one valuable lesson amidst the carnage: The Federal Reserve is one of the most unappreciated risks to the market looking out over the next five years. Given the rise in algo trading, one single word from the Fed (in this case words from outgoing Fed chair Janet Yellen over the weekend on stock valuations), which is under increasing pressure to unwind its balance sheet and control inflation, could cause stocks to completely blow up. To be sure, this is disturbing and by no means something appropriately factored into scores of Wall Street models on the world's biggest companies. Hunker down folks, the fun is just getting started ...
What stocks should you be snooping around?: While there is blood on Wall Street right now, this selling won't go on forever. As TheStreet's founder Jim Cramer explained, moments like these are when you should be building a shopping list of stocks. To that end, how can one not be locked and loaded on tech stocks? For example, check out chipmaker Micron (MU) - Get Micron Technology, Inc. (MU) Report . Amidst the destruction on Monday, Micron came out and materially hiked its sales and profit outlooks for the second quarter. This is a company's way of signaling to the markets that the outlook remains healthy and business is on track. It's a company such as this that should be on your shopping list. Elsewhere, a note in my email box from RBC Capital Markets suggested tech names with attractive dividend yields. Action Alerts Plus holding Apple (AAPL) - Get Apple Inc. (AAPL) Report is on the list, but here are several others: "We do think dividend yield should provide attractive downside support to companies. From that perspective, we note the best yields across our coverage universe are at Seagate Technology (STX) - Get Seagate Technology PLC Report (~5%), IBM (IBM) - Get International Business Machines (IBM) Report (~4%), Qualcomm (QCOM) - Get QUALCOMM Incorporated Report (~3.5%), Maxim Integrated Products (MXIM) - Get Maxim Integrated Products, Inc. (MXIM) Report (~2.8%), Intel (INTC) - Get Intel Corporation (INTC) Report (~2.6%), HP Inc. (HPQ) - Get HP Inc. (HPQ) Report (~2.5%), Texas Instruments (TXN) - Get Texas Instruments Incorporated Report (~2.3%) and Western Digital (WDC) - Get Western Digital Corporation Report (~2.3%). We note the S&P 500 is currently at a ~2% yield."
What you DON'T do in this environment: Now is NOT the time to buy stocks of companies with terrible fundamentals on the logic they are just too cheap to ignore. If the stock market is truly signaling something here regarding the global economy in the second half of 2018, the fundamentals of already weak companies will get worse. As a result, the valuations of the companies are likely to get cheaper. Remember, cheap stocks are cheap for a reason. A couple of examples here include General Electric (GE) - Get General Electric Company (GE) Report , J.C. Penney (JCP) - Get J. C. Penney Company, Inc. Report  and Teva Pharmaceutical (TEVA) - Get Teva Pharmaceutical Industries Limited Sponsored ADR Report .
What's Hot
TV Cameras
The morning view down Wall Street.