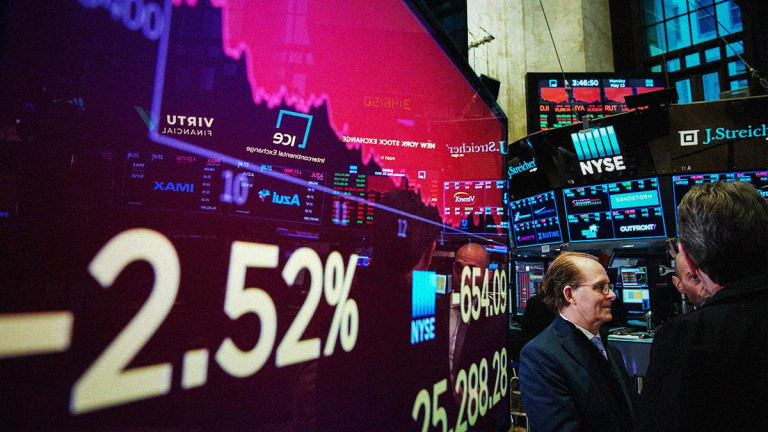 Dow Futures Tumble as Trump Targets Mexico in Latest Trade War Skirmish
Global stocks slumped Friday, pulling Wall Street futures sharply into the red, as investors reacted to a surprise move by President Donald Trump to slap tariffs on U.S. imports from Mexico.
The Friday Market Minute
Global stocks slide, bond yields surge as President Trump made a surprise move to apply tariffs on U.S. imports from Mexico.
Asia stocks manage small month-end gains, but the Nikkei 225 falls 1.6% as carmakers with Mexican facilities slump and the yen surges in safe-haven trading.
European stocks nurse heavy opening bell losses as trade concerns are added to the region's political challenges, pulling stocks to the first monthly loss of the year.
Benchmark 10-year Treasury yields hit a 20-month low of 2.17% in overnight trade, while German bunds were marked at -0.19%, just one basis point from their all-time low.
Oil prices extend declines after China PMI data shows a deepening contraction in the manufacturing sector, taking prices to their worst month since November.
Wall Street futures suggest significant opening bell gains for Wall Street ahead of key inflation data at 8:30 am.
Market Snapshot
Global stocks slumped Friday, pulling Wall Street futures sharply into the red, as investors reacted to a surprise move by President Donald Trump to slap tariffs on U.S. imports from Mexico and further signals from China that its prolonged trade war with Washington continues to take its toll on the world's second largest economy.
President Trump's announcement on Mexican tariffs, first through his Twitter account late Thursday, is ostensibly designed to address what he has described as a wave of illegal immigration from Central America, but it also suggests he is in no hurry to extend an olive branch to China President Xi Jinping, where the economy continues to show signs of contraction and export orders in the manufacturing sector have fallen for twelve consecutive months.   
Trump said he would use the Emergency Economic Powers Act to apply a 5% tariff on goods entering the U.S. from Mexico on June 5, and would rise to as high as 25% by October 1 if the government of President Andres Manuel Lopez Obrador did not move swiftly enough to tackle the crisis.  
"If the illegal migration crisis is alleviated through effective actions taken by Mexico, to be determined in our sole discretion and judgment, the tariffs will be removed," Trump said in a statement.
The tariff decision, which comes on the same day that Mexico began debate on USMCA ratification in parliament, adds yet another front for the U.S. in a global trade war that has put Washington at odds with Canada, Japan, China and the European Union.
U.S. equity futures suggest investors were quick to retreat from risk assets in the wake of Trump's surprise move, and data showing a notable slowdown in China's manufacturing sector, with contracts tied to the Dow Jones Industrial Average indicating a 250 point decline and those linked to the S&P 500 suggesting a 29 point slide for the broader benchmark on the final day of the trading month.
Auto stocks were also sharply lower in pre-market trading, with General Motors GM, which has produced just under 67,500 cars in Mexico so far this year, according to data from the Mexican Automotive Industry website, a 7.5% increase from the same period last year, falling 5.5% to indicate an opening bell price of $32.89 each.
Ford Motor Co (F) is also ramping up electric vehicle production in Mexico -- while unveiling sweeping global job cuts -- with a move to swap a battery-electric crossover vehicle assembly plant to Cuautitlan instead of an earlier aim to build it in Flat Rock, Michigan.
Ford's Mexican production was tabbed at 20,234 vehicles over the four months ending in April, down 14.7% from the same period in 2018.
Ford shares were indicated 4.2% lower at $9.33 each, a move that would trim the stock's year-to-date advance to around 22%
Government bond yields and safe-haven currencies were also on the move, with investors driving benchmark 10-year U.S. Treasury bond yields to a 20-month low of 2.157% in overnight trading, taking their May retreat to a stunning 33 basis points. German bunds were also active, with a yield of -0.20%, matching the all-time low reached in the fall of 2016.
European stocks were sharply lower at the start of trading Friday, setting up their first monthly decline of the year, with the Stoxx 600 marked 1.31% lower as autos, basic resources and banks led the declines.
Germany's DAX index was marked 1.8% lower as automakers such as Volkswagen AG (VLKAY) , Daimler AG (DMLRY) and BMW AG  (BMWYY) -- all of which have production facilities in Mexico -- slid between 3.5% and 2.5% as investors reacted to the new tariff move and grew increasingly concerned that Trump could reconsider his recent reprieve on European auto levies.
Global oil prices were also on the march, extending declines in the wake of China's weak PMI data, which showed the manufacturing sector contracted more than anticipated and new order fell for the first month in four, and data yesterday from the Energy Information Administration that showed little change in U.S. crude stocks, which are sitting at near two-year highs.
Brent crude contracts for July delivery were marked $1.94 lower from from their Thursday close and changing hands at $64.93 per barrel while WTI contracts for the same month were seen $1.26 lower at $55.33 per barrel.