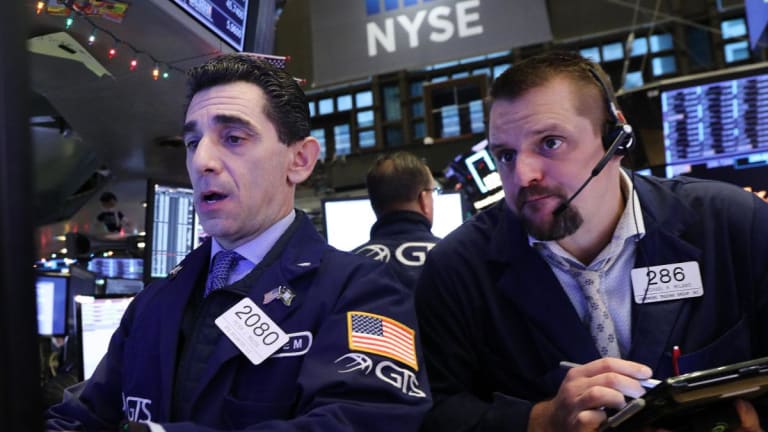 Dow Futures Tumble as European Factory Output Hits 2013 Low, Bunds Touch 0%
U.S. futures fell sharply Friday after a private sector reading of economic activity in Europe slumped to its weakest level in seven years, underscoring market concerns over slowing global growth, political uncertainty in Europe and flagging U.S.-China trade talks.
The Friday Market Minute
Stocks slide after European manufacturing PMI falls to lowest level since 2013, while a new orders index hits a 2012 trough, as trade disputes hammer exports in the world's biggest economic bloc.
US Treasury Department sanctions on two Chinese shipping firms accused of helping North Korea evade restrictions on its nuclear weapons program rattle nerves ahead of next week's trade talks.
European stocks re-test late-September highs as the single currency eases to 1.1292, but U.K. stocks slide following yet another twist in Britain's Brexit saga.
U.K. Prime Minister Theresa May given two-week reprieve to win support for her twice defeated Brexit deal, raising the stakes of Britain's exit even higher heading into April.
Global oil prices hold near four months highs, with U.S. crude at $60 per barrel, ahead of today's rig count data from Baker Hughes.
U.S. equity futures suggest a 150-point opening bell decline on Wall Street ahead of manufacturing PMI data at 9:45 am Eastern Time and existing home sales figures at 10:00 Eastern Time.
Market Snapshot
U.S. futures fell sharply Friday after a private sector reading of economic activity in Europe slumped to its weakest level in seven years, underscoring market concerns over slowing global growth, political uncertainty in Europe and flagging U.S.-China trade talks.
The IHS Markit Composite PMI reading for the Eurozone economy slipped to 51.3, while an index of new orders for tumbled to 44.5, the lowest since December 2012, as exports dried up amidst trade uncertainty between Washington and Beijing. The PMI reading for Europe's crucial manufacturing sector slumped to 47.6, the lowest since April 203.
"Most worrying is the plight of the manufacturing sector, which is now in its deepest downturn since 2013 as trade flows contracted at the sharpest rate since the debt crisis-ridden days of 2012." said IHS chief economist Chris Williamson. "Forward-looking indicators such as business optimism and backlogs of work suggest that growth could be even weaker in the second quarter."
U.S. equity futures retreated quickly following the data release, with contracts tied to the Dow Jones Industrial Average now indicating a 150 point decline while those liked to the S&P 500 futures are guiding to a 15 point pullback and those linked to the tech-focused Nasdaq suggesting a 27 point slide.
European stocks were also notably weaker, with the Stoxx 600 falling 0.8% and the trade-sensitive DAX performance index sliding nearly 0.85%.
Germany's benchmark 10-year bund yields, a proxy for European risk-free interest rates, fell 5 basis points to trade at 0% for the first time since October 2016.
The surprisingly weak data overshadowed Apple's (AAPL) - Get Apple Inc. Report 3.7% rise yesterday, which helped lift both the Dow Jones Industrial Average and the broader S&P 500 benchmarks into solid end-of-session gains and rippled through Asia markets in overnight trading. 
The Apple move was also a boon for tech stocks and the Nasdaq, which built gains from a stronger-than-expected quarterly profit report from Micron Technology (MU) - Get Micron Technology Inc. Report and near record highs for the Philadelphia Semiconductor index, a tech sector benchmark.
The positive sentiment washed over into the Asia trading session, lifting stocks around the region higher, although gains were capped by ongoing concerns over the strength of the global economy and tensions linked to a U.S. Treasury Department move to sanction two Chinese shipping companies for allegedly helping North Korea evade prohibitions on it atomic weapons program.
"The United States and our like-minded partners remain committed to achieving the final, fully verified denuclearization of North Korea and believe that the full implementation of North Korea-related U.N. Security Council resolutions is crucial to a successful outcome," Secretary Steven Mnuchin said in a statement.
With Mnuchin and Trade Representative Robert Lighthizer set to travel to Beijing next week in order to move U.S.-China trade talks forward, the decision to sanction two Chinese firms could complicate negotiations that, according to multiple media reports, are starting to get bogged down by resistance from China on monitoring.
Asia's region-wide MSCI benchmark added 0.18% heading into the final hours of trading, while Japan's Nikkei 225 closed out the week with a modest 0.1% advance as yen strengthened to 110.76 against the U.S. dollar in a largely defensive session.
Britian's FTSE 100 was marked 0.076% lower in London as the pound held at 1.3088 against the U.S. dollar amid the latest twist in Britain's three-year Brexit saga.
Theresa May was handed a two-week reprieve last night after EU leaders game the embattled Prime Minister until April 12 to secure Parliamentary support for her twice-defeated deal.
If she fails again, which political experts say is likely, Britain will face several options, including a long Brexit delay and possible fresh national elections or a second referendum. If she wins, Britain will have until May 22 to permanently leave the bloc.
Global oil prices also softened following the weaker European data, although markets were getting support from a weaker U.S. dollar, ongoing OPEC production cuts and two weeks of declines in domestic crude inventories, all of which have combined to keep both WTI and Brent futures contracts near the highest in four months.
Brent crude contracts for May delivery, the global benchmark for oil prices, were marked 91 cent lower from their Thursday close and changing hands at $66.95 per barrel in early European dealing while WTI contracts for the same month, which are more tightly linked to U.S. gasoline prices, were 73 cents lower from yesterday's closing price at $59.24 per barrel.