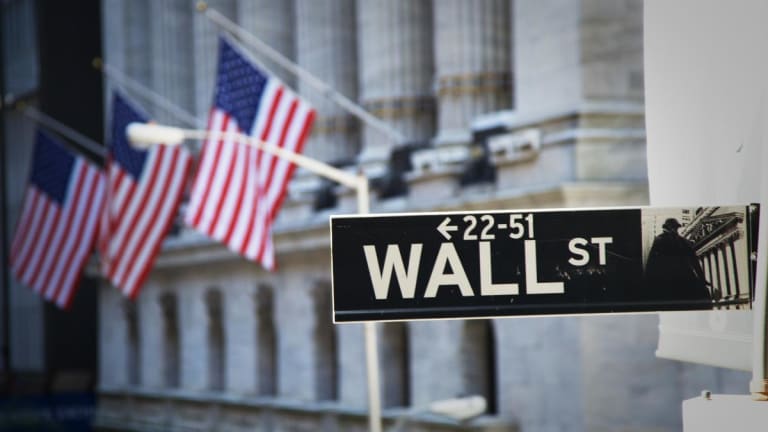 Dow Futures Rally From Tech and Trade Rout; Dollar Eases From 2-Year High
Global stocks steadied Friday as investors gingerly returned to risk markets after a bruising week of losses sparked by worries of a prolonged U.S.-China trade war and increasing signals of a slowing world economy.
The Friday Market Minute
Global stocks steadied overnight, with Wall Street set for a modest opening bell gain, although investors remain nervous over slowing growth and protracted trade tensions.
European stocks book solid gains despite election risk around the region, while UK markets focused on the likely resignation of Prime Minister Theresa May.
Oil price rebound amid their biggest weekly decline of the year following a surge in US supplies and the weakest reading for manufacturing activity in a decade.
Wall Street futures suggest solid opening bell gains ahead of earnings from Foot Locker and April durable goods orders at 8:30 eastern time.
Market Snapshot
Global stocks steadied Friday as investors gingerly returned to risk markets after a bruising week of losses sparked by worries of a prolonged U.S.-China trade war and increasing signals of a slowing world economy.
Wall Street looks set to cap the last day of the trading week with solid gains, following a 300-point rout for the Dow Jones Industrial Average last night that tipped the benchmark into a week-to-date decline of just over 1% as investors fretted over series of grim manufacturing activity readings in major global economies and watched U.S. oil prices plunged nearly 6% on the session.
Equity futures tied to the Dow suggest a 150 point gain at the opening bell, while those linked to the S&P 500 indicate a 16.5 point bump higher for the broader benchmark, which has fall 1.3% since Monday and is nursing a month-to-date decline of around 4.2%.
Contracts tied to the Nasdaq Composite were also suggesting a stronger open for the tech-focused index, which is priced to rise by around 38 points and is down 2.4% so far this week amid concern that the tech sector will be increasingly vulnerable should trade tensions between Washington and Beijing escalate throughout the summer.
Foot Locker (FL) - Get Foot Locker Inc. Report  shares slumped nearly 7%, wiping out all of the stock's year-to-date gains, after it posed weaker-than-expected first quarter earnings Friday, and trimmed its full-year profit guidance, as the prospect of tariffs on China-made goods looms over the sports shoe and apparel industry.
Politico reported Friday, in fact, that the White House is prepared to intensify restrictions on U.S. tech companies that do business with China, citing sources who said the Commerce Department will roll back regulations that ease tech-sector exports.
Investors were also concerned  by comments from President Donald Trump last night, who told reporters at the White House that Huawei Technologies, the China-backed firm recently blacklisted from doing business with the United States, was "from a security standpoint, from a military standpoint" a "very dangerous" company.
Trump also added, however, that "f we made a deal, I could imagine Huawei being possibly included in some form or some part of it," underscoring the confusion that most investors feel has clouded the months long dialogue between the world's two biggest economies.
European stocks booked solid opening bell gains Friday, even as EU Parliamentary elections continued to present notable event risk around the region and yesterday's weaker-than-expected readings of manufacturing activity and business confidence in Germany raised questions with respect to the bloc's sputtering recovery.
The Stoxx Europe 600 index was marked 0.8% higher in the opening hours of trading, paced by a 0.93% gain for the DAX performance index in Germany and a 0.91% advance for the CAC-40 in France.
Britain's FTSE 100 was also firmly in the green, rising 0.7% by late morning following the resignation of U.K. Prime Minister Theresa, who will step down as head of the country's ruling Conservative Party, but will stay on in her role of Prime Minister for another few weeks, throwing the much-delayed Brexit process deeper into chaos.
Away from equities, however, risk appetite remains muted as investors drive benchmark government bond yields to multi-year lows in the face of political and economic uncertainty and tame inflation. 
Benchmark 10-year U.S. Treasury yields were marked at 2.324% in overnight trading, after hitting an October 2017 low of 2.293% on Wall Street yesterday, and are still changing hands well south of the current Fed Funds rate of 2.38% following the weakest PMI manufacturing activity reading for the month of May in at least a decade.
That weakness smashed global oil prices last night, with selling accelerated by data from the Energy Information Administration that showed U.S. crude stockpiles are sitting at the highest level in nearly a year, as oil markets reel through their biggest weekly decline of 2019.
Overnight prices steadied somewhat, however, as the U.S. dollar eased from two year highs against a basket of six global currencies, helping Brent crude contracts for July delivery gain $1.01 from their Thursday close in New York to change hands at $68.77 per barrel while WTI contracts for the same month were seen 79 cents higher at $58.70 per barrel.