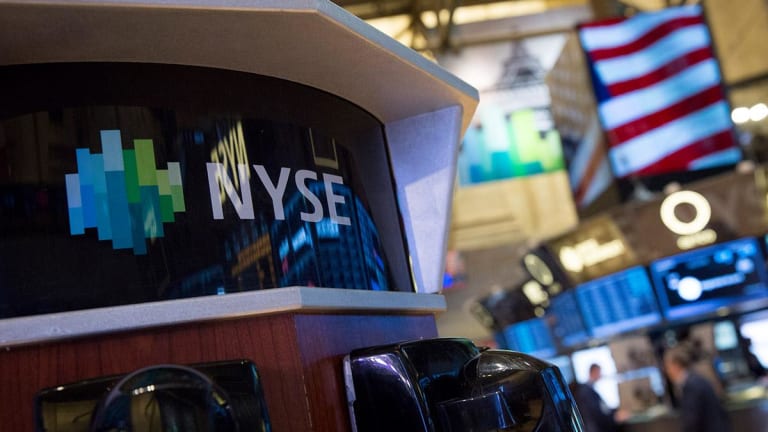 Dow Futures Spike as Britain Reaches EU Brexit Deal; Netflix Surges on Solid Q3
U.S. equity futures jump Thursday after Britain reaches a tentative Brexit deal that will see it leave the European Union later this month, offsetting investor concerns over growth and trade that had muted global markets earlier in the session.
The Thursday Market Minute
Global reverse course, post solid gains after Britain agrees a tentative Brexit deal to leave the European Union later this month.
The pound surges to 1.2934 following the Brexit breakthrough, but fades modestly as investors worry deal may not have enough support in Parliament.
Weak U.S. retail sales and contracting earnings growth suggest a soft Q3 for the world's largest economy as trade questions linger and political crises escalate.
Global oil prices slide following a bigger-than-expected build in U.S. inventories and increasing concern over demand after the IMF clips its 2019 and 2020 growth forecasts.
US equity futures suggest solid opening bell gains on Wall Street ahead of earnings from Morgan Stanley, Honeywell and Union Pacific as well as weekly jobless claims and September housing data at 8:30 am Eastern time.
Market Snapshot
U.S. equity futures jumped higher Thursday after Britain reached a tentative Brexit deal that will see it leave the European Union later this month, offsetting investor concerns over growth and trade that had muted global markets earlier in the session.
"We've got a great new deal that takes back control," Johnson said in a Tweet posted from his officially-verified account. "Now parliament should get Brexit done on Saturday so we can move on to other priorities like the cost of living, the NHS, violent crime and our environment." EU Commission President Jean-Claude Juncker called it a "fair and balanced" agreement, just hours ahead of an EU leaders' summit in Brussels.
The pound rose sharply against the U.S. dollar following the agreement, while U.S. equity futures erased earlier declines in Asia and early trading in Europe dominated by concerns over U.S. growth and the fate of President Donald Trump's 'Phase 1' trade detente with China.
Treasury Secretary Steven Mnuchin told reporters in Washington late Tuesday that it was the "objective" of the administration to have a text of the deal, which was reached after two-days of intense talks near the White House, ready for Trump and President Xi Jingping to sign next month at the APEC summit in Chile.
Trump himself, however, said yesterday that such a text might not be ready for his signature by then, raising questions as to whether planned tariffs on $156 billion in China-made goods, which are set to kick-in on December 15, will be implemented.
U.S. equity futures are indicating a firmer open weaker open on Wall Street, following yesterday's 23-point decline and the weakest reading for domestic retail sales in seven months, with contracts tied to the Dow Jones Industrial Average suggesting a 113 point advance and those linked to the S&P 500 guiding for an 11 point bump for the broader benchmark.
Netflix Inc. (NFLX) - Get Free Report shares were an early mover of note, surging nearly 10% after it added more international subscribers to its streaming service than Wall Street had forecast for the third quarter, easing concerns over the impact of rival offerings from Apple (AAPL) - Get Free Report , Walt Disney (DIS) - Get Free Report and Amazon (AMZN) - Get Free Report .
International Business Machines (IBM) - Get Free Report , meanwhile, was indicated sharply lower in pre-market trading Thursday after the group posted disappointing third quarter earnings in the first full update to include its $34 billion acquisition of Linux-maker Red Hat.
Thursday's session will also see a host of S&P 500 companies reporting third quarter earnings, including Morgan Stanley (MS) - Get Free Report , Honeywell (HON) - Get Free Report , United Pacific (UNP) - Get Free Report and PPG Industries (PPG) - Get Free Report .
The U.S. dollar index, which tracks the greenback against a basket of six global currencies, was marked 0.4% lower at 97.64 as the surged, while European shares bounced sharply higher, with the Stoxx 600 rising 0.67% while Britain's FTSE 100 leaped 0.6%.
Overnight in Asia, Japan's Nikkei 225 snapped a two-day winning streak with a 0.09% session decline that took the benchmark to 22,451.86 points, while the region-wide MSCI ex-Japan index was seen little-changed from yesterday's levels heading into the close of trading.
Global oil prices were also on the back foot, thanks in part to a firmer U.S. dollar and data from the American Petroleum Institute yesterday which showed a bigger-than-expected 10.5 million barrel increase in domestic crude stocks.
Brent crude contracts for December delivery were seen 545 cents higher from Wednesday's New York close to trade at $58.88 per barrel, putting the global benchmark for crude some 18.1% lower -- and within touching distance of bear market territory -- since hitting a multi-month peak of $71.95 in the wake of drone attacks on two key Saudi oil facilities.
WTI contracts for November delivery, which are more tightly linked with U.S. gasoline prices, were marked 48 cents lower at $52.88 per barrel, and have fallen 16.5% since the September 14 attacks on the Abqaiq and Khurais facilities in eastern Saudi Arabia.