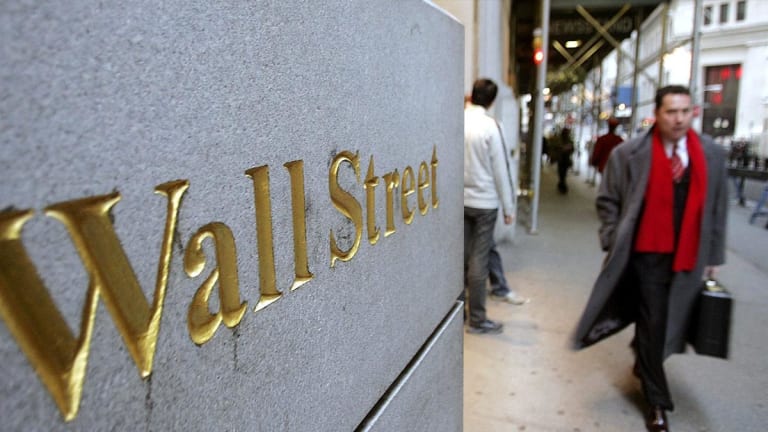 Dow Futures Flat, Global Stocks Retreat Amid Fading U.S.-China Trade Hopes
U.S. equity futures modestly edged higher Thursday, following night's slump and pullbacks in markets around the world, even as investors continue to question the chances of a near-term trade pact between Washington and Beijing.
The Thursday Market Minute
Global stocks extend declines amid renewed concerns for near term U.S.-China trade deal following reports a "phase one" agreement might not be signed this year.
President Donald Trump says China "not stepping up" in trade talks, while Beijing angered by the passage of bills aimed at Hong Kong's independence.
Global oil prices retrace gains from Wednesday's session, which were triggered by a bigger-than-expected fall in crude stocks at the Cushing, Oklahoma deliver hub.
Wall Street futures suggest modest gains at the opening bell with earnings from Macy's and BJs Wholesale, as well as weekly jobless data, before the start of trading.
Market Snapshot
U.S. equity futures modestly edged higher Thursday, following night's slump and pullbacks in markets around the world, even as investors continue to question the chances of a near-term trade pact between Washington and Beijing. 
U.S. lawmakers added to that concern late Wednesday after the House of Representatives voted 417 to 1 in favor of the "Hong Kong Human Rights and Democracy Act", after its Senate passage the previous day, allowing the legislation with isolates the China-backed territory from tariffs to make its way to President Donald Trump's desk for signature.
The legislation, however, could make a so-called 'phase one' trade deal even more unlikely, given that China considers the text of the bill as meddling in its internal affairs. The President has ten days, excluding Sunday's to either sign or veto the bill, by which time the next round of tariffs -- set to kick in on December 15 -- will only be a fortnight away.
When asked of the progress of talks during his tour of an Apple Inc. (AAPL) - Get Free Report manufacturing facility outside the city of Austin yesterday, Trump said "I don't think they're stepping up to the level that I want" on agricultural purchases, although China's Foreign Ministry spokesman Gao Feng told reporters Thursday that the two sides continue to address "mutual concerns".
Bloomberg, meanwhile, reported that China Vice Premier Liu He told a conference in Beijing that he was "cautiously optimistic" on reaching an agreement with the United States.
The mixed messages on trade hit global stocks again Thursday, helping U.S. equity futures slide into the red by the start of European dealing, with contracts tied to the Dow Jones Industrial Average indicating a modest 10 point gain and those linked to the S&P 500 suggesting a 2 point dip for the broader benchmark.
TD Ameritrade (AMTD) - Get Free Report shares were the notable early market mover, suring nearly 25% following a report that discount brokerage rival Charles Schwab Corp. (SCHW) - Get Free Report is eyeing the group for a takeover. A combined Schwab and TD Ameritrade would have assets nearing $5 trillion, more than 23 million clients and nearly 30,000 employees.
TD Ameritrade shares were marked 23.85% higher in pre-market trading Thursday to indicate an opening bell price of $51.25 each, a move that would value the group at around $27 billion. Charles Schwab shares were seen 10.2% higher at $49.31 each.
E*Trade Financial (ETFC) - Get Free Report shares traded 6.4% lower at $42.98 each while Interactive Brokers Group Inc. (IBKR) - Get Free Report was marked 1.7% higher at $48.04.
European markets were also on the back foot, with the Stoxx 600 benchmark sliding 0.4% lower in the opening two hours of trading, with a 0.23% fall for Germany's trade-focused DAX index and a 0.45% dip for the basic-resource heavy FTSE 100 in London.
Overnight in Asia, Japan's Nikkei 225 ended the defensive session 0.48% lower at 23,038.58 points as the yen climbed to 108.54 against the U.S. dollar while the region's broadest benchmark, the MSCI ex-Japan index, was marked more than 1% lower heading into the final hours of trading.
Away from equities, 10-year Treasury note yields hovered near a three-week low of 1.74% while the U.S. dollar index, which tracks the greenback against a basket of six global currencies, was little changed at 97.92. China's yuan, however, slipped to a three-week low of 7.045 against the dollar.
Global oil prices retracted some of yesterday's sharp rally, triggered by a bigger-than-expected decline in U.S. crude stocks at the key delivery hub in Cushing, Oklahoma and comments from Russian President Vladimr Putin that suggested his country could continue to co-operate with OPEC cartel members on production cuts, which are due for renewal next month.
Brent crude contracts for January delivery, the global benchmark, were seen 13 cents lower from their Wednesday close and trading at $62.26 per barrel, while WTI contracts for the same month were marked 8 cents lower at $56.93 per barrel.