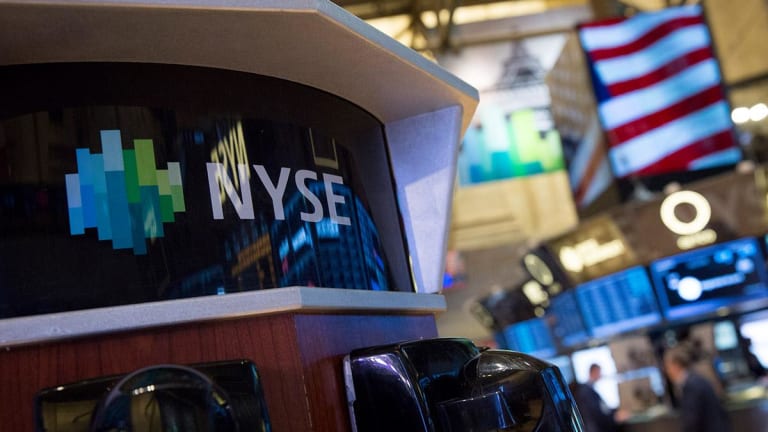 Dow Futures Slip, Global Stocks Stall Amid Brexit, Growth and Trade Concerns
Global stocks sputtered Thursday, pulling U.S. equity futures into the red for a second consecutive session, as concerns over growth and trade, as well as the eleventh-hour fate of Britain's ongoing Brexit saga, sapped investor sentiment in markets around the world.
The Thursday Market Minute
Global stocks sputter as expected Brexit deal collapse, as well as weakening U.S. growth signals, saps investor sentiment.
Northern Irish lawmakers say they can't support PM Johnson's compromise deal, sending the pound sharply lower in early European trading.
Weak U.S. retail sales and contracting earnings growth suggest a soft Q3 for the world's largest economy as trade questions linger and political crises escalate.
Global oil prices slide following a bigger-than-expected build in U.S. inventories and increasing concern over demand after the IMF clips its 2019 and 2020 growth forecasts.
US equity futures suggest modest opening bell declines on Wall Street ahead of earnings from Morgan Stanley, Honeywell and Union Pacific as well as weekly jobless claims and September housing data at 8:30 am Eastern time.
Market Snapshot
Global stocks sputtered Thursday, pulling U.S. equity futures into the red for a second consecutive session, as concerns over growth and trade, as well as the eleventh-hour fate of Britain's ongoing Brexit saga, sapped investor sentiment in markets around the world.
British Prime Minister Boris Johnson's attempt to reach an agreement on Brexit that will satisfy both hard-line Leavers and moderate lawmakers in his fractured Conservative party look to have failed early Thursday when the leader of the Northern Irish DUP said it could not support his proposal, as it would leave the Province separated from the whole of the United Kingdom.
The pound fell sharply against the U.S. dollar following the DUP statement, which effectively rules out the chance of an agreement being put to EU leaders who are meeting later today and tomorrow in Brussels. That likely means Johnson will either have to ask for a third extension to Britain's Brexit deadline, defy Parliament and attempt to take the U.K. out without a deal or call a national election to break the three-and-a-half year deadlock.
The apparent late-hour collapse hit U.S. equity futures, which drifted further into negative territory amid an overnight session in Asia and early trading in Europe dominated by concerns over U.S. growth and the fate of President Donald Trump's 'Phase 1' trade detente with China.
Treasury Secretary Steven Mnuchin told reporters in Washington late Tuesday that it was the "objective" of the administration to have a text of the deal, which was reached after two-days of intense talks near the White House, ready for Trump and President Xi Jingping to sign next month at the APEC summit in Chile.
Trump himself, however, said yesterday that such a text might not be ready for his signature by then, raising questions as to whether planned tariffs on $156 billion in China-made goods, which are set to kick-in on December 15, will be implemented. 
U.S. equity futures are indicating a moderately weaker open on Wall Street, following yesterday's 23-point decline and the weakest reading for domestic retail sales in seven months, with contracts tied to the Dow Jones Industrial Average suggesting a 10 point pullback and those linked to the S&P 500 guiding for a 1 point dip for the broader benchmark.
Netflix Inc. (NFLX) - Get Netflix, Inc. Report shares were an early mover of note, surging nearly 10% after it added more international subscribers to its streaming service than Wall Street had forecast for the third quarter, easing concerns over the impact of rival offerings from Apple (AAPL) - Get Apple Inc. Report , Walt Disney (DIS) - Get Walt Disney Company Report and Amazon (AMZN) - Get Amazon.com, Inc. Report .
International Business Machines (IBM) - Get International Business Machines Corporation Report  , meanwhile, was indicated sharply lower in pre-market trading Thursday after the group posted disappointing third quarter earnings in the first full update to include its $34 billion acquisition of Linux-maker Red Hat.
Thursday's session will also see a host of S&P 500 companies reporting third quarter earnings, including Morgan Stanley (MS) - Get Morgan Stanley Report , Honeywell (HON) - Get Honeywell International Inc. Report , United Pacific (UNP) - Get Union Pacific Corporation Report and PPG Industries (PPG) - Get PPG Industries, Inc. Report .
The U.S. dollar index, which tracks the greenback against a basket of six global currencies, was marked 0.1% higher at 98.10 as the pound slid 0.6% to 1.2753 following the DUP statement on Brexit. 
European stocks were little-changed in the opening 90 minutes of trading, with the Stoxx 600 rising just 0.01% while Britain's FTSE 100 leaped 0.43% as the pound eased to 1.2797.
Overnight in Asia, Japan's Nikkei 225 snapped a two-day winning streak with a 0.09% session decline that took the benchmark to 22,451.86 points, while the region-wide MSCI ex-Japan index was seen little-changed from yesterday's levels heading into the close of trading.
Global oil prices were also on the back foot, thanks in part to a firmer U.S. dollar and data from the American Petroleum Institute yesterday which showed a bigger-than-expected 10.5 million barrel increase in domestic crude stocks.
Brent crude contracts for December delivery were seen 545 cents higher from Wednesday's New York close to trade at $58.88 per barrel, putting the global benchmark for crude some 18.1% lower -- and within touching distance of bear market territory -- since hitting a multi-month peak of $71.95 in the wake of drone attacks on two key Saudi oil facilities.
WTI contracts for November delivery, which are more tightly linked with U.S. gasoline prices, were marked 48 cents lower at $52.88 per barrel, and have fallen 16.5% since the September 14 attacks on the Abqaiq and Khurais facilities in eastern Saudi Arabia.