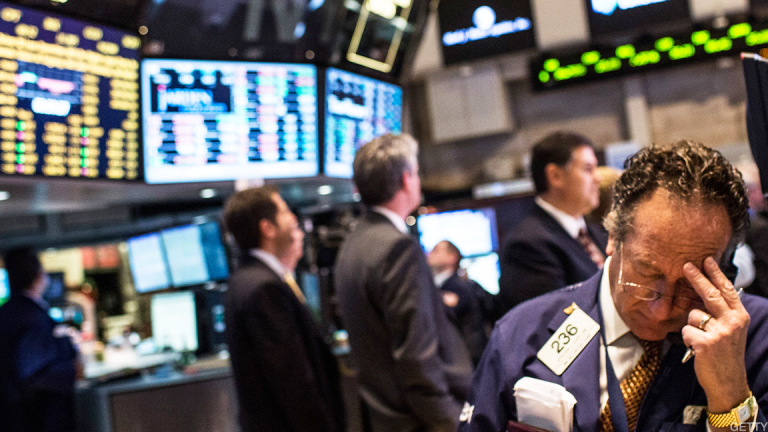 Dow Futures Slide on Trade and Political Risks; Europe Slumps as Elections Begin
Global stocks drifted lower Thursday, setting up Wall Street for its third negative session of the week, as investors hunker down for a prolonged U.S-China trade dispute while trimming bets on near-term support from the Federal Reserve.
The Thursday Market Minute
Global stocks slide as investors hunker down for a prolonged U.S.-China trade dispute after Treasury Secretary Steve Mnuchin says no talks scheduled with officials in Beijing.
Panasonic and Toshiba join a growing list of companies supporting the U.S. blacklisting of Huawei, adding a new dimension in tensions between Washington and Beijing.
European stocks trade lower as the region's four-day elections begin in Britain, while Prime Minister Theresa May clings to power following a high-level cabinet resignation last night.
Oil price slide after U.S. crude stocks rise 4.7 million barrels last week to the highest level since July 2017, while concerns over global demand in a slowing economy adds further downward pressure.
Wall Street futures suggest the third negative open in four days ahead of weekly jobless claims data at 8:30 eastern time and manufacturing and housing data at 9:45 and 10:00 eastern time respectively. 
Market Snapshot
Global stocks drifted lower Thursday, setting up Wall Street for its third negative session of the week, as investors hunker down for a prolonged U.S-China trade dispute while trimming bets on near-term support from the Federal Reserve.
Treasury Secretary Steven Mnuchin told the Financial Services Committee yesterday that there are no scheduled talks with high level official in Beijing, but added that Presidents Donald Trump and Xi Jinping would likely meet at next month's G20. He also suggested that a decision to enhance tariffs on China-made goods won't be made "for another 30 to 45 days , a time-frame that overlaps with the late June summit in Japan. 
However, with an increasing number of global companies joining the U.S. in blacklisting China-backed Hauwei Technologies, including Japan's Panasonic and Toshiba and Britain's ARM Holdings,, and two U.S. warships -- the Preble and the Walter S. Diehl -- currently patrolling the politically-sensitive Taiwan Strait, there seems little hope for a near-term breakthrough in talks between the world's two biggest economies.
U.S. equity futures reflected that pessimism heading into the start of the trading day on Wall Street, with contracts tied to the Dow Jones Industrial Average suggesting a 212 point pullback, while those linked to the S&P 500 are indicating a 23 point decline -- the third in four days -- for the broader benchmark. Nasdaq Composite futures were marked to suggest an 84 point slide for the tech-focused index.
Apple Inc. (AAPL) - Get Apple Inc. Report shares extended declines in pre-market trading, falling 1.8%, while Tesla Inc. (TSLA) - Get Tesla Inc. Report slumped 4% to fresh two-and-a-half year lows, as investors grow increasingly concerned that the current U.S.-China trade dispute will ensnare iconic companies in damaging tech cold war.
Best Buy Inc. (BBY) - Get Best Buy Co. Inc. Report  shares rose 3% in pre-market after it posted stronger-than-expected first quarter earnings Thursday, and confirmed its full-year profit guidance, as consumer electronics sales helped comparable revenues top analysts' forecasts.
Investors must also navigate an increasingly complicated political backdrop, both at home and abroad, while reducing bets on monetary easing from the Federal Reserve, which indicated in minutes of its last rate-setting meeting that it's prepared to have a "patient approach" to low inflation "for some time."
Without near-term stimulus from the Fed, investors might have looked to a boost from a planned $2 trillion infrastructure splurge from Congress following a tentative agreement last month between Republican and Democrats.
Those hopes were dashed, however, following a short but tense meeting at the White House yesterday between House Speaker Nancy Pelosi and President Trump, which ended with the pair trading barbs over an alleged cover-up linked to the Mueller Report and the prospect of impeachment proceedings in Congress. 
"The fact is, in plain sight in the public domain, this president is obstructing justice and he's engaged in a cover-up," Pelsoi said later that evening. "And that could be an impeachable offense."
European investors had their own political dramas to contend with as markets opened in London and Frankfurt Thursday, with voting underway in four-day European Parliamentary elections that will elect 751 lawmakers representing the 28 nations in the bloc that could bring sweeping changes to the bloc's balance of power.
In Britain, Prime Minister Theresa May was left clinging to power following the resignation of House of Commons leader Andrea Leadsom last night, the 36th senior lawmaker to leave her cabinet in the past two years. 
With reports suggesting May will likely be forced to resign later this week over her failure to deliver a workable Brexit deal, and Europeans heading to the polls amid a surge in support for poplulist parties riding an anti-Brussels message, risk appetite was no where to be found in early trading, with the Stoxx 600 falling 1.2% after a weaker-than-expected PMI reading of economic activity for the month of May.
Britain's FTSE 100 slipped 1.2% lower, even as the pound tested its 2019 low against the U.S. dollar as it traded at 1.2633, as EU elections voting kicked off around the Untied Kingdom.
Overnight in Asia, India's NIFTY stock benchmark surged to an all-time high after Prime Minister Narendra Modi was projected to return to power following a seven-phase, month-long election that saw more than 900 million voters cast ballots in the world's biggest democracy.
Global oil prices were also on the back foot in overnight trading, with investors trimming long positions following data from the Energy Information Administration yesterday which showed U.S. crude stockpiles rose by a larger-than-expected 4.7 million barrels last week to 476.8 million barrels, the highest in nearly two years.
Brent crude contracts for July delivery, the global benchmark for oil prices, were marked $1.26 lower from their Wednesday close in New York and changing hands at $69.73 per barrel while WTI contracts for the same month were seen $1.05 lower at $60.37 per barrel.