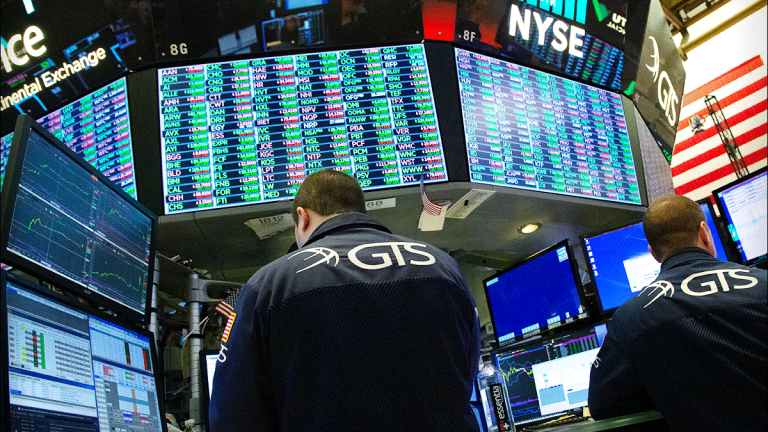 Dow Futures Slide, Global Stocks Slump on Renewed U.S.-China Trade Doubts
Wall Street futures indicated a weaker open Wednesday, following selloffs in European and Asia markets, after China condemned a U.S. Senate on human rights in Hong Kong and President Donald Trump again threatened to increase tariffs if the two sides aren't able to negotiate a near-term trade agreement.
The Wednesday Market Minute
Global stock slide amid renewed doubts over a near-term US-China trade pact after President Trump threatens yet another tariff increase.
European stocks slide to a two-week low following Trump's comments and China's condemnation of U.S. Senate legislation aimed at Hong Kong protests.
Treasury bond yields rally ahead of October Fed minutes as safe-haven assets shine amid weak Japan trade data and broader market sentiment.
Global oil prices extend slump after a bigger-than-expected API build last week and reports that Russia may not agree to deeper OPEC production cuts.
Wall Street futures suggest a broad market retreat at the opening bell with earnings from Lowe's Companies and Target Corp. before the start of trading.
Market Snapshot
Wall Street futures indicated a weaker open Wednesday, following sell-offs in European and Asia markets, after China condemned a U.S. Senate resolution on human rights in Hong Kong and President Donald Trump again threatened to increase tariffs if the two sides aren't able to negotiate a near-term trade agreement. 
China's displeasure with the Senate legislation, known as the "Hong Kong Human Rights and Democracy Act", comes at a sensitive juncture in the trade negotiations and reports from China-backed media that Beijing won't accept an agreement that doesn't include the cancellation of tariffs from Washington.
It also follows passage of a similar bill in the House of Representatives last month. If both Houses of Congress vote to pass the same version of the bill, it would isolate Hong Kong from the impact of tariffs on China-made goods.
"I do not see how a US-China trade deal of any sort can be accomplished if this bill becomes law," said Saxo Bank's head of foreign exchange strategy John Hardy. "That general sense seems to be settling over markets since late yesterday as risk sentiment has deteriorated sharply from yesterday's highs. And given the levels of complacency we have thoroughly discussed ... volatility has plenty of room to expand here."
Foreign Ministry spokesman Geng Shuang said the Senate move was designed to "bolster anti-China, extremist and violent radical who attempt to disrupt Hong Kong", and cautioned that "all those attempts to interfere in or impede China's development will be in vain."
President Trump, meanwhile, told a cabinet meeting Tuesday that "if we don't make a deal with China, I'll just raise the tariffs even higher", adding Beijing would need to offer a deal "I like" in order to complete the phase on negotiations.
The sudden change in tone rattled markets overnight in Asia, and put Europe on the back foot in early Wednesday trading, following a weaker close on Wall Street last night triggered in part by surprisingly weak profits and sales from key retailers Home Depot (HD) - Get Report and Kohl's (KSS) - Get Report that have raised questions over the health of the U.S. consumer heading into the holiday shopping season.
U.S. equity futures point to more selling on Wall Street this morning, with contacts tied to the Dow Jones Industrial Average marked for a 89 point decline and those linked to the S&P 500 indicating a 9 point pullback. Nasdaq Composite futures suggest a 37 point pullback at the start of trading.
Declines were capped, however, by two solid retail earnings reports prior to the start of trading, with Target Corp (TGT) - Get Report and Lowe's Companies (LOW) - Get Report topping Wall Street forecasts, and boosting full-year profit guidance, sending share in each firmly higher in pre-market trading.
"We're seeing a very healthy consumer environment right now," Cornell told CNBC's Becky Quick in an interview following the earnings release. "Unemployment is very low, wages are rising, consumer confidence is strong and all the indicators right now would say we're looking at a very solid holiday season."
Benchmark 10-year U.S. Treasury notes rallied 5 basis points to 1.733% in overnight trading ahead of today's publication of minutes from the Federal Reserves' October 30 policy meeting, while the U.S. dollar index was marked 0.1% higher on the session at 97.955.
European stocks slipped notably at the start of trading, with the Stoxx 600 falling 0.6% to a two-week low and German's trade-sensitive DAX performance index sliding 0.8% in Frankfurt. A firmer pound, which traded at 1.2903 against the dollar in early dealing, clipped gains for the FTSE 100, which was marked 0.86% lower in early London trading.
Asia stocks ended weaker, as well, despite the second rate cut of the week from the People's Bank of China, which lowered its loan prime rate, or LPR, by 5 basis points to 4.15%. amid one of the weakest spate's of economic growth in three decades.
Japan's performance isn't much better, either, with exports for the month of October falling 9.2% from last year as trade with its biggest partners ground to a halt amid myriad disputes with Tokyo.
The MSCI ex-Japan benchmark was seen 0.7% lower heading into the final hour of trading while Japan's Nikkei 225 fell 0.62% to 23,148.57 points
Global oil prices retraced some of yesterday's sharp decline following a bigger-than-expected 6 million barrel increase in U.S. crude supplies reported by the American Petroleum Institute last night, as Russian President Vladir Putin said his country would continue co-operating with both Saudi Arabia and OPEC following reports it would not agree to deeper OPEC production cuts when it meets cartel leaders next month in Vienna.
Brent crude contracts for January delivery, the global benchmark, were seen 37 cents higher  from their Tuesday close and trading at $61.28 per barrel, while WTI contracts for the same month were marked 28 cents higher at $55.63 per barrel.