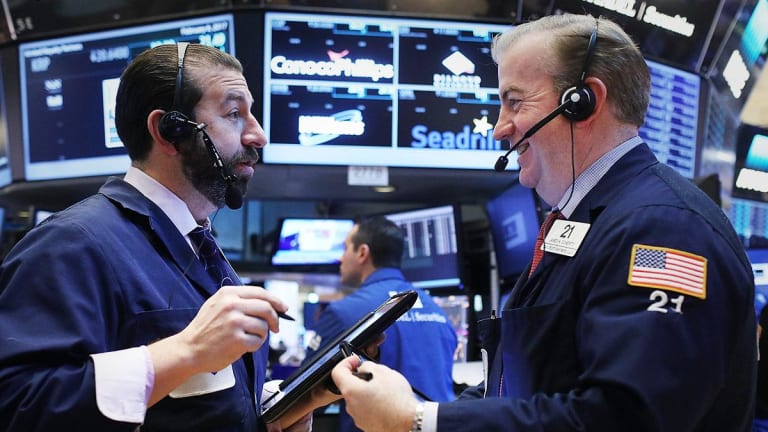 Dow Futures Slide, Global Stocks Slump, as China Hints at Rare Earth Element Ban
Global stocks traded lower Wednesday, while investors continued to plow cash into fixed income markets around the world, as China hit back at the U.S. in their increasingly damaging trade war.
The Wednesday Market Minute
Global stocks slide as China ramps up trade tensions with the US, with media outlets warning of a ban on the export of tech-sensitive rare earth elements.
Fixed income markets continue to rally in the safe-haven trading, taking benchmark 10-year yields to a September 2017 low of 2.24% as nearly $13 trillion in global bonds are now in negative yield territory.
European stocks slide as tech, autos and basic resources retreat amid trade war concerns, while banks slide on the escalating budget spat between Brussels and Rome. 
Wall Street futures suggest another day in the red for U.S. stocks ahead of Redbook retail sales data at 8:55 am Eastern time and earnings from Capri Holdings and PVH.
Market Snapshot
Global stocks traded lower Wednesday, while investors continued to plow cash into fixed income markets around the world, as China hit back at the U.S. in their increasingly damaging trade war.
The tech sector remains the focal point of the months-long spat between Washington and Beijing, and moves by lawyers representing Huawei Technologies to challenge a ban on agencies of the U.S. government from using its equipment in Federal Court Wednesday suggest China is prepared to wage a least a portion of the trade war on the very same turf.
Further pressure, in fact, was threatened in the form of two strongly-worded editorials in state-controlled newspapers that suggested China ban the export of so-called rare earth elements, which are seventeen crucial pieces of metals and materials used in everything from military satellites to smartphones to electric car batteries. 
"Will rare earths become a counter weapon for China to hit back against the pressure the United States has put on for no reason at all? The answer is no mystery," wrote the People's Daily, adding a tagline -- "don't say we didn't warn you" -- normally reserved for military conflict.
European chipmakers with links to the smartphone supply chain, including Apple Inc. (AAPL) - Get Apple Inc. Report supplies Dialog Semiconductor (DLGNF) and AMS AG (AMSSY) , were notably lower by mid-day in Europe, falling 2.5% and 4.2% respectively, while larger semiconductor stocks such as ASML (ASML) - Get ASML Holding N.V. Report and STMicroelectronics (STM) - Get STMicroelectronics N.V. Report were seen 1.8% and 2% lower in Amsterdam and Milan.
Apple shares were marked 1.2% lower in pre-market trading in New York, indicating an opening bell price of $176.00 each, while chipmakers Micron Technologies (MU) - Get Micron Technology Inc. Report and Nvidia Corp. (NVDA) - Get NVIDIA Corporation Report and Advanced Micro Devices (AMD) - Get Advanced Micro Devices Inc. Report were seen 1.7% and 1.3% and 1.1% lower respectively
With investors already unsettled by a string of data suggesting slowing U.S. growth, and further spooked by political developments in Europe that could set up another clash over taxes, spending and borrowing between Rome and Brussels, hints of a China escalation held down equity markets in Asia and Europe and pulled Wall Street futures back into the red.
Contracts tied to the Dow Jones Industrial Average suggest a 173-point opening bell decline while those linked to the S&P 500 are indicating a 20 point pullback for the broader benchmark. 
Perhaps the more decisive moves, however, were seen in fixed income markets, where benchmark 10-year U.S. Treasury bonds yields touched a September 2017 low of 2.22% in overnight trading, pulling it 10 basis points below yields on 3-month Treasury bills, the most significant 'inversion' of the yield curve since 2007.
Japanese 10-year government bonds also rallied in the safe-haven trading, falling to a September 2016 low of -0.1%, while German bunds were seen at 0.16%, moves that now have nearly $13 trillion worth of global bonds trading with a negative yield.
European stocks were notably weaker by late-morning trading in Frankfurt, with the Stoxx 600 sliding 1.4% as bank, auto and basic resource stocks lead the decliners. 
Bank stocks are been suffering for much of the past few sessions, particularly in Italy, as the government continues to push for a relaxation of EU budget rules amid threats of a €3 fine from Brussels for breaching the region's Growth and Stability Pact, which places limits on annual borrowing.
Banks are also finding it difficult to generate profits in a market where short-term yields are sharply lower than longer-term ones, and with inflation failing to consistently meet the European Central Bank's price stability target of 'just below 2%', bets are starting to increase in near-term easing in the final months of President Mario Draghi's seven-year tenure.
In fact, the ECB laid out a series of downside risks to both the Eurozone and world economies, highlighting the trade war impact on growth and inflation in its semi-annual Financial Stability Report.
"Challenges to financial stability increase amid downside risks to the economic outlook," the ECB said. "Should downside risks to growth materialise, financing costs for vulnerable sovereigns are likely to increase which may unearth debt sustainability concerns."
Global oil prices backed off in overnight trading, as well, with investors now eyeing U.S. crude stockpile data over the next two days alongside any hits from OPEC members as to how they expect to proceed with production cuts -- which, along with Russia, are taking 1.2 million barrels from the market each day - when the cartel meets late next month in Vienna.
Brent crude contracts for July delivery were marked $1.7 lower from from their Tuesday close to change hands at $68.42 per barrel while WTI contracts for the same month were seen $1.55 cents lower at $57.59 per barrel.
Trending Videos on TheStreet