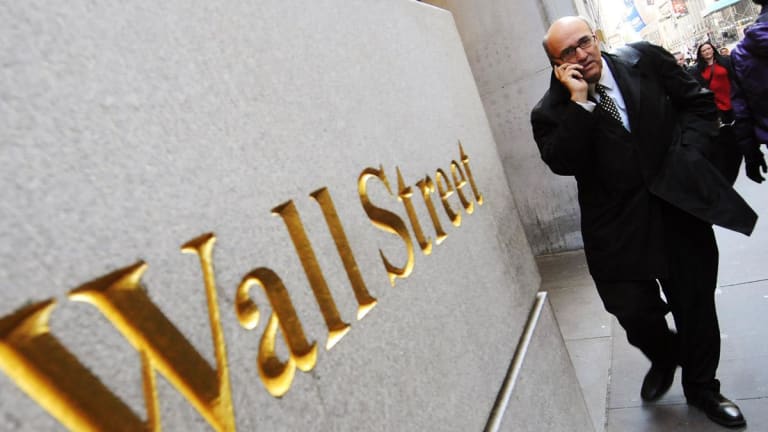 Dow Futures Slide Amid Report China Seeking Narrow US Trade Deal
Global stocks edged higher Monday, although U.S. equity futures pointed to a softer open on Wall Street, as investors offset a solid September jobs number with reports that China is prepared to narrow its terms of agreement on trade when talks resume this week in Washington.
The Monday Market Minute
Global stocks edge lower, with safe-haven assets gain amid reports China will narrow focus in U.S. trade talks later this week in Washington.
Bloomberg reports China no longer seeking broad-based agreement, and will scrap key U.S. demands on industrial reforms and state-owned company subsidies.
Report offsets solid Friday reaction to U.S. jobs report, which showed headline inflation at a 50-year low but with tempered wage growth that won't take the Fed from its rate-cutting course.
Oil prices flat as traders offset a return to full output capacity in Saudi Arabia with softening demand as German industrial orders fall shy of estimates in August.
Market Snapshot
Global stocks edged lower Monday, while U.S. equity futures pointed to a softer open on Wall Street, as investors offset a solid September jobs number with reports that China is prepared to narrow its terms of agreement on trade when talks resume this week in Washington.
Bloomberg reported Sunday that Chinese officials are no longer interesting in a broad-based trade deal with the United States, following months of stalled negotiations and tit-for-tat tariffs, and will instead pursue a more specifically defined agreement that removes any demands for China to tackle industrial reforms or the thorny issue of government subsidies for state-supported enterprises.
The re-focusing of talks so close to the start of high-level meetings, which are set to being this Thursday in Washington, bodes poorly for a near-term deal between the world's two largest economies and could suggest China sees itself as having a stronger hand owing to President Donald Trump's current entanglement in an ongoing, and developing, impeachment process. 
The trade uncertainty has also blunted the impact of Friday's solid payroll report, which showed headline unemployment falling to the lowest levels since December 1969, indicating renewed strength in the domestic economy, with wage growth essentially flat enough to prevent the U.S. Federal Reserve from growing concerned about inflation and backing away from expected rate reductions. 
U.S. equity futures, in turn, suggest a weaker open on Wall Street Monday, with contracts tied to the Dow Jones Industrial Average indicating a 70 point opening bell decline and those linked to the S&P 500 guiding to an 8point pullback for the broader benchmark.
General Electric (GE) - Get Free Report shares were a notable market mover, rising nearly 2% in pre-open trading after the struggling industrial group said it would reduce its pension liabilities by as much as $8 billion, with further debt reductions planned for the coming months.
The CME Group's FedWatch tool is pricing in an 81.8% chance of an October rate cut following Friday's jobs report, although the U.S. dollar drifted lower against a basket of its global peer overnight to trade at at 98.80. 
Benchmark 10-year U.S. Treasury notes, meanwhile, were marked modestly higher at 1.536%, while 2-year notes were seen trading at 1.415%, suggesting bond investors are also well ahead of the Fed in terms of anticipating lower near-term interest rates. 
Bond investors will also need to take down around $193 billion in supply this week, including $108 billion in new debt, as the Treasury continues to fund the near-record U.S. budget deficit of just over $1 trillion.
European stocks opened higher, with defensive sectors such as healthcare and utilities pacing the gains, with the Stoxx Europe 600 rising 0.33% in Frankfurt despite a weaker-than-expected reading for industrial orders over the month of August in Germany, Europe's biggest economy.
Overnight in Asia, reports of China's trade recalcitrance pushed the offshore yuan lower against the U.S. dollar, to 7.1337, but with markets closed in Beijing to mark the final day of celebrations for the 70th anniversary of Communist Party rule, market reaction in the region was muted.
Japan's Nikkei 225 closed 0.17% higher at 21,445.73 points even as the yen held onto recent gains to trade at 106.88 against the greenback, while South Korea's KOSPI index edged 0.1% higher in Seoul.
Global oil prices bumped higher in a quiet overnight session, as well, with demand concerns linked to a potential breakdown in U.S.-China trade talks unable to offset last week's return to full capacity in Saudi Arabia following the September 14 attacks on two key crude facilities, which have ratcheted up tensions between Iran and the Kingdom in the Gulf region.
Brent crude contracts for December delivery, the global benchmark, were seen 57 cents higher from Friday's New York close to trade at $58.94 per barrel while WTI contracts for November delivery, which are more tightly linked with U.S. gasoline prices, were marked 69 cents higher at $53.50 per barrel.