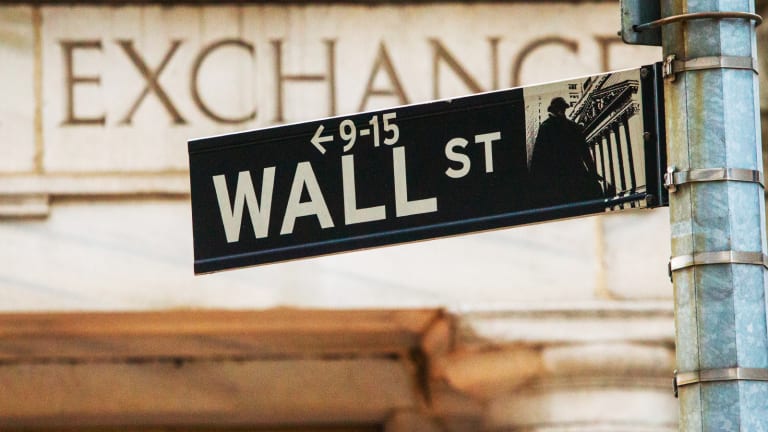 Dow Futures Retreat as Investor Focus Shifts From Rate Cuts to Growth Concerns
Global stocks stalled Wednesday, pulling Wall Street futures modestly into the red, as investors pared recent equity market gains amid concerns over the strength of the world economy and the fate of U.S.-China trade talks.
The Wednesday Market Minute
Global stocks slide as investors pare recent gains fueled by rate cut hopes and switched focused to slowing economic growth.
President Trump says he's "holding up" U.S.-China trade deal, but still plans Xi meeting at G20 Summit: China won't confirm one-on-one sit down.
China factory gate inflation, a key demand indicator from the world's second largest economy, slowed in May, adding to regional global growth concerns.
Global oil prices slumped following the softer China data and a surprise build in domestic U.S. crude inventories.
Wall Street futures suggest modest declines on Wall Street ahead of May consumer inflation data at 8:30 am and earnings from Lululemon Athletics.
Market Snapshot
Global stocks stalled Wednesday, pulling Wall Street futures modestly into the red, as investors pared recent equity market gains amid concerns over the strength of the world economy and the fate of U.S.-China trade talks.
President Donald Trump insisted yesterday that he would not sign a trade agreement with China that didn't favour the United States, and urged Beijing to return to the pact the two countries were working on in early May. He also said he plans to meet China's President, Xi Jinping, at the G20 Summit in Osaka later this month, although Chinese government officials have so far refused to confirm its existence.
With fresh questions on the fate of trade talks with China, which have been dormant for more than a month, and the tailwind from potential interest rate cuts from both the European Central Bank and the Federal Reserve fading, investors shifted focus overnight to the strength of the global economy.
China reported a slower-than-expected reading of factory gate inflation for the month of May of just 0.6%, and the closely-followed reading of industrial demand from the world's second-largest economy hit shares in the region and put markets in a defensive mood in overnight trading.
U.S. equity futures reacted in kind, with contracts tied to the Dow Jones Industrial Average suggesting a 605 point dip at the start of trading Wednesday while those linked to the S&P 500 are indicating a 7.2 point retreat for the broader benchmark.
Medidata Solutions Inc. (MDSO) - Get Medidata Solutions, Inc. Report shares were an early pre-market mover, falling 3.8% after it agreed a takeover offer from France's Dassault Systemes SE at a discount to its current market value of $5.9 billion.
Tesla Inc. (TSLA) - Get Tesla Inc Report shares were also on the move, and are set to open at a near one-month high Wednesday after founder and CEO Elon Musk suggested the carmaker could have a record quarter of deliveries and insisted the was "not a demand problem" for the flagship Model 3.
Global oil prices also reflected the market's pessimistic mood, with crude contracts falling sharply after the U.S. Energy Information Administration trimmed its outlook for world demand to 1.22 million barrels per day and the American Petroleum Institute published a surprise 4.9 million barrel increase in domestic inventories that took last week's tally to 482.8 million barrels.
Brent crude contracts for August delivery, the global benchmark, were seen $1.52 lower from their Tuesday close in New York and changing hands at $60.77 per barrel, while WTI contracts for July, which are more tightly linked to U.S. gas prices, were marked $1.39 lower at $51.88 per barrel.
The U.S. dollar index, which tracks the greenback against a basket of six global currencies, slipped back towards a two-and-a-half year low in overnight trading ahead of May consumer price data at 8:30 am and a broader "risk off" sentiment in global markets.
European stocks were also weaker in late morning trading in Frankfurt, with the Stoxx 600 falling 0.4% in Frankfurt while Britain's FTSE 100, which is more heavily-weighted with energy and basic resource stocks, fell 0.6% by late morning trading in London.
Overnight in Asia, the region-wide MSCI ex-Japan index slumped 0.56% as China stocks fell following the factory gate inflation slowdown and a modestly higher reading of consumer prices for the month of May. Japan's Nikkei 225, meanwhile, fell 0.35% as the yen rose to 108.24 against a softer U.S. dollar, blunting gains for export-focused companies on the Tokyo benchmark.