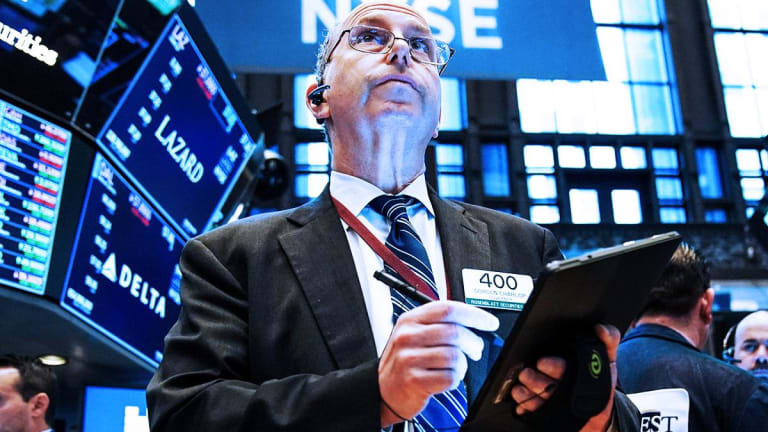 Dow Futures Rebound as Trump Says US in 'Fantastic Position' in China Trade War
U.S. equity futures rebounded from the second-worst trading day of the year Tuesday, setting up a positive open on Wall Street as President Donald Trump insisted he was in a "fantastic position" in his escalating trade dispute with China.
The Tuesday Market Minute
Global stocks mixed, with gains in Europe offsetting sharp declines in Asia, amid contradictory messages on trade from the While House.
President Donald Trump plans to meet China's Xi Jinping at the G20 summit in Japan, but directs the U.S. Trade Representative to hold public hearings on new tariffs on a further $300 billion in China-made goods.
European stocks bounce higher as major bourses rebound from near-correction territory, but Japan's Nikkei closes at a three-month low amid trade war uncertainty.
Global oil prices active amid trade concerns, with prices supported by military and supply-security tensions in the Gulf region.
U.S. equity futures suggest a solid rebound on Wall Street ahead of import price data at 8:30 am Eastern time and earnings from Ralph Lauren and Agilent Technologies.
Market Snapshot
U.S. equity futures rebounded from the second-worst trading day of the year Tuesday, setting up a positive open on Wall Street as President Donald Trump insisted he was in a "fantastic position" in his escalating trade dispute with China. 
China's decision to reply to U.S. tariffs on its goods with a 25% levy on $60 billion worth of U.S. imports sent markets reeling yesterday on Wall Street, with the Dow Jones Industrial Average plunging more than 600 points to a three-month low and the S&P 500 giving back 69.5 points to take its decline since President Donald Trump first threatened tariffs on May 5 to 4.5%.
Perhaps sensing the breadth of the selling on Wall Street, Trump told reporters in the White House Monday that a with China's President, Xi Jinping, at next month's G20 summit in Japan would be "very fruitful", adding at a dinner to mark an official visit from Hungary's Viktor Orbán that "I have a feeling it's going to be very successful."
Still, at the same time, the U.S. Trade Representative said it would hold public hearings on the impact of fresh tariffs on $300 billion worth of China-made goods, a levy that would following last week's imposition of 25% charge on $200 billion worth of imports and raise the stakes in what is now a dangerously-developing trade war.
This morning, however, Trump returned to his favorite social media venue to double-down on his assertion that the U.S. has more to gain for a trade war, insisting that "we can make a deal with China tomorrow, before their companies start leaving so as not to lose USA business, but the last time we were close they wanted to renegotiate." 
U.S. stock futures looked set to claw back at least a few points from last night's sell-off, with contracts tied to the Dow indicating a 134 point gain and those linked to the S&P 500 indicating an 16 point bump for the broader benchmark, with both indices getting support from a rebound in tech stocks and a stronger-than-expected reading for small-business optimism from the NFIB.
European stocks were also stronger by mid-day of trading, with the Stoxx 600 benchmark rising 0.7% in Frankfurt and Britain's FTSE 100 adding 0.86% in London as the pound drifted to 1.2944 against the U.S. dollar.
Bayer AG (BAYRY) shares slumped to a near seven-year low on the Deutsche Boerse after a jury in California awarded more than $2 billion to a pair of plaintiffs who said the chemicals group's Roundup weed killer caused them to contract cancer.
Walmart Inc. (WMT)  shares were also active after it said it will launch a free, next-day delivery service to challenge its online rival Amazon (AMZN) as retailers step-up their efforts to cater to changing consumption patterns in the world's biggest economy.
Walmart's NextDay delivery service will apply to around 220,000 frequently-purchased items on the Walmart.com website, the company said, and will be offered without a membership on all orders over $35. The new service will launch in Phoenix and Las Vegas, Walmart said, before expanding to Southern California in the coming days and around 75% of the broader U.S. population, including 40 of the top 50 major metro areas, by the end of the year.
The more notable mover during the overnight session, however, was the Chinese yuan, which slipped to a 2019 low of 6.8933 amid speculation that authorities may use the currency as a tool in the trade war, allowing it to weaken in order to lower the price of exported goods and offset tariff increases.
Asia stocks reacted in kind, with Japan's Nikkei 225 falling for a sixth consecutive session to close at a three-month low of 21,067.23 points. China stocks were active again today, with the Shanghai Composite closing 0.67% lower on the session amid signs of buying from government-backed agencies supporting prices.
The dollar index, which tracks the greenback against a basket of six global currencies, was modestly stronger at 97.34 during the early European session, while benchmark 10-year Treasury note yields added 1 basis point to trade at 2.412% as equity sentiment shifted to a more positive outlook.
China's $1.3 trillion holding of U.S. Treasury bonds, however, presents another headache for investors in a protracted trade war, given rising speculation that Beijing could either cease buying new bonds with the dollar it receives from U.S. trade ($21 billion last month alone) or sell them into the market as a form of tariff retaliation.
The broader impact of a trade-related slowdown in both global and U.S. economic growth is a more pressing concern, however, and is starting to be acknowledged by members of the Federal Reserve, one of which hinted at lower interest rates as a potential counterweight yesterday.
"If the impact of the tariffs - and whatever financial market reaction to those tariffs is - causes more of a slowdown, then we do have the tools available to us, including lower interest rates," Boston Fed President Eric Rosengren told Reuters.
Global oil prices remained active in the overnight session, as well, after swinging in-and-out of positive territory yesterday, amid concerns for global supply routes following allegations of an attack on Saudi tankers in the Strait of Hormuz and slowing world demand for crude as trade dispute mute economic activity in the world's biggest energy markets.
Brent crude contracts for July delivery, the global benchmark for oil prices, were marked $1.14 higher from their Monday close in New York and changing hands at $71.37 per barrel while WTI contracts for June delivery were seen 75 cents lower at $61.79 per barrel.
Watch Jim Cramer's Daily NYSE Show and Replays Below