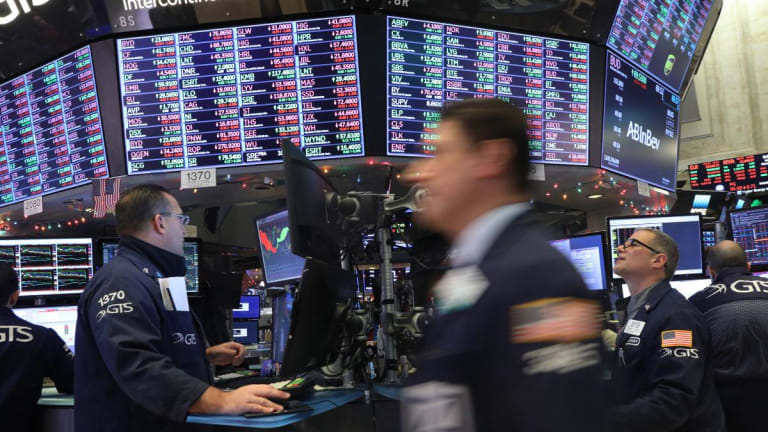 Dow Futures Higher as Trump/Xi Meeting Dominates G20 Focus, Keep Markets on Edge
U.S. stocks are set to open the final trading day of the first half of the year in a cautious mood as investors await news from a key meeting between President Donald Trump and Chinese leader Xi Jinping later this evening at the G20 Summit in Japan.
The Friday Market Minute
U.S. equity futures edge higher on the final trading day of the second quarter as investor await news of a key meeting on trade between Presidents Donald Trump and Xi Jingping.
Trump and Xi will meet for around 90 minutes at 10:30 pm Eastern time today, with plans to talk trade, North Korea and Pacific region security.
Trump says meeting will "at a minimum, be productive", adding "we'll see what happens".
Trump hails the prospect of several "big" trade deals on day one of the G20 Summit in Osaka, but other world leaders hint concern for protectionist policies and warn of slowing growth. 
Bank stocks likely in focus following last night's Federal Reserve stress tests, which gave a clean bill of health to the biggest U.S. lenders, paving the way for dividend increases and share buybacks.
Wall Street futures suggest cautious opening bell gains the three major benchmarks ahead of quarterly earnings from Constellation Brands and key personal consumption and inflation data at 8:30 am Eastern time.
Market Snapshot
U.S. stocks are set to open the final trading day of the first half of the year in a cautious mood as investors await news from a key meeting between President Donald Trump and Chinese leader Xi Jinping later this evening at the G20 Summit in Japan. 
Trump will speak with Xi for about 90 minutes, according to White House officials, starting at around 10:30 pm Eastern time. The pair are expected to discuss range of issues shared between the world's two biggest economies, including North Korea's weapons program and Pacific-region security. 
Trade, however, is indisputably the the focus of their long-awaited meeting, as is the broader summit of G20 nation leaders in Osaka, Japan, this weekend, as the two sides look to revive an budding agreement that collapsed in May amid accusations of China's "backsliding" by the United States and "bullying" tactics from Washington.
White House economic advisor Larry Kudlow told Fox News yesterday that there were no pre-conditions to the meeting, adding that "we believe it's quite possible if the meeting goes well that the Chinese will come back to the negotiating table and we might be able to pick up where we left off in May."
U.S. equity futures, as well as broader global markets, suggest investors aren't willing to reach for risk ahead of what could be one of the most important bi-lateral trade meetings of the past decade, with contracts tied to the Dow Jones Industrial Average suggesting a 107 point gain and those linked to the S&P 500, which has gained just over 16.7% so far this year for its best first half since 1998, indicating a 9.5 point advance for the broader benchmark.
Apple Inc. (AAPL) - Get Apple Inc. Report shares were a notable early market mover, shedding more than $9 billion in value in pre-market trading Friday following news that one of its key designers, Jony Ive, will leave the tech group later this year following three decades at the centre of its creative focus.
Bank stocks are also likely to be in focus during the Friday session, however, and could provide an updraft for U.S. stocks in the absence of G20 headlines, following the results of yesterday's Federal Reserve stress tests for the country's biggest banks.
All sixteen U.S. lenders passed the tests, which were designed to test their capital plans against a sharp downturn in the broader economy. The results will allow most if not all of them to increase dividends and share buybacks.
JPMorgan Chase & Co. (JPM) - Get JP Morgan Chase & Co. Report got things rolling immediately following the results last night, announcing a 10 cent increase in its third quarter dividend, taking it to 90 cents per share, as well as plans to buyback $29.4 billion shares over the next 12 months, sending the stock 2% higher in pre-market trading.
European stocks were also looking at a mixed open heading into the close of books for both the second quarter and the first half of the year, although bank stocks could once again stand out following the stress tests as Deutsche Bank (DB) - Get Deutsche Bank AG Report notched its first piece of good news in several years by passing the Fed's prescribed conditions for capital returns.
The region-wide Stoxx 600 rose 0.038% by mid-day trade in Frankfurt, with Deutsche Bank leading the charge with a 3% advance and Credit Suisse Group (CS) - Get Credit Suisse Group American Depositary Shares Report lagging after the Fed said it needed to resubmit capital plans in October. 
Global oil prices were little-changed  Friday, with US. crude near $60 per barrel, as investors trimmed risky bets heading into the G20 meeting between Presidents Trump and Xi. 
Prices were supported, however, by prospects of an extended agreement on OPEC production cuts, which along with allies such as Russia are taking 1.2 million barrels from the market each day, when cartel leaders meet early next week in Vienna.
Brent crude contracts for August delivery, the global benchmark, were seen 20 cents higher from their Thursday close in New York and changing hands at $66.75 per barrel in early European trading. WTI contracts for the same month, which are more tightly linked to U.S. gas prices, were marked 20 cents higher at $59.63 per barrel.
Overnight in Asia, stocks slipped modestly lower amid conflicting reports of progress and tension between U.S. and Chinese officials, with markets largely unmoved by a series of references to "big" trade agreements between the U.S. and Japan and the U.S. and India from President Trump.
The region-wide MSCI Asia ex-Japan index, the broadest measure of regional share prices, was marked 0.22% lower heading into the final hours of trading while Japan's Nikkei 225 fell 0.29% to close out the half year with a 6.3% advance. 
Democratic Candidates Take Aim at Wall Street