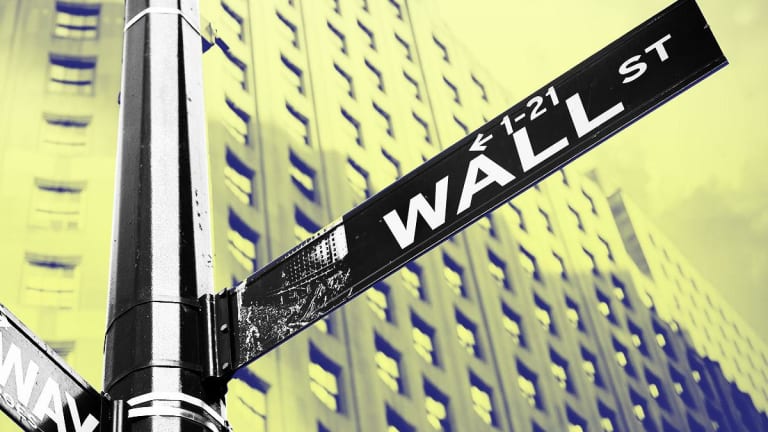 Dow Futures Slip, Global Stocks Mixed; Brexit Talks, US Earnings Drive Sentiment
Global stocks traded mixed Wednesday, with modest gains in Asia offset by weaker U.S. equity futures, as investors eyed the final hours of Brexit negotiations between Britain and the EU while awaiting around round of third quarter earnings reports on Wall Street.
The Wednesday Market Minute
Global stocks mixed with gains in Asia offset by weaker U.S. futures are political and growth risks shroud a solid start to the U.S. earnings season.
Britain and the EU enter the final hours of Brexit talks ahead of a key leaders' summit later this week in Brussels, with hopes of a breakthrough lifting the pound to a 5-month high.
U.S. lawmakers pass legislation supporting Hong Kong protests, with China hitting back at what is calls "sinister intentions" that could scupper last week's trade truce.
U.S. Q3 earnings seasons got off to a solid start Tuesday, with stronger-than-expected bank profits, but the IMF's downgrade of global growth prospects casts a pall over Wall Street's bullish response.
US equity futures suggest opening bell declines on Wall Street ahead of earnings from Bank of America, Abbott Laboratories, PNC Financial, US Bancorp, IBM and Netflix as well as September retail sales data at 8:30 am Eastern time.
Market Snapshot
Global stocks traded mixed Wednesday, with modest gains in Asia offset by weaker U.S. equity futures, as investors eyed the final hours of Brexit negotiations between Britain and the EU while awaiting around round of third quarter earnings reports on Wall Street. 
The U.K.'s years-long effort to leave the European Union with a bespoke agreement reached a frantic pace last night, with both sides suggesting a potential breakthrough remained close enough to extend talks into a third consecutive day, with the aim of bringing a complete text to EU leaders later this week in Brussels.
The news lifted sterling to a five-month high against the U.S. dollar, but with many questions still unanswered, and divided British lawmakers still needing to vote approval on any agreement brought to Parliament, the saga could well extend into next year and beyond if Prime Minister Boris Johnson is forced to seek a third extension from Brussels.
Politics of another kind hung over the Asia trading session, while clipped gains for U.S. equity futures in overnight trading, after Congressional lawmakers unanimously approved four pieces of legislation backing pro-democracy protests in Hong Kong, a move that China described as having "sinister intentions" and were designed to curtain its broader economic growth.
Should China retaliate to the U.S. measures passed last night -- which still need Senate approval -- it could scupper the fragile truce on trade and tariffs the two sides reached late last week in Washington.
The worrying political backdrop offset yesterday's solid session on Wall Street, which saw the Dow rise nearly 240 points following stronger-than-expected earnings from JPMorgan (JPM) - Get JPMorgan Chase & Co. (JPM) Report , Johnson & Johnson (JNJ) - Get Johnson & Johnson (JNJ) Report , UnitedHealth (UNH) - Get UnitedHealth Group Incorporated Report and Citigroup (C) - Get Citigroup Inc. Report .
But with Brexit talks nearing a definitive conclusion, and more earnings from the likes of Bank of America (BAC) - Get Bank of America Corp Report , IBM (IBM) - Get International Business Machines (IBM) Report , Netflix (NFLX) - Get Netflix, Inc. (NFLX) Report and Abbott Laboratories (ABT) - Get Abbott Laboratories Report still to come later today, investors are looking to start the trading session on Wall Street in a cautious mood.
Futures contracts tied to the Dow Jones Industrial Average suggest a 15 point opening bell dip while those linked to the S&P 500, which has gained 19.52% so far this year, are guiding to a 4 point pullback for the broader benchmark after a weaker-than-expected September reading for U.S. retail sales.
European stocks were modestly weaker at the start of trading Wednesday, with the Stoxx 600 slipping 0.1% in Frankfurt and Britain's FTSE 100 falling 02% as the pound eased from a five-month high of 1.28 to trade at 1.2770 against the U.S. dollar.
Overnight in Asia, Japan's Nikkei 225 booked its second consecutive 1%-plus session gain, lifting the benchmark to a 10-month high as the yen eased to 108.90 against the dollar following news of the potential Brexit breakthrough. 
The broader MSCI ex-Japan index, however, saw more modest gains of around 0.4% as investors fretted over the passage of U.S. legislation supporting Hong Kong and yesterday's move by the International Monetary Fund to trim its 2019 global growth forecast to just 3%, the weakest since the 2009 financial crisis. 
Global oil prices traded modestly higher in the early European session, as the U.S. dollar eased and investors awaited Columbus Holiday-delay data on domestic crude stocks from the American Petroleum Institute later today and the Energy Department tomorrow.
Brent crude contracts for December delivery were seen 25 cents higher from Tuesday's New York close to trade at $58.99 per barrel, putting the global benchmark for crude some 18% lower -- and within touching distance of bear market territory -- since hitting a multi-month peak of $71.95 in the wake of drone attacks on two key Saudi oil facilities.
WTI contracts for November delivery, which are more tightly linked with U.S. gasoline prices, were marked 24 cents lower at $53.05 per barrel, and have fallen 16.2% since the September 14 attacks on the Abqaiq and Khurais facilities in eastern Saudi Arabia.