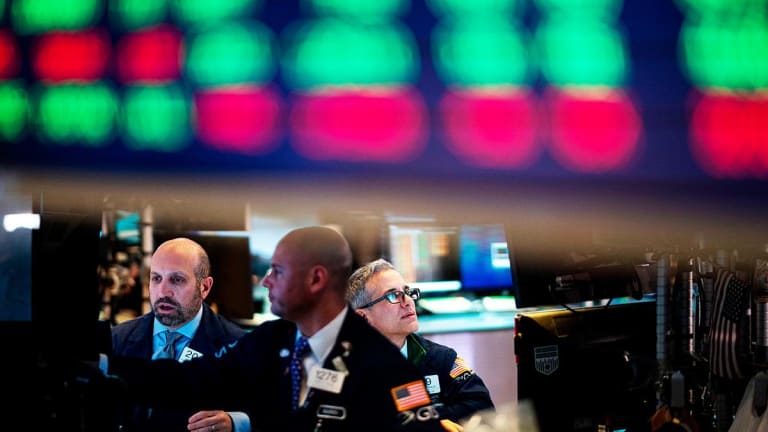 The Wednesday Market Minute
Global stocks steady as investors await Congressional testimony from Fed Chair Jerome Powell later today in Washington as well as the release of Minutes from the Fed's June 19 rate decision.
Powell kicks off two days of testimony with an appearance before the House Financial Services committee at 10:00 am Eastern, with Minutes to follow at 2:00 pm Eastern.
Asia stocks drift higher as the dollar holds gains, but flat China factory gate inflation raises more concerns about a lack of business investment in the world's second largest economy.
U.S. and China take the first steps in renewed trade talks, but White House advisor Larry Kudlow cautions there are no "miracles" to be found in the months-long deadlock.
Global oil prices extend gains following a report that suggests a steep decline in U.S. crude stocks, with simmering Gulf tensions adding to concerns of a supply shortage.
U.S. equity futures suggest a weaker open on Wall Street, with the S&P 500 retreating 9 points at the start of trading, ahead of Powell's prepared testimony release at 8:30 a.m. Eastern time
Market Snapshot
U.S. equity futures suggested a modestly softer open on Wall Street Wednesday as investors prep for a crucial appearance from Federal Reserve Chairman Jerome Powell before lawmakers in Washington, as well as the release of minutes from the central bank's last rate decision, amid mixed signals on growth and inflation in the world's largest economy.
Powell will start the first of his two days of testimony to U.S. lawmakers on Capitol Hill by taking questions from the House Financial Services committee at 10:00 am Eastern time.That will be followed by the release of minutes from the Fed's June 19 rate decision, which made no changes to key lending rates but signaled the potential for easier policy in the months ahead.  The Fed Chair will also sit before the Senate Banking committee tomorrow in Washington.
Investors are hoping Powell will add more context to the Fed's broader plans to monitor incoming data while assessing the impact of slowing global growth on the U.S. economy, given that trade talks with China look set to re-start and last month's employment report showed a much stronger-than-expected gain of 224,000 new jobs. The twin developments have all but erased market bets on a 50 basis point rate cut from the Fed when it meets later this month, although investors are still pricing in a 100% chance of a 25 basis point reduction.
U.S. equity futures suggest investors aren't eager to add to risk positions ahead of Powell's Congressional testimony, which begins shortly after the opening bell on Wall Street, with contracts tied to the Dow Jones Industrial Average indicating a 72.5 point pullback and those linked to the S&P 500 guiding for a 9 point bump to the downside.   
European stocks were also weaker by mid-morning trade, with the Stoxx 600 slipping 0.25% in Frankfurt and Britain's FTSE 100 falling 0.24% in London as the pound edged higher from six-month lows against the U.S. dollar after a stronger-than-expected reading for May GDP.
Overnight action in Asia also suggests caution from global investors amid news that U.S. Trade Representative Robert Lighthizer, as well as Treasury Secretary Steven Mnuchin, resumed telephone conversations with their opposite numbers in China in an attempt to revive trade negotiations that stalled in early May.
"There are no miracles here," White House economic advisor Larry Kudlow cautioned yesterday in Washington. "There was headway last winter and spring, then it stopped. Hopefully we can pick up where we left off, but I don't know that yet."
The region-wide MSCI Asia ex-Japan index edged 0.28% higher in overnight trading, while Japan's Nikkei 225 slipped 0.15% as the yen ground modestly higher against the U.S. dollar.
Asia sentiment was held in check, however, by data from China showing a flat factory gate inflation reading for the month of June, a key metric for industrial demand in the world's second largest economy that follows grim readings for machines tool orders in Japan earlier this week.
The U.S. dollar index, which tracks the greenback against a basket of six global currencies, was held near a four-week high of 97.52 in overnight trading as investors faded bets on deeper Fed rate cuts, helping benchmark 10-year Treasury note yields retreat to 2.108%.
Global oil prices bucked the broader global trend, however, after data from the American Petroleum Institute showed a bigger-than-expected decline of 8.1 million barrels in U.S. crude stocks last week, as well as reports that U.S. drillers began evacuating staff from rigs in the Gulf of Mexico amid concern that a tropical depression could pick up speed over the coming days before landing on the Upper Texas Coast.
Brent crude contracts for September delivery, the global benchmark, were seen $1.17 higher from their Tuesday close and changing hands at $65.33 per barrel in early European trading while WTI contracts for August, which are more tightly linked to U.S. gas prices, were marked $1.13 higher at $58.96 per barrel.