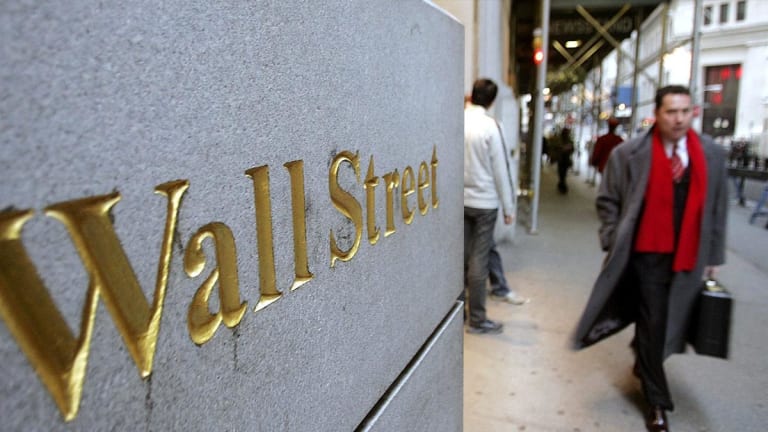 Dow Futures Extend Declines, Global Stocks Slide, as Growth Concerns Tame Bulls
U.S. equity futures extended declines Tuesday, while global stocks retreated for a second consecutive session, as investors continued to reduce bets on a big Federal Reserve rate cut while focusing on deteriorating economic data and weakening corporate earnings.
The Tuesday Market Minute
Global stocks extend declines, pulling stocks in Asia to a two-week low, as investors trim bets on a big Fed rate cut and continue to question the near-term strength of the world economy.
Futures traders are pricing in only a 2.5% chance of a 50 basis point reduction in the Fed's key interest rate later this month, pushing the dollar index to a three-week high against a basket of its global peers.
European stocks open weaker, with chemicals stocks leading to the downside after a major profit warning from Germany's BASF.
Global oil prices reverse declines following a report that suggests a steep decline in output from Russia's Rosneft.
U.S. equity futures suggest a weaker open on Wall Street, with the S&P 500 retreating 12 points at the start of trading, ahead of JOTS employment data and second quarter earnings from PepsiCo.
Market Snapshot
U.S. equity futures extended declines Tuesday, while global stocks retreated for a second consecutive session, as investors continued to reduce bets on a big Federal Reserve rate cut while focusing on deteriorating economic data and weakening corporate earnings.
Last week's solid employment report, which included the headline addition of 224,000 new jobs, has all but eliminated the chance of a 50 basis point rate cut from the Fed when it meets later this month in Washington. The re-pricing of support from the central bank, which is under renewed fire from President Donald Trump, as taken the steam out of global equity markets and re-focused investors towards weakening economic data and the prospects of a U.S earnings recession.
Data from Japan over the past two days has shown a notable and concerning slump in orders for core machinery and machine tools, both of which represent key forward-looking readings into the business investment plans of companies around the world. Looking ahead to the U.S. corporate earnings season, which kicks off next week, investors are expecting the first back-to-back quarterly decline in profits since 2016.
Adding to the broader concerns are a lack of clarity in U.S.-China trade talks following last week's G20 summit in Japan, a slump in overall business conditions and falling government bond yields, all of which point to near-term equity market weakness.
Wall Street futures were moving largely in-line with that thesis Tuesday, with contracts tied to the Dow Jones Industrial Average suggesting a 103 point pullback while those linked to the S&P 500 were indicating a 110 point pullback for the broader benchmark. Nasdaq Composite futures are guiding to a 43 point opening bell decline.
PepsiCo. Inc (PEP)  edged higher after it posted stronger-than-expected second quarter earnings Tuesday, and maintained its full-year sales growth forecast, as snacks sales from its Frito-Lay division continue to drive top-line growth.
WATCH: Is Pepsi Okay? The History Behind PepsiCo
3M Co. (MMM) shares were indicated lower after analysts at RBC Capital Markets lowered their rating on the stock and investors reacted to a surprise profit warning from European industrial group BASF SE undefined .
Deutsche Bank (DB)  extended declines, taking its two-day slump past 10%, as analysts and investors appear to show little faith in the struggling lender's $8.3 billion restructuring plans.
Investor concern with respect to economic weakness, as well as the ongoing rate differentials in global currency markets that give the U.S. dollar a major trading advantage, helped lift the greenback to a fresh three-week high of 97.55 against its global peers.
The euro slipped to a three-week low and the pound remained welded to the lowest levels in six months as the Conservative Party leadership contest to replace Theresa May drags on and the candidates signal an ever-increasing likelihood of leaving the European Union without a trade deal on October 31.
European stocks were also weaker by mid-day trading Tuesday, with the Stoxx 600 falling 0.5% in Frankfurt despite the softer euro proving support for export stocks, as basic resource, auto and chemicals stocks lead the decliners.
Britain's FTSE 100 edged 0.01% higher, with the weaker pound helping export stocks, while German's trade-sensitive DAX index falling 0.88% thanks in part to a 6% decline for chemicals group BASF after the chemicals group issued a 2019 profit warning linked to the U.S.-China trade dispute. 
Overnight in Asia, the region-wide MSCI ex-Japan benchmark fell 0.48%, as tech stocks retreated following yesterday's 2% slide for Apple Inc. (AAPL) following a downgrade from Rosenblatt Securities, while Japan's Nikkei 225 bumped 0.14% higher thanks to a weaker yen. 
Global oil prices were modestly weaker across the board Tuesday, as well, with investors citing both the weakening Japanese machinery data and last week's global PMI readings, which were the weakest since 2012, as further evidence of demand weakness that is offsetting both the ongoing Gulf tensions linked to Iran and last week's move by OPEC producers to extend their production cuts into the first quarter of 2020.
Those moves were reversed in mid-morning European trade, however, after Reuters reported that Russia's state-owned oil company, Rosneft, saw output over the first week of July fall by 11%, to 10.8 million barrels per day, compared to June levels.
Brent crude contracts for August delivery, the global benchmark, were seen 37 cents higher from their Monday close and changing hands at $64.48 per barrel in early European trading while WTI contracts for the same month, which are more tightly linked to U.S. gas prices, were marked 33 cents higher at $57.99 per barrel.