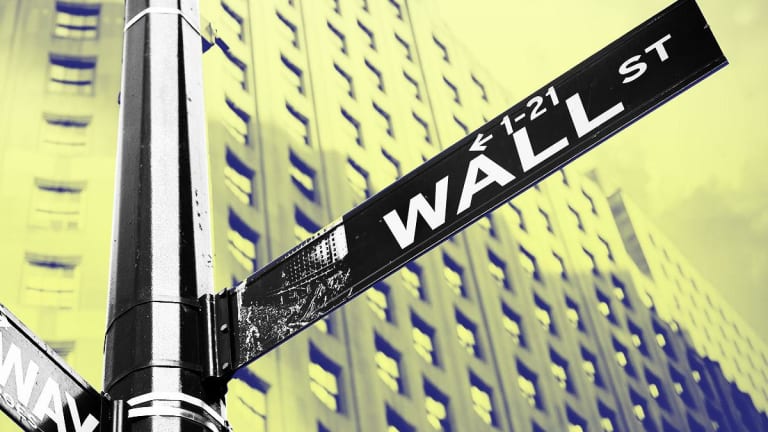 Dow Futures Edge Lower on Reports Trump Ordered US Airstrikes on Iran
U.S. equity futures pulled back from record highs Friday, while global stocks retreated and safe-haven assets rallies, following reports that President Donald Trump ordered, and then rescinded, an airstrike on military installations in Iran.
The Friday Market Minute
Global stocks edge lower, while bond yields continue to rally, as investors hedge the recent equity market rally amid concerns over rising military tensions in the Gulf region.
The New York Times reports President Trump ordered, and then stood down, a U.S. strike on military installations in Iran following yesterday's downing of drone patrolling the Strait of Hormuz.
European Stocks open flat, while Asia markets traded in the red, as a lack of progress in U.S.-China trade talks, as well as worrying Gulf tensions, tames sentiment.
Global oil prices sputter despite reports of the U.S. airstrike, but crude is on pace for its first weekly gain in five.
Wall Street futures suggest modestly opening bell declines for the three major benchmarks, ahead of PMI manufacturing and services data at 09:45 am Eastern time and existing home sales figures at 10:00 am Eastern time.
Market Snapshot
U.S. equity futures pulled back from record highs Friday, while global stocks retreated and safe-haven assets rallies, following reports that President Donald Trump ordered, and then rescinded, an airstrike on military installations in Iran.
The planned strike, which was reported by the New York Times, was meant to take place early Friday morning in response to the downing of a $130 million Northrup Grumann (NOC) - Get Northrop Grumman Corporation Report made drone patrolling the Gulf of Hormuz on Thursday. Trump had warned that Iran had made a "big mistake" and warned of consequences to follow, but appeared to pull back from executing a military response only hours before U.S. jets were set to take off.
The Times report was unable to determine if Trump had merely postponed the strike, or cancelled it altogether, raising concerns that tensions in the region could quickly escalate. The U.S. Federal Aviation Administration issued a warning to carriers in the region not to pass through Gulf of Oman waters and United Airlines (UAL) - Get United Airlines Holdings, Inc. Report suspended a Newark-bound flight originating from Mumbai.
Wall Street futures reflected some of that concern in early market trading, with contracts tied to the Dow Jones Industrial Average suggesting a modest 58 point decline after touching a record high 26,798.63 points in Thursday trading. Contracts linked to the S&P 500, which printed an all-time high close of 2,954.18 points, are primed for an 8.2 point dip, according to futures prices.
Slack Technologies (WORK) - Get Slack Technologies, Inc. Class A Report shares were a notable early mover, rising 5% in pre-market trading following a direct listing on the New York Stock Exchange yesterday that valued the business-focused software group at $23 billion.
Market volatility Friday may also be stirred by the so-called quadruple witching hour, a period near the end of each quarter during which options and futures on equity indices, as well as options and futures on individual stocks, all expire together. 
Benchmark 10-year bond yields, which traded at a November 2016 low of 1.974% Thursday, held at 2.025% in overnight trading, while similarly-dated German bunds hit a fresh record low of -0.329% and 10-year Japanese government bonds traded at -0.15%.
Investors are also paring record gains for U.S. stocks, which were largely the result of two key central bank easing signals this week -- first from Mario Draghi and the ECB and then from Federal Reserve Chairman Jerome Powell -- in the absence of progress in U.S.-China trade talks and the risk that Trump will slap tariffs on a fresh $300 billion batch of imports if his meeting with President Xi Jingping this month fails to bear fruit.
Apple Inc. (AAPL) - Get Apple Inc. (AAPL) Report  asked the U.S. government not to accelerate tariffs on China-made goods imported into the United States, according to comments published on the U.S. Trade Representative website, saying the move would hurt its global competitiveness.
With trade talk progress unapparent, and tensions in the Gulf region rising by the hour, global stocks were unwilling to extend this week's central-bank primed gains, with investors instead taking government bond yield prices higher -- and yields lower -- and lifting spot gold prices to a fresh six year high of $1,410.78 per ounce.
In Europe, the Stoxx 600 benchmark slipped 0.27% by-mid day trading in in Frankfurt, while bourses around the region flitted in-and-out of positive territory as the euro edged higher to 1.1309 against the U.S. dollar following better-than-expected PMI readings for the Eurozone economy. Britain's FTSE 100, meanwhile, was marked 0.05% higher as the pound eased to 1.2667 against the greenback. 
Global oil prices were extended gains in the overnight session, and look set to notch their first weekly gain in five amid the ongoing Gulf tensions and suggestions that OPEC members will extend their agreement on production cuts, which are taking 1.2 million barrels from the market each day, when cartel members meet early next month in Vienna.
Brent crude contracts for August delivery, the global benchmark, were seen 83 cents higher from their Thursday close in New York and changing hands at $65.27 per barrel in early European trading, while WTI contracts for the same month, which are more tightly linked to U.S. gas prices, were marked 39 cents higher at $57.46 per barrel.