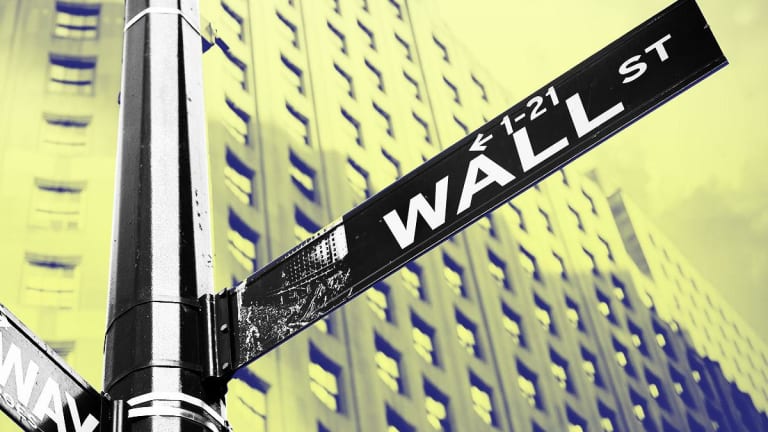 Dow Futures Fall, Dollar Slide As Key US-China Trade Talks Resume in Washington
U.S. equity futures traded lower Thursday, while global stocks reversed earlier gains, as investors braced for what could be make-or-break trade talks in Washington later today while eyeing further signals of economic weakness that underscore the impact of the year-long dispute.
The Thursday Market Minute
Global stocks mixed as US-China trade talks kick-off in Washington Thursday amid souring relations between the world's two biggest economies.
Asia media reports China may cut the two-day talks short, while US outlets suggest chance of compromise as tariff increases on China-made goods loom next week.
Japan machinery orders and German exports underscore economic impact from prolonged trade disputes, but stocks trade modestly higher on hopes of a near-term deal.
U.S. dollar index on track for biggest single-session decline in five weeks are traders bet on interest rate cuts and fret over fate of U.S.-China talks. 
Oil prices drift lower after official data showing a larger-than-expected build in U.S. crude supplies following forecasts for record output n 2019 and 2020.
US equity futures suggest a modestly weaker open flat on Wall Street ahead of September inflation and weekly jobless claims data at 8:30 am Eastern time as well as third quarter earnings from Delta Airlines Group.
Market Snapshot
U.S. equity futures drifted lower Thursday, while global stocks reversed earlier gains, as investors braced for what could be make-or-break trade talks in Washington later today while eyeing further signals of economic weakness that underscore the impact of the year-long dispute.
Futures accelerated modest declines, however, after China's Foreign Ministry urged the U.S. to cease its "unreasonable pressure" on domestic companies following this week's move to blacklist several firms under the guise of human rights concerns, but pared those loses later in the session.
Thursday's, which are scheduled to include China's Vice Premier Liu Hie, Treasury Secretary Steve Mnuchin and US Trade Representative Robert Lighthizer, are the first high-level meetings between the two side since the G20 summit in late June, and could likely be the last chance to make significant progress on a trade pact between the world's two biggest economies prior to next year's Presidential elections.
The mood heading into the two-day meetings, however, has soured considerably this week, with U.S. moves to blacklist Chinese tech firms and restrict visas for top government officials countered by China's threat to "stay tuned" for reprisals and the ongoing boycott of the NBA's pre-season tour following a pro Hong Kong Tweet from a league executive.
President Donald Trump repeated his view yesterday -- expressed on scores of occasions in the past -- the China "wants a deal more than we do", but with impeachment proceedings accelerating at home, and allies abroad ramping up pressure owing to Trump's decision to withdraw U.S. troops from northern Syria, China may not be as inclined to offer concessions as it was earlier this year.
Tariff threats loom, however, if the talks do break down, with increased levies on $250 billion worth of China-made goods set to kick-in on October 15, and an additional tariff of 15% on $300 billion worth of goods, which would effectively mean all China imports are subject to extra costs, set for mid-December.
"We do not love tariffs, in fact we would prefer not to use them, but after years of discussions and no action, tariffs are finally forcing China to pay attention to our concerns," U.S. Commerce Secretary Wilbur Ross told an audience in Sydney Thursday. "China has refused to change its behavior. In fact, its global trade practices have only gotten worse."
Against that backdrop, U.S. equity futures suggest a cautious open on Wall Street, with contracts tied to the Dow Jones Industrial Average indicating a 70 point decline and those linked to the S&P 500, which has gained around 16.5% so far this year but is only up 1.1% over the past six months, are suggesting a 6 point dip for the broader benchmark.
The year-long trade dispute, which has seen tit-for-tat tariffs on $550 billion of goods from either side, a notable slowing of the Chinese economy and the labeling of Beijing as a currency manipulator by the Treasury Department, as also taken a withering tool on global growth, a condition highlighted again this morning by weaken data in key export markets.
Japan's core machinery orders, a key barometer for investment spending, fell 2.4% in August, while Germany's statistics office noted that exports for the same month out of Europe's biggest economy fell by a larger-than-expected 1.8%.
European stocks were marked 0.18% lower by mid-day trading in Frankfurt, reversing earlier gains, while Britain's FTSE 100 slipped 0.1% lower as the pound jumped to 1.2250 against the dollar. 
Still, with a weakening greenback, linked in part to increased bets of Federal Reserve rate cuts, and falling energy prices on the back of weaker-than-expected China demand, Asia stocks were able to book reasonably firm gains Thursday as investors eyed news from the two-day summit in Washington.
Japan's Nikkei 225 rose 0.45% on the session to close at 21,551.98 points while China's Shanghai Composite was marked 0.5% higher heading into the close of trading, with a similar percentage gain for Hong Kong's Hang Seng index.
Away from equities, the U.S. dollar index, which tracks the greenback against a basket of six global currencies, was marked 0.4% lower on the session at 98.68, while benchmark 10-year Treasury notes remained modestly higher at 1.582% amid a deluge of supply that includes $108 billion in new bond auctions this week.
Global oil prices were modestly softer in early European trading, following a larger-than-expected buildup in U.S. crude stocks from the Energy Department's weekly report as well as its Tuesday projections for record U.S. output of more than 12.2 million barrels per day this year and 13.1 million barrels per day in 2021.
Brent crude contracts for December delivery, the global benchmark, were seen 16 cents lower from Wednesday's New York close to trade at $58.16 per barrel while WTI contracts for November delivery, which are more tightly linked with U.S. gasoline prices, were marked 15 cents lower at $52.44 per barrel.