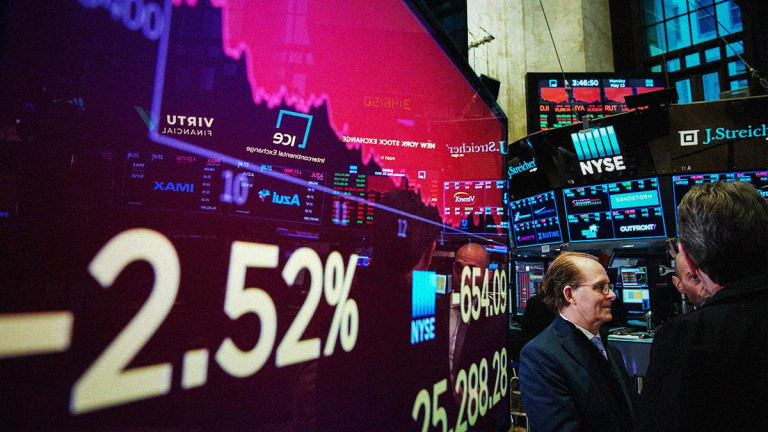 The Tuesday Market Minute
Global stocks drift lower ahead of a busy corporate earnings session on Wall Street and the start of the Fed's two-day policy meeting in Washington.
Asia shares edge higher after the Bank of Japan signals near-term policy support and trade talks between the U.S. and China resume this week in Shanghai.
European shares slip as business and consumer sentiment weaken, while Britain's FTSE 100 nudges higher as the pound extends declines to a fresh 28-month low.
U.S. equity futures suggest modest opening bell declines on Wall Street ahead of earnings from Mastercard, Merck, Eli Lilly and Procter & Gamble as well as key inflation data at 8:30 am Eastern time.
Market Snapshot
U.S. equity futures edged lower Tuesday as investors prepared for another heavy slate of corporate earnings, highlighted by Apple Inc.'s (AAPL) - Get Apple Inc. (AAPL) Report third quarter report after the close of trading, and eyed weakening growth and sentiment data in major economies around the world.
Investors are also keeping a cautious stance on risk as the Federal Reserve kicks-off its two-day policy meeting in Washington against a backdrop of a resilient U.S. economy and weakening global growth. Traders are still expecting a 25 basis point rate cut from C hairman Jerome Powell and his colleagues tomorrow, while major central banks around the world are holding fire on their own stimulus plans until the Fed defines it policy intentions for the rest of the year.
The Bank of Japan hinted as much earlier Tuesday, telling investors it will "take additional easing steps without hesitation if there is a risk the economy will lose momentum for hitting our price target" thanks in part to softer growth forecasts linked to the U.S.-China trade war.
The European Central Bank, which signaled a September rate move and the resumption of quantitative easing last week, will have also been minded by data from France today showing a slower-than-expected second quarter growth rate and surveys from German indicating declining consumer confidence.
However, even with prospect of near-term central bank support, and the resumption of trade talks between the U.S. and China this week in Shanghai, investors appear reluctant to take U.S. stocks further into record highs until either the Fed makes it intentions clear or Apple surprises markets with a stronger-than-expected near-term outlook later today.
Contracts tied to the Dow Jones Industrial Average suggest a modest 66 point decline at the start of trading Tuesday, while those linked to the broader S&P 500 are indicating 6.4 point pullback ahead of earnings from Mastercard (MA) - Get Mastercard Inc. (MA) Report , Eli Lilly (LLY) - Get Eli Lilly and Company (LLY) Report , Procter & Gamble (PG) - Get Procter & Gamble Company Report and Merck & Co. (MRK) - Get Merck & Co., Inc. (MRK) Report .
Beyond Meat (BYND) - Get Beyond Meat, Inc. Report shares were indicated sharply lower in pre-market trading after the vegetarian food producer said it may issue new shares to fund its expansion plans after boosting its full-year profit guidance amid surging demand for its plant-based burgers and sausages.
Overnight in Asia, the Bank of Japan's hint at policy support weakened the yen, which slipped to 108.56 against the U.S. dollar, and helped the Nikke 225 notch a 0.43% gain by the close of trading in Tokyo while the broader MSCI Asia ex-Japan index nudged 0.14% higher into the final hours of the session.
Europe stocks, meanwhile, drifted lower amid a series of weaker-than-expected blue chip corporate earnings and a softer reading of Eurozone consumer and business sentiment for the month of July. 
The Stoxx 600 benchmark slipped 0.8% in Frankfurt while Britain's FTSE 100 edged 0.01% higher as the pound extended declines to a fresh 28 month low of 1.2186 against the greenback, boosting the value of stocks on the benchmark that earn their revenues outside of the United Kingdom.
Global oil prices rose for a fourth consecutive session Tuesday, lifting U.S. crude prices past $57 per barrel, as investors priced in both near-term rate cuts from the Fed and other central banks that offset concerns for slumping demand over the second half of the year.
Brent crude contracts for September delivery, the global benchmark, were seen 72 cents lower from their Monday close and changing hands at $64.43 per barrel while WTI contracts for the same month, which are more tightly linked to U.S. gas prices, were marked 56 cents higher at $57.43 per barrel.