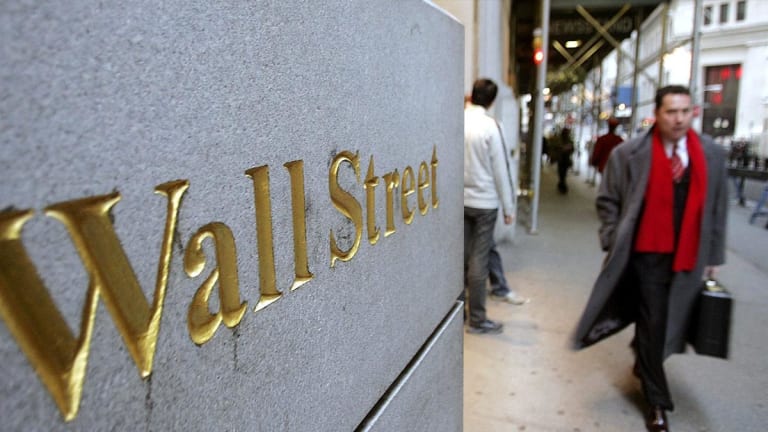 Dow Futures Gain, Global Stocks Mixed as China Adds to Positive Trade Vibes
Wall Street futures edged higher Tuesday, while global stocks extended gains towards multi-month highs, amid renewed signals of progress in U.S.-China trade talks and an upbeat assessment on the domestic economy from Federal Reserve Chairman Jerome Powell.
The Tuesday Market Minute
Global stocks mixed as China signals further progress in trade talks, adding to bullish tone in equity markets around the world.
Merger Monday momentum, which saw $70 billion in deals in less than 48 hours, lifts Nikkei to 13-month high.
European stocks slip from four year highs heading into U.S. holiday shortened week with trade-sensitive stocks leading Tuesday's modest advance.
Bond markets braced for $113 billion in fresh Treasury supply as well as a rare $3 billion sale from China priced in U.S. dollars.
Wall Street futures suggest modest opening bell gains for all three benchmarks ahead of earnings from Best Buy, Burlington Stores, Dollar Tree and Hormel Foods.
Market Snapshot
Wall Street futures edged higher Tuesday, while global stocks flirted with multi-month highs, amid renewed signals of progress in U.S.-China trade talks and an upbeat assessment on the domestic economy from Federal Reserve Chairman Jerome Powell.
China's Commerce Ministry said in a statement Tuesday that Vice Premier Lie He had made progress with its U.S. counterparts, including Trade Representative Robert Lighthizer and Treasury Secretary Steve Mnuchin, during a phone call late Monday and agreed to work towards implementation of the so-called Phase One agreement. 
The positive tone from Beijing followed a weekend move to overhaul its legislation on intellectual property protection, which many analysts have said suggests a willingness to reach an acceptable agreement with the United States ahead of planned tariffs on $160 billion in China made goods, which are set to kick in on December 15. 
Closer to home, Fed Chairman Jerome Powell painted a construction picture of the strength of the U.S. economy during a speech to the Greater Providence Chamber of Commerce in Rhode Island. Focusing on the labor market, Powell said it was possible for wages to continue to rise, even with unemployment running at five-decade lows, an assessment that suggests little chance of near term rate increase.
"At this point in the long expansion, I see the glass as much more than half full," Powell said. "With the right policies, we can fill it further, building on the gains so far and spreading the benefits more broadly to all Americans."
With an improving tone on trade, pliant central bank messaging and a tailwind from yesterday's $70 billion "Merger Monday" bonanza of deals, global stocks are well-placed to add to gains that have lifted markets for three consecutive months, even as U.S. investors prepare to shut down activity heading into the Thanksgiving holiday weekend.
U.S. equity futures, however, do suggest a muted open on Wall Street, which could reflect a lack of liquidity in the holiday-shortened week, with contracts tied to the Dow Jones Industrial Average indicating a modest 15 point gain while the broader S&P 500, which has gained 25% so far this year, is priced for a 0.3 point opening bell bump.
Part of the broader market sentiment this morning was also liked to Best Buy Co. (BBY)  , which posted better-than-expected third quarter earnings, while boosting its full-year profit guidance, and said it will launch a next-day delivery service for the coming holiday shopping season.
Dollar Tree Inc. (DLTR)  shares, however, slumped more than 10% after it posted softer-than-expected third quarter earnings and cautioned that tariff increases and store closure costs would trim its bottom line.
European stocks were little-changed by mid-day in Frankfurt, after closing at the highest levels since May 2015 last night, as the euro hovered around the 1.1021 mark against the U.S. dollar and investors protected recent gains heading into the Thanksgiving weekend.
Overnight in Asia, Japan's Nikkei 225 added 0.35% to climb back to its recent 13-month high at 23,373.32 points while the region-wide MSCI ex-Japan benchmark edged 0.01% higher heading into the final hours of trading. 
The U.S. dollar index was marked 0.02% lower against a basket of six global currency peers in early European trading, while benchmark 10-year Treasury note yields were seen one basis point higher at 1.759% amid a hefty week of new bond sales that will flood the market with $113 billion in fresh supply.
On top of that, China will tap the dollar bond market later today for only the second time in 15 years as it looks to raise $3 billion through the sale of 3-year, 5-year, 10-year and 30-year notes prices at a yield of between 60 basis points and 75 basis points higher than U.S. Treasury bond yields of similar maturity.
Perhaps reflecting some of the lagging market liquidity heading into Thanksgiving, global oil prices were little-changed in early Tuesday trading despite the bullish China trade sentiment and the modestly softer U.S. dollar. 
Brent crude contracts for January delivery, the global benchmark, were seen 19 cents higher from their Monday close and trading at $63.84 per barrel, while WTI contracts for the same month were marked 21 cents higher at $58.22 per barrel.