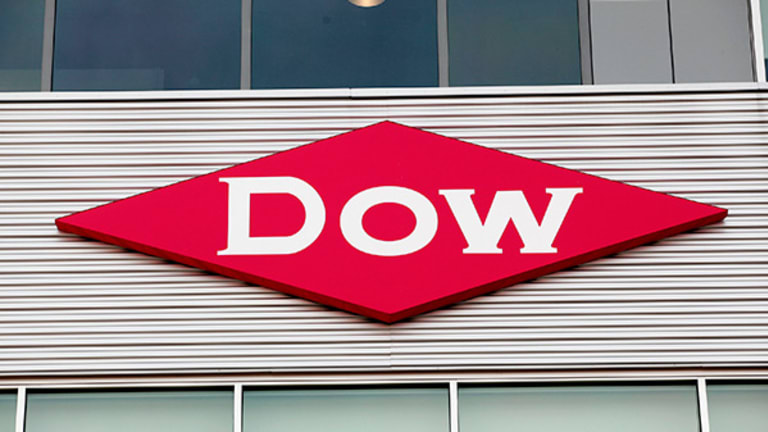 Publish date:
Dow Chemical Shows Strong Chemistry Ahead of DuPont Deal
The company flexes its muscle as a standalone, benefiting from its focus on consumer sectors to outperform despite a sluggish industrial economy.
The company flexes its muscle as a standalone, benefiting from its focus on consumer sectors to outperform despite a sluggish industrial economy.
Dow Chemical (DOW) - Get Report , like merger partner DuPont (DD) - Get Report , remains confident that despite regulatory concerns the companies' $130 billion combination will get done. Based on third-quarter results, investors should be excited about the company's prospects regardless of what regulators decide.
Midland, Mich.-based Dow earned 91 cents a share in the quarter, excluding special items, easily beating the 80-cent consensus on revenue of $12.48 billion. It was Dow's 16th consecutive quarter of year-over-year Ebitda margin expansion, driven by vibrant consumer demand and strong agriculture performance in Latin America.
Dow and DuPont plan to combine and then split into three more focused entities, and company officials on Thursday echoed DuPont's comments from earlier in the week that the two sides expect the deal to win regulatory approval and close in the first quarter of 2017.
Judging by the results, which included a 12th straight quarter of volume growth during what has been a sluggish overall global economic growth environment, investors have little to worry about even if the deal is held up. Dow said its work cutting costs and focusing its attention on faster-growing sectors has it well-positioned for the future.
"These results reflect our resolute focus and action to continue to drive greater resilience and predictability in our business model, our targeted market participation, a strong innovation agenda, a commitment to continuous productivity and self-help actions, and strategic investments that will deliver the next level of earnings and cash flow," Chairman and CEO Andrew N. Liveris said.
The company showed growth in all segments other than performance materials, where a chlorine products divestiture impacted results. Liveris said on a conference call with analysts that Dow is benefiting from a product mix that is focused on areas including safety, hygiene and the environment, which he said has held up better than more traditionally industrial markets.
The addition of Dow Corning, a 72-year-old joint venture with Corning that Dow brought in-house earlier this year, also contributed to the earnings upside. Overall, Dow reported average operating cash flow of $7.2 billion in the 12 months ended Sept. 30, more than double the $3 billion average reported by the company a decade ago.
Dow Chemical is part of the Action Alerts PLUS portfolio. Jim Cramer, TheStreet's founder and manager of Action Alerts PLUS, and director of research Jack Mohr, aid in a note that the results "serve to further validate Dow's inherent value on a standalone basis" and "makes the investment thesis that much more compelling as we move closer to the closing of the merger with DuPont, which reported blowout earnings itself earlier this week."
Cramer and Mohr noted that productivity improvements and cost-cutting efforts at Dow totaled $76 million in the quarter, keeping management well on track to exceed their 2016 target of $300 million.
"We believe the company is setting itself up well for the impending merger with DuPont as it executes seamlessly on its own, internal cost-cutting measures, leaning out the business for an easier integration," Cramer and Mohr said.