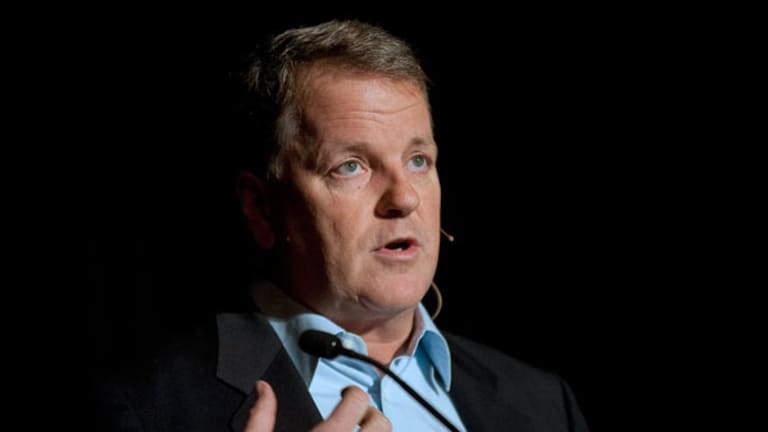 Doug Parker: Old American Airlines Was Hobbled by Labor Conflict
American CEO Doug Parker said that previous American Airlines management was so hampered by conflict with labor that the airline could not reach its potential.
CHARLOTTE, N.C. (TheStreet) -- A frank Doug Parker said prior management of American Airlines (AAL) - Get American Airlines Group, Inc. Report was so hamstrung by conflicts with labor that its ability to manage the airline was reduced.
American became "an airline that couldn't really achieve its potential because the management-labor relations had gotten so bad," Parker, CEO of American following a merger with US Airways, said Monday, speaking at a JPMorgan investor conference. "There is so much to do when you get everybody excited and working together than you can't do when they're not."
Parker answered a question from JPMorgan analyst Jamie Baker, who described the merger between American and US Airways as "a management takeover." Baker said "the prior management team was insular and focused for many years more on liquidity" before asking, "where's the benefit from a change in leadership?
"I know you have to be humble," Baker said. And Parker sought to answer diplomatically. Still, he made it clear that he and the management team he brought from US Airways plan to run things differently.
Parker, who worked at American from 1986 to 1991, said, "I have found in my return to American, it's in a different shape than when I left ... somewhere along the line, for any number of reasons that people can come up with, it's different.
"The biggest difference at American vs. the other airlines I've been is the lack of management-labor relations," he said. "I don't know how it happened. I don't really care. But I tell the American Airlines team this all the time. I've been doing this for a long time, and no other management team says the word 'labor' as much as the American Airlines management team said it."
Early on in the American/US Airways merger, Parker said "there were concerns that we were actually talking to labor unions," and managers on the American side were saying 'Oh, gee, you don't know what's going to happen' and 'you'd better be careful' kind of stuff."
Parker said changing the mindset is "where I think the biggest opportunity is, and that's why I felt so good about in the support we had from the employees in getting this done." He noted that "we've got a lot of people who stuck their necks out for us," apparently referring to leaders of American's three principal unions.
After American filed for bankruptcy protection on Nov. 29, 2011, unions were strategic leaders who worked closely with US Airways to engineer a merger in which US Airways management took over at American. Cooperation between labor and the creditors committee created an environment that was receptive to the case made by US Airways management for a merger.
Of the top three union leaders, two -- Dave Bates of the Allied Pilots Association and Jim Little of the Transport Workers Union -- have already been replaced. Laura Glading, who was deeply involved in marshaling merger support on the creditors committee, remains president of the Association of Professional Flight Attendants.
Written by Ted Reed in Charlotte, N.C.
To contact this writer, click here.