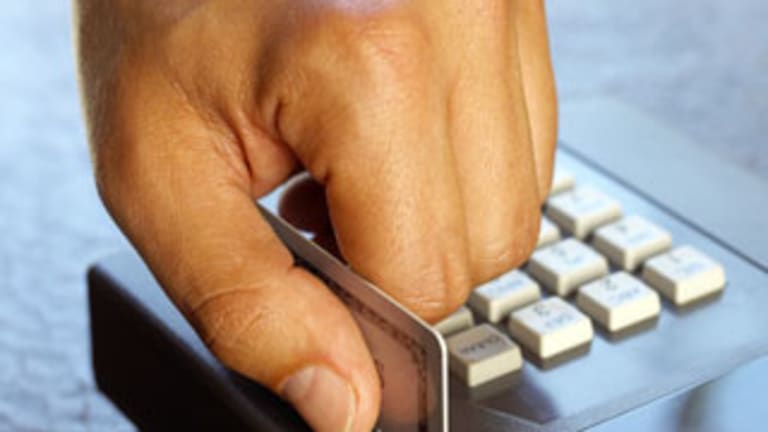 Don't Get Caught By Latest Credit Card Scam
The latest scam targeting consumers seeking to rebuild their credit scores is related to a similar scam the OCC warned about last month.
NEW YORK (
) -- The credit card scammers targeting consumers seeking to rebuild their credit scores are at it again, operating through another phony bank.
The Office of the Comptroller of the Currency late Wednesday sent a warning about "unauthorized banking" to all U.S. bank regulators that it had been "informed that an entity entitled AmTrade International Bank is involved in a scheme that involves soliciting consumers for semi-secured credit cards through the U.S. mail."
There is no bank chartered in or authorized to operate in the United States named "AmTrade International Bank."
According to the OCC, "Potential victims receive solicitations and program agreements, which may mention that Credit One Bank, N.A., is connected with the card agreement. Credit One Bank, N.A., has no connection to this entity. The victim is requested to submit a check payment in an amount ranging from $500 to $900 as a deposit to obtain a semi-secured credit card, with the understanding that he or she is entering into a program to rebuild poor credit. The check is cashed, but the victim never receives the anticipated credit card."
The OCC provided a
sample of the fake credit card offer documents
being mailed to potential victims.
The fake "AmTrade international Bank" included an address in Fort Lauderdale, Fla., in its direct mail solicitations. The OCC said that neither the phone number included in the fake credit card offer documents nor the website, AmTradeInternational.com, were working. The regulatory also requested that anyone with additional information contact the agency at occarlertresponses@occ,treas,gov.
Sounds familiar?
It should, because the OCC in August warned of a
originating in Fort Lauderdale, with a phony bank named "Freedom 1st National Bank." The mail offers sent to victims in the previous scam also claimed an affiliation with Credit One Bank, N.A.
Credit One Bank, N.A. happens to be a legitimate institution headquartered in Las Vegas, that offers secured credit cards to consumers.
Secured credit cards can be an excellent tool for consumers looking to rebuild their credit scores. The customer makes a deposit with the bank, and in return is issued a credit card with a limit that matches the deposit amount. The deposit money is not used to fund credit card purchases, and payments made on credit balances are reported to the credit reporting agencies as real credit. After a time, assuming the customer makes their credit payments on time and their credit score goes up, the bank may return the deposit, changing the secured credit card into a regular credit card. Customers can also pay their credit card balances down to zero, if they want their deposit money back.
While most consumers have no use for a secured card, chances are you know someone who might wish to rebuild their credit. It's important to spread the word about the need to be careful when responding to offers in the mail for credit cards.
For starters, anyone considering responding to an offer should look carefully at the offer and then call the company making the offer. If it's a scam, the scammer is unlikely to be operating a call center.
The customer agreements should also mention the actual name and address of the chartered depository institution taking the deposits. You can then go to the Federal Deposit Insurance Corp. Web site and search for the institution's call report or thrift financial report, by
. It may be best to simplify your search, by just entering the first few words of the bank's name.
Then, for report type, select "Call/TFR." Then type the institution's name to search for it. If no report comes up, and we are in the middle of the quarterly cycle when banks file their financial information with regulators, you may need to go back a quarter when selecting the report date.
The call report includes the bank's address right at the top.
Consumers wishing to use a secured card to rebuild credit are probably best off approaching the credit card lenders directly, by making a phone call or going to their websites.
Credit One Bank, N.A., offers secured credit cards through their
. The bank also provides plenty of customer service phone numbers, and you should call for details.
Credit One Bank's secured credit cards have minimum opening credit lines and deposit requirements of $300 to $500, with a $75 fee for the first year, and annual fees $99 thereafter. Those fees are pretty hefty, so your objective should be to restore decent enough credit relatively quickly, in order to obtain a non-secured credit card and avoid future fees.
Bank of America
(BAC) - Get Bank of America Corp Report
offers secured
Visa
(V) - Get Visa Inc. Class A Report
credit cards with a competitive annual fee of $39, and balances ranging from $300 to $4,900. The products are described on Bank of America's
, and the bank clearly states "After 12 months, you may qualify to have your security deposit returned while you continue to use your card."
Capital One
(COF) - Get Capital One Financial Corporation Report
offers a secured
MasterCard
(MA) - Get Mastercard Incorporated Class A Report
with
a relatively low annual fee of $29
, with a required minimum "$49, $99 or $200 refundable deposit based on your creditworthiness." Available secured credit lines range up to $3,000.
Wells Fargo
(WFC) - Get Wells Fargo & Company Report
offers a
with an even lower annual fee of $25. Deposit and credit lines range up to $10,000.
-- Written by Philip van Doorn in Jupiter, Fla.
>Contact by
.
Philip W. van Doorn is a member of TheStreet's banking and finance team, commenting on industry and regulatory trends. He previously served as the senior analyst for TheStreet.com Ratings, responsible for assigning financial strength ratings to banks and savings and loan institutions. Mr. van Doorn previously served as a loan operations officer at Riverside National Bank in Fort Pierce, Fla., and as a credit analyst at the Federal Home Loan Bank of New York, where he monitored banks in New York, New Jersey and Puerto Rico. Mr. van Doorn has additional experience in the mutual fund and computer software industries. He holds a bachelor of science in business administration from Long Island University.