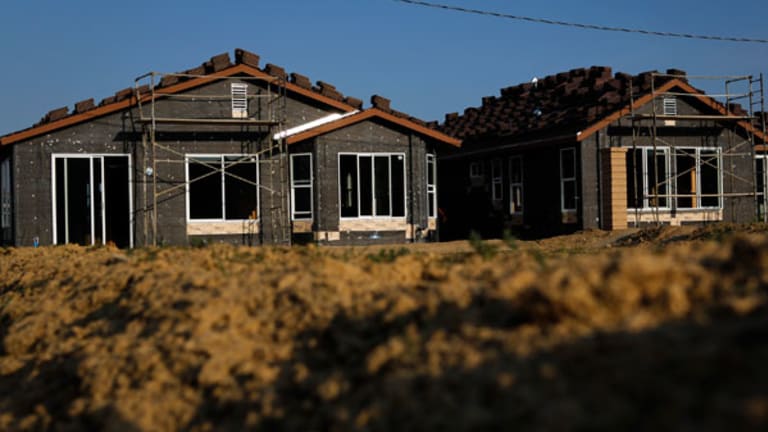 Don't Fret Higher Mortgage Rates
Higher mortgage rates could help housing markets sustain their run. And as sentiment improves, stocks could get a boost.
NEW YORK (TheStreet) --Housing's been hot lately, with ultra-low supply sending prices higher and fueling a wave of construction starts -- a small but noteworthy economic tailwind. Historically cheap mortgages have been a key driver, but now rates are ticking up. Over the past five weeks, weekly 30-year fixed rates have jumped nearly a 0.6 percentage point, leading some to wonder how higher borrowing costs will impact the housing markets.
In our view, higher mortgage rates could potentially help housing markets sustain their largely underappreciated run. And as investors notice and sentiment continues improving, stocks could get a nice boost, too.
>>Also see: Oracle's Earnings: What Wall Street's Expecting>>
Even with the recent uptick, mortgage rates remain near generational lows, as shown in Exhibit 1. For high-quality borrowers, mortgages are still cheaper than at almost any point since 1971 -- and cheaper than they were during some very strong periods for U.S. home sales. Thus, demand should likely remain firm.
Exhibit 1: 30-Year Fixed Mortgage Rates (Monthly Average)
Source: Freddie Mac, as of June 3, 2013
Higher rates, however, likely do impact the supply side. One big driver of banks' willingness to lend is their net interest margin -- essentially the potential profit on the next loan made. Net interest margins have shrunk since 2010 and are near their lowest point in recent history, as shown in Exhibit 2.
Exhibit 2: Average Net Interest Margin of All Commercial Banks
Source: FDIC, as of June 6, 2013
This is largely due to the
Fed's
quantitative easing program. By purchasing long-term Treasuries and agency mortgage-backed securities, the Fed has pulled down long-term rates.
In a more normal environment -- i.e., an environment without Fed intervention -- short rates could fall in sympathy, keeping the margin between the two more or less intact. But the Fed has pegged short rates near zero, so falling long rates means a smaller gap between the two -- and less potential profit on the next loan made. That diminishes banks' incentive to lend.
Higher rates, however, likely widen banks' net interest margins, which could motivate them to lend more enthusiastically. (Hence, why we'd welcome the tapering or end of quantitative easing.) And if mortgage supply rises while demand stays strong, housing's run should continue.
Of course, since residential real estate's only 2.6% of the U.S. economy (as of fourth-quarter 2012), housing strength isn't a huge economic driver. It's simply too small.
It is, however, potentially a key investor sentiment driver, looking forward.
Housing got a lot of negative attention when it was weak, and many feared the U.S. economy couldn't improve meaningfully after 2008 without a strong housing rebound. But now that it's in a legitimate and seemingly sustained rebound, it's not getting an equal amount of positive attention. Instead, many have characterized the rebound as illusory, describing markets with words like "frothy," rather than the real product of rising demand and tight supply.
>>Also see: Cronut Mark-Up Astounds>>
Some folks have turned more optimistic in recent months, but sentiment broadly doesn't reflect the current strength. As sentiment catches up with reality, it should help carry stocks higher.
This article was written by an independent contributor, separate from TheStreet's regular news coverage.
This article constitutes the views, opinions, analyses and commentary of Fisher Investments as of June 2013 and should not be regarded as personal investment advice. No assurances are made Fisher Investments will continue to hold these views, which may change at any time without notice. In addition, no assurances are made regarding the accuracy of any forecast made herein. Past performance is no guarantee of future results. A risk of loss is involved with investments in stock markets.
This commentary comes from an independent investor or market observer as part of TheStreet guest contributor program. The views expressed are those of the author and do not necessarily represent the views of TheStreet or its management.