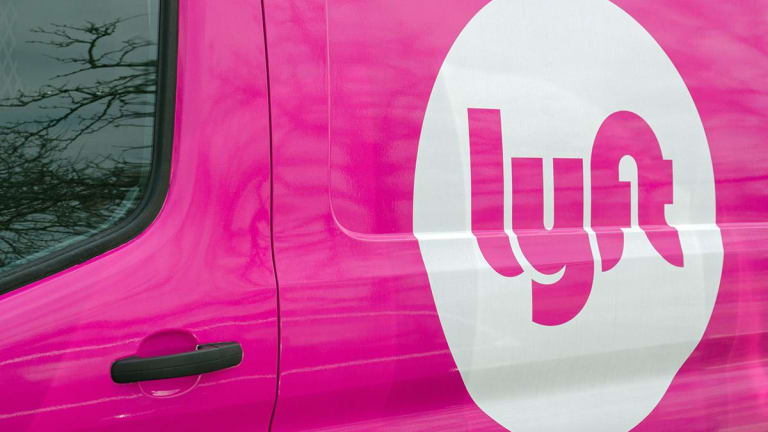 Don't Look to Lyft Shares to Give Your Portfolio a Lift
The company continues to post strong growth. But upon closer examination, this high-priced, cash-burning ride-sharing stock is best avoided.
As you'd expect from a unicorn company that's recently gone public, particularly at the late stage of a mature bull market, Lyft's management is highly promotional. Despite having an ambitious and arguably unrealistic business strategy, its stock is so richly priced that it leaves investors with no upside potential.
Rapidly Deceleratingf Growth Rate
On the surface, Lyft has all the trademarks of a jazzy high-growth startup. However, its rapidly declining growth rate taken together with its full-year 2019 guidance points to a pop-and-fizzle business model.
As highlighted above, the pace of Lyft's Active Riders numbers is slowing down. Two years ago, this new and emerging business had huge numbers of Active Riders coming onto its platform. But given that Lyft's Transport-as-a-Service platform is only available in the U.S. and Canada, there is potentially already an element of market saturation, being reflected in the figures above.
Lyft's Primary Differentiator 
During Lyft's Q1 2019 earnings call, CFO Brian Roberts wanted analysts and investors to know that despite strong competitive pressures in the ride-hailing space, Lyft would not be too aggressive on price, but was rather focused on experience and brand.
Now, at this junction, it's important to be realistic -- Lyft transports passengers from point A to point B. To believe that passengers are not price-sensitive is either delusional or misleading.
Admittedly, there would be a small subset of passengers who would seek out Lyft based on its app's top features such as "one tap ride" which allows riders to enter their destinations quickly, as well as riders wishing to take full advantage of Lyft's personalized experiences. But this tiny subset of riders would not offer Lyft the scale it requires to become meaningfully profitable.
Lyft Insurance Opportunity
When it comes to Lyft's potential profits, Lyft wants shareholders to focus on its long-term objective to have its contribution margins reach 70%. As you would suppose, this is a non-GAAP figure which excludes numerous costs such as stock-based compensation and amortization of intangibles, which Lyft contends is its best proxy for profitability.
Presently, this figure ended Q1 2019 at 50%, implying more upside to come in time. However, when questioned about its key levers which would assist Lyft in reaching its 70% contribution margins, Lyft discussed how one specific lever, that of its telematics insurance opportunity. Lyft claims that its ability to monitor driver behavior will be instrumental in driving down its driver's insurance costs.
However, when Warren Buffett was asked at the Berkshire Hathaway (BRK.B) - Get Berkshire Hathaway Inc. Class B (BARK.B) Report annual shareholder meeting about auto companies' ability to succeed in the insurance business, Buffett answered in his homespun manner that auto companies' entry into that business as likely "as the success of insurance companies getting into the auto business."
Having said that, it is entirely possible that Roberts' vision for his company's telematics opportunity is something which Buffett has failed to envision. However, given Buffett's 50-plus year experience with GEICO, I suspect that Buffett might be the one to side with on this issue.
Valuation - No Margin Of Safety
If one were forced to opt for a cash burning ridesharing company, Lyft is unquestionably a superior investment to Uber (UBER) - Get Uber Technologies, Inc. Report . For instance, Uber's revenue growth rates are markedly slower than Lyft's. Uber's Q1 2019 adjusted net revenue growth was 18% which is paltry when compared with Lyft's 95% revenue growth rate.
But luckily, as investors, we are not forced to deploy our savings into piping hot stocks being priced at more than 6x sales, with no profits anywhere in sight.
The Bottom Line
Don't get taken for a ride with Lyft.
Given that Lyft's valuation is sky high, and a combination of no profits in sight, hyper competitive landscape and price-sensitive customers, Lyft will struggle to ever be a high-quality business with strong returns on invested capital. It's best to avoid this stock.