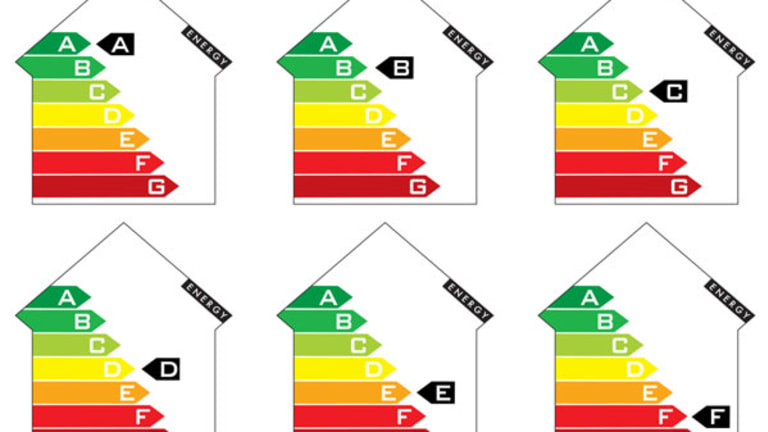 Don't Be Fooled: Warren Buffett Doesn't Like Solar Stocks
Warren Buffett's energy company buys into another solar project, but solar stocks still stink.
NEW YORK (
) -- Will Warren Buffett not rest until he convinces everyone that solar is a good investment?
For the second time this month, Warren Buffett's energy company, MidAmerican Energy, made an acquisition of a solar energy project being developed by
First Solar
(FSLR) - Get First Solar, Inc. Report
.
This time, it's a 49% stake in the Agua Caliente project already sold by First Solar to
NRG Energy
(NRG) - Get NRG Energy, Inc. Report
. Earlier this month,
Berkshire Hathaway
(BRK.B) - Get Berkshire Hathaway Inc. Class B Report
energy subsidiary
MidAmerican acquired First Solar's Topaz project.
These are the
first two solar power plant purchases by Buffett's energy company, which is already one of the largest players domestically in wind energy. And so the headlines follow about how Buffett is finally stepping up to endorse solar energy, but please do not confuse an institutional investor like Berkshire Hathaway or its utility -- in making a project finance investment to generate a guaranteed revenue stream -- with a general endorsement of solar as an investable stock sector. These are two very different things.
Warren Buffett's energy company buys into another solar project, but solar stocks still stink.
Investing in a solar energy power plant that has already secured the rights to sell all of the electricity generated by the plant to a utility -- in the case of Agua Caliente the buyer is
Pacific Gas & Electric
(PCG) - Get PG&E Corporation Report
-- is in no way, shape, form or investment sense a call on solar stocks.
Through what is known as a power purchase agreement (PPA), PG&E has agreed to buy the energy generated by this solar plant at a pre-determined price over decades. That's a pretty sure thing for a conservative insurance investor like Buffett. When the Topaz deal was announced, it was compared to a 20-year annuity by those who understand the project's economics.
Also, Buffett is known for driving a hard bargain and taking advantage of distressed companies: Think
Bank of America
(BAC) - Get Bank of America Corp Report
,
Goldman Sachs
(GS) - Get Goldman Sachs Group, Inc. Report
or
General Electric
(GE) - Get General Electric Company Report
.
There's nothing more stressed than solar companies at the moment, and the Topaz project that MidAmerican bought was one First Solar had hoped to sell for more money with the help of a federal loan guarantee. It didn't get the federal loan, a condition which First Solar had previously admitted would lead to a lower sales price as the equity buyer would need to secure more expensive debt financing.
MidAmerican did not release the purchase price of Topaz, but said the project has a $2 billion value in its press release. It also made the somewhat misleading comment that its purchase of Topaz showed that solar wasn't reliant on government subsidies. No one ever said it was, and First Solar always said itself that it could sell Topaz without the government, just not for as much money.
That fact that First Solar wasn't playing with the strongest hand in the Topaz sale brings us to the state of solar stocks, more generally, which are a disaster, and about as uninvestable as a stock sector could be at the moment.
One doesn't need to look further than the developer of the two projects that Buffett's energy company has just purchased to see that there is no endorsement of solar stocks that any investor as smart as Buffett would make. Earlier this week, First Solar released its guidance for next year, which was
so far below even bearish expectations that the shares fell by 20% to a price they hadn't seen since shortly after its IPO in 2007. In fact, the only argument for optimism about First Solar shares right now is that the company set the bar so low that it should be set up to surprise to the upside.
Stock market pundits will come out and say -- as they did after MidAmerican bought Topaz -- that Buffett's interest in solar might make you take a look at solar stocks, and then (fortunately) they will go through the reasons why you shouldn't invest in solar anyway. But before even getting to that point, don't even bother looking: there is no endorsement of solar stocks from Warren Buffett. If that's already obvious to you, consider yourself lucky.
Although it's a stretch, here's the case that can be made for why MidAmerican's investment is good for solar, beyond the fact that it puts Buffett and solar in the same sentence. First, the government is likely to repeal the popular 1603 cash grant program at the end of the year, which has helped to finance solar energy deployment. In fact, the two projects that MidAmerican just invested in got in "under the deadline" for the cash grant program.
As a result of the repeal of other incentives, solar financing will turn back to rely more on the tax equity market -- in which financial firms are able to use solar project economics as a way to match tax gains with tax losses. That market will not be as big as it once was -- consider that Lehman Brothers was one of the biggest players in it, and today few of the banks have the big gains that they once had pre-crash -- and so any major financial player who steps into solar project finance is a positive development for those in the solar project market, if the investor stays active.
Also, there has been some concern, albeit limited, that even with the "safety" of a 20-year power purchase agreement guaranteeing the purchase of electricity at a set rate, there is risk in the solar power plant model -- after all, these things have never before been operated and linked to the grid. This includes utilities being flooded with electricity at certain peak times and refusing to accept the electricity, and/or the plants not producing the electricity at the cost level they anticipate.
There is in many solar power plant agreements a clause known as economic curtailment that in certain cases gives the electricity buyer an opt-out. In this sense, MidAmerican's confidence in the project economics is one more endorsement that these utility market risks may be limited. That's a good thing for the projects and the project buyers, but not for solar stocks, specifically.
Keep in mind that beyond the projects which First Solar has already contracted, future PPAs are expected to be at much lower prices for electricity paid, and there will be more competition as well. The same Chinese solar companies that have helped to make a massacre of the residential and European market will no doubt
present a challenge within the project market in the coming years, also.
There's one major question in the NRG-MidAmerican deal that could be read as downright bearish on solar projects, too.
NRG Energy was one of the first major utilities to invest in solar projects and did so, in the case of Agua Caliente, at a time when it was taking a ton of risk. For example, NRG invested in Agua Caliente even before a federal loan guarantee was secured (the federal loan came through finally). Aaron Chew, analyst at Maxim Group, said the Agua Caliente project is now probably close to 25% constructed and so he can't help but think this is a negative to see NRG "backing away."
Chew conceded that NRG could simply have some wanted to raise money and reinvest in its core business and was able to sell a stake in Agua Caliente at a profit -- and MidAmerican investing in solar is the glass-half full argument from a Buffett PR perspective.
Though the quote from NRG CEO David Crane in the deal release didn't help provide a rationale in its boilerplate, corporate-speak commentary: "Partnering with an industry leader like MidAmerican on Agua Caliente, one of the largest PV projects in the world, enhances the strength and credibility of what was already one of the world's leading solar projects. NRG and MidAmerican complement each other in the capabilities and experiences they bring to this project and to solar power more generally."
NRG officials could not be reached for further comment on Friday afternoon.
Anyway, that's all "inside baseball" of project economics in the solar market. When it comes to solar stocks, on the other hand, all you need to know is that things are a mess. Even Warren Buffett, famous for saying "when you smell fear in the market, buy," would probably say of solar stocks, "Now that's just downright scary."
-- Written by Eric Rosenbaum from New York.
RELATED STORIES:
>>First Solar Capitulates, Sort Of
>>First Solar Can't Quite Stay Ahead of the Chinese
>To contact the writer of this article, click here:
Eric Rosenbaum
.
>To follow the writer on Twitter, go to
.
Follow
TheStreet
on
and become a fan on