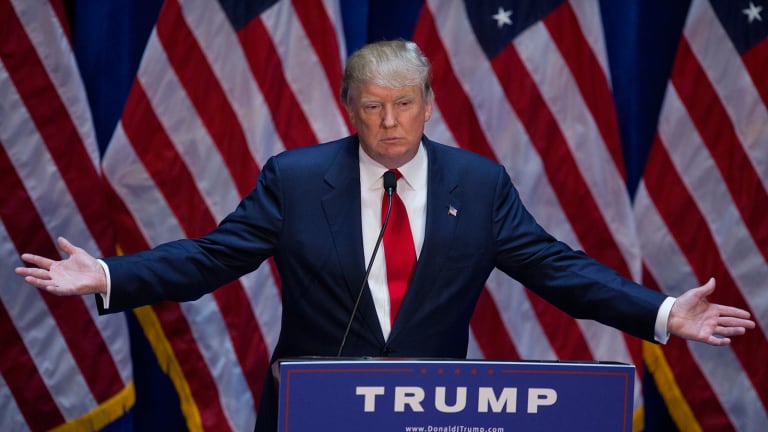 Donald Trump Says He Made Over $1 Million on Each of These 5 Stocks
Donald Trump is apparently quite the stock picker -- according to Donald Trump.
Donald Trump is apparently quite the stock picker -- according to Donald Trump.
NEW YORK (TheStreet) -- Donald Trump is apparently quite the stock picker -- according to Donald Trump.
The real estate magnate-turned GOP presidential candidate announced in a press release on Wednesday that he has filed the required personal financial disclosure forms with the Federal Election Commission. "This report was not designed for a man of Mr. Trump's massive wealth," the release says. The documentation is not yet available on the FEC website.
Trump's campaign says that he brought in $362 million in 2014. Moreover, it states that his net worth has jumped to more than $10 billion (when he initially announced his campaign in June, Trump claimed a net worth of $9.2 billion; of course, the damage he's done to his brand since announcing his bid and trashing Mexicans may not be fully baked in).
Apparently, Trump has done a nice job of stock picking as well. The release lists 45 stocks the billionaire sold in January 2014, 40 of which "went up in a relatively short period of time." Trump's alleged gain: $27 million.
The release also states that Trump has even more to make in the markets. It lists an unrealized gain of more than $22 million through investments with entities including Baron Funds, Oppenheimer, Angelo Gordon & Co. and Paulson & Co.
Unrealized gains aside, five stocks have already made Trump more than $1 million each. Here they are:
1. Bank of America - $6.74 Million
Bank of America (BAC) - Get Report appears to have been Trump's best stock bet. He claims to have made $6.74 million on the financial giant, of which he bought and sold 710,000 shares. Trump initially invested $4.98 million in the company (which comes out to about $7.00 per share) and sold when his holdings had reached $11.72 million (about $16.50 per share).
Bank of America reported second quarter earnings on Wednesday, beating analysts' expectations with earnings of 45 cents per share on revenue of $22.35 billion as opposed to analyst forecasts of earnings of 36 cents per share on revenue of $21.32. Perhaps Trump got out of the investment too early?
2. Boeing - $3.96 Million
Trump made $3.96 million on 65,000 shares of aerospace company Boeing (BA) - Get Report. He turned a $4.97 million investment (around $76.40 per share) into $8.93 million ($137.40 per share).
It isn't just Boeing's stock Trump likes -- he is a fan of its jets as well. In 2011, he purchased Microsoft (MSFT) - Get Report co-founder Paul Allen's Boeing 757 for around $100 million and "Trumped" it up, installing new technologies, emblazoning his logo on it and, of course, covering much of it in gold. You can see a video tour of the aircraft on YouTube.
3. Facebook - $3.86 Million
A timely investment in Facebook (FB) - Get Report made Trump $3.86 million -- the GOP contender must have gotten a foot in the door on the social media giant when it was near its all-time low in 2012.
Trump invested $1.94 million in 100,000 shares of Facebook, meaning a per-share price of about $19.35. When he sold, the investment was valued at $5.79 million, or $57.90 per share. Had he held on past January 2014, his investment would have climbed even higher, as Facebook closed Wednesday at $89.76.
4. Best Buy Co. - $2.24 Million
Trump more than doubled his money on electronics retailer Best Buy  (BBY) - Get Report. He invested $1.99 million in 110,000 shares (coming out to about $18.05 per share) of the company and watched his holdings climb to $4.23 million (around $38.42 per share).
Best Buy last reported earnings in May and topped analysts' expectations on both earnings and revenue. On Wednesday, Deutsche Bank (DB) - Get Report reiterated its by rating on the stock and $42.00 price target.
5. Apple Inc. - $1.11 Million
Activist investor Carl Icahn may not want to be Trump's treasury secretary, but the two appear to both believe Apple (AAPL) - Get Report is a good investment. But while Icahn continues to wait for his stake in the tech company to climb higher, Trump appears to already be out.
Trump invested $5.95 million in 12,800 shares of Apple and, according to Wednesday's release, sold when his holdings reached $7.10 million. That puts his per-share buy price at about $465.00 and his sell price at $551.40 (the transactions took place before Apple's 7-to-1 stock split in mid-2014).
This article is commentary by an independent contributor. At the time of publication, the author held a position in Microsoft.