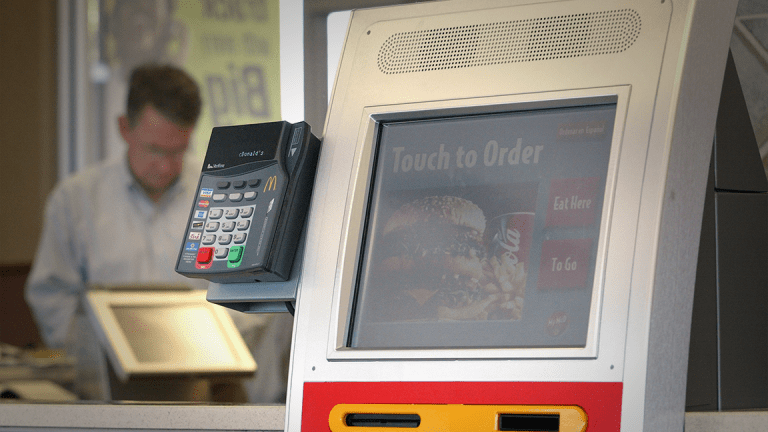 Don't Like McDonald's Self-Serve Kiosks? Too Bad. They're Here to Stay
The fast food chain will spend $2.4 billion on self-serve kiosks and news restaurants in 2018.
At McDonald's Corporation (MCD)  stores, the self-service kiosks are multiplying fast. 
Half of all American McDonald's storefronts will have self-serve kiosks by the end of 2018, the company announced in its earnings call Tuesday, Jan. 30, as part of its Experience of the Future platform. The fast food chain will spend about $2.4 billion of capital this year to accelerate the initiative as well as open new restaurants. The goal is to open 1,000 new locations in 2018.
More and more McDonald's customers are also using its mobile pay, as 20,000 restaurants now offer mobile order and pay, the company said. There are now 20 million registered users of the app.
Currently, 3,000 McDonald's restaurants have the self-serve kiosk since the program was kicked off in 2016. An additional 4,000 will be updated this year — "no small feat," according to CEO Steve Easterbrook.
"[Customers] are telling us they like the new McDonald's better. They're awarding us with more frequent visits and spending more on average," he said in the earnings call Tuesday.
The numbers, more or less, hold up. U.S. comparable sales grew by 4.5% in the fourth quarter, while global sales numbers rose 5.5%. Its total revenue in the quarter was $5.34 billion, exceeding Wall Street forecasts of $5.22 billion.
Given the impact from the tax act and its refranchising initiative, McDonald's missed Wall Street's full-year earnings forecast of $6.52 per share, instead reporting $6.37 per share. But the full-year revenue exceeded expectations at $22.8 billion, versus the anticipated $22.7 billion, according to FactSet.
In addition to the kiosks, McDonald's introduced a new dollar menu late last year in which items are offered at $1, $2 and $3.
More of What's Trending on TheStreet: