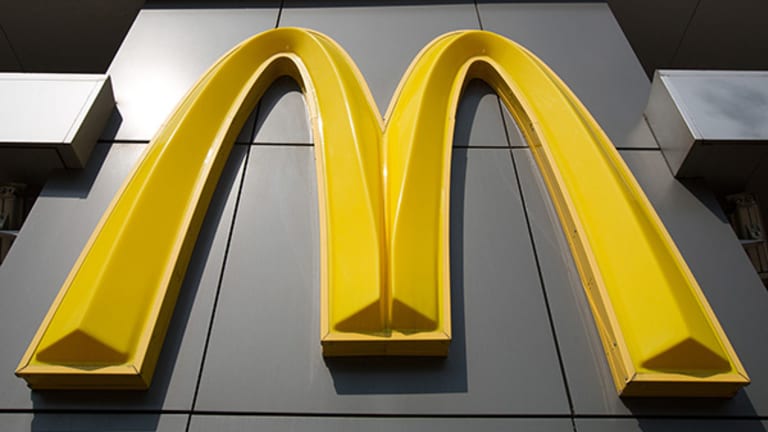 Don't Give Up on McDonald's, Easterbook: More Squawk From Jim Cramer
Despite reporting better-than-expected Q4 earnings, revenue and global same-store sales shares of McDonald's were slumping on Monday because of disappointing U.S. same-store-sales.
Shares of McDonald's (MCD) - Get Free Reportwere lower during Monday morning trading as investors perhaps weren't lovin' the fact that the fast food conglomerate posted weaker U.S. same-store-sales in its fourth quarter earnings report, published before today's open.
Weak U.S.-same-store-sales (-1.3% year-over-year) highlighted the burger giant's shortfall in the quarter, despite it reporting better-than-expected earnings, revenue, and global sales.
"I think people are surprised the stock is down, given the fact that those are powerful numbers," TheStreet's Jim Cramer said on CNBC's "Squawk on the Street" Monday morning. "People want to give up on [CEO Steve Easterbrook], and every time they give up on him, he comes up with something new."
Cramer argued that it is not the time to jump ship on McDonald's, specifically because of the global same-store-sales figures. McDonald's reported a 2.7% increase in global same-store-sales, topping Wall Street's projections for 1.3% growth.
"People feel that [All Day Breakfast] is the only thing that Easterbrook has in his arsenal and now it's going to be annualized, and he's going to lose that," Cramer said. "I would tend to think that is a short-sighted view of this man who is just beginning to make a lot of changes."
Cramer sees continued momentum for Easterbrook through an improvement of McDonald's loyalty program and advancing its technology initiatives.
"People are so quick to decide on Easterbrook; they buried this guy a million times. I talk about that fact that there is no strong dollar reference in the release. Honestly, I don't think McDonald's is bad," Cramer argued.
Those who have decided to give up on Easterbrook and the Golden Arches, Cramer contends, are ignoring ambitions in re-franchising, better global sales comps and technology ventures.
"Let's hear what he has to say for heaven's sake. The idea that we make a judgment that these good numbers are bad is based on negative bias," Cramer stated. "I think he is just in the early stages."