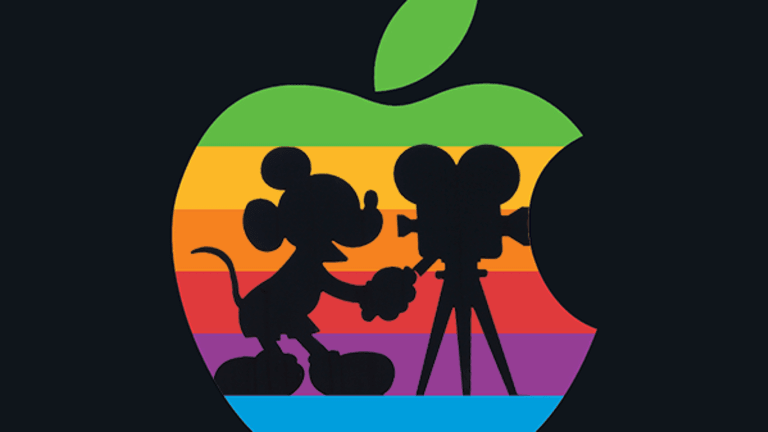 Don't Expect Apple to Make Any Big Announcements About Video Next Week
But don't discount a 4K Apple TV announcement as part of the tech giant's broader strategy around video content, analysts say.
Apple Inc. (AAPL) - Get Apple Inc. (AAPL) Report has shown that it wants to be a player in the video content market, but just how serious is the tech giant?
One minor -- if not somewhat mundane -- announcement that's expected to come out of Apple's Sept. 12 event could show that it's doubling down on serving up TV shows and movies. Apple will likely release an updated Apple TV that supports 4K TVs, as well as high dynamic range content. The news might get lose amid the launch of the iPhone 8 and a new Apple Watch, but an updated Apple TV, coupled with some other recent rumors, serve as noteworthy telltales of the company's overall strategy in video content, according to analysts.  
To start, Apple isn't making any strides by releasing a 4K Apple TV. Rather, Apple is playing catch-up to competitors Amazon.com Inc. (AMZN) - Get Amazon.com, Inc. Report , which has a 4K-enabled Fire TV box, Alphabet Inc.'s (GOOGL) - Get Alphabet Inc. Class A Report 4K-equipped Chromecast Ultra and the Roku 4 streaming device, which supports 4K TVs and ultra high-def content. Longtime Apple analyst Gene Munster said a 4K Apple TV announcement will be a "yawner" but that it's something the company has to do because it's what consumers want.
Apple and Alphabet are holdings in Jim Cramer's Action Alerts PLUS Charitable Trust Portfolio. Want to be alerted before Cramer buys or sells AAPL or GOOGL? Learn more now.
Apple has attracted some criticism over the Apple TV not living up to its historical standards of blockbuster product launches like the iPod and the iPhone. Simply put, the product wasn't as groundbreaking as some had hoped. Apple doesn't disclose how many Apple TV units it has sold, but CFO Luca Maestri recently confirmed that Apple TV sales declined annually in the fiscal first quarter. 
"Apple knows adding 4K isn't going to change adoption of Apple TV," said Munster, who is an analyst at Loup Ventures. "What changes it is the price. The idea that the price might come down on a high def version of Apple TV -- that to me is more exciting than adding 4K."
More of What's Trending on TheStreet:
Working Mothers Shouldn't Feel a Twinge of Guilt
Stick with TheStreet for updated storm coverage as Hurricane Irma moves the market:
Hurricane Irma: What Kind of Insurance Should You Have?
Hurricane Irma Will Make Orange Juice Unaffordable and Destroy Your Grocery Bill
Hurricane Irma: How Floridians Are Using Tech, Apps to Prepare for the Big Storm
Editors' pick: Originally published Sept. 6.
A 32 gigabyte Apple TV sells for $149, while the 64 gigabyte version is priced at $199. By comparison, the 4K-enabled Roku Premiere is $59.99, Amazon's Fire TV Stick starts at $34.99 and the Google Chromecast starts at $35. To remain competitive, Munster said he thinks Apple would need to price the 32 gigabyte Apple TV at about $99.
"Pricing products at a premium won't work in this case," Munster added. "They have to have it super cheap." 
Some are hoping Apple will make some content related announcements in tandem with the Apple TV launch, including Bernstein analyst Toni Sacconaghi, who said he's looking to see if the company introduces any "meaningful" new content offerings or partners. Others aren't holding their breath, however. 
"I think they're keeping that stuff pretty under wraps," Munster explained. "I would be shocked if they made an announcement."
By and large, Apple is still early in the early stages of exploring video content. So far, Apple has released two original series, "Carpool Karaoke" and "Planet of the Apps," to mixedreception. The company has said it will dedicate about $1 billion to spend on creating its own programming in 2018, which trails spending from well-established content giants like Amazon and Netflix Inc. (NFLX) - Get Netflix, Inc. (NFLX) Report , who have set aside $4.5 billion and $6 billion, respectively. 
At the same time, Apple has showed that it's looking at this area seriously. In June, the company hired top Sony TV executives Jamie Erlicht and Zack Van Amburg to help boost its efforts in video. Another key hire, former YouTube and Spotify product manager Shiva Rajaraman, was widely seen as a move to do the same. 
Creative Strategies analyst Tim Bajarin, who has covered Apple for more than 30 years, said the company is probably moderating its spending on original content until it figures out what works. When weighing the content delivered via Apple TV, Bajarin believes 75% to 85% of the content will be licensed from other creators, while about 20% will be original shows. 

"I think you're going to see an expansion of that [spending] in a very strong way over the next 6-12 months," Bajarin explained. "But I think Apple is trying to find the right mix that will drive it forward." 
The company is also believed to be interested in leasing Culver Studios, an iconic site used to film "Gone With The Wind" and "The Matrix," to build up its production staff. The site has 13 soundstages as large as 32,000 square feet that can be used to shoot TV shows and full-length feature films, according to the Financial Times. 
All these moves help lay the groundwork for what is likely Apple's strategy in video content. Specifically, setting up shop at Culver Studios sends a message that Apple is "real" about establishing a presence in Hollywood, Munster said.
The Apple TV is likely to remain a vehicle for the company to deliver content, bolstered by more key Hollywood hires and, eventually, a bigger content budgert.
"It's just the tip of the iceberg," Bajarin said. "Apple's basically in the very early stages of crafting what I believe will ultimately be a solid content strategy to drive sales of Apple's TV software, hardware and services."