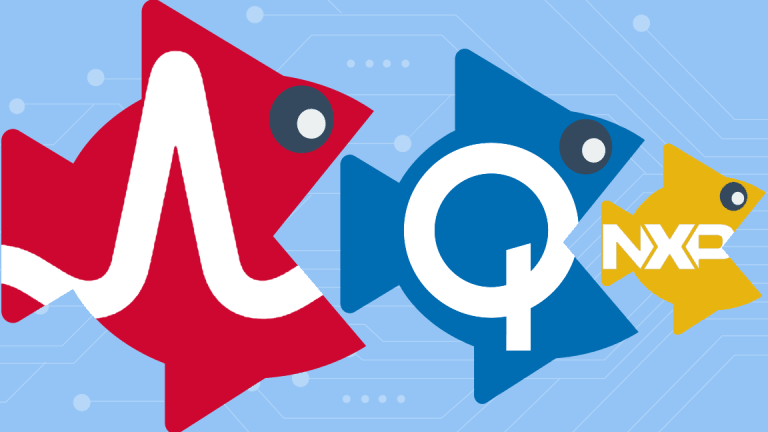 Don't Count on an Intel Bid for Broadcom Just Yet
Intel is reportedly open to bidding for Broadcom should it look like Broadcom's bid for Qualcomm will succeed. But any such effort would face big hurdles.
In case you thought the M&A drama surrounding Qualcomm (QCOM) - Get Qualcomm Inc Report , NXP Semiconductors  (NXPI) - Get NXP Semiconductors NV Report and Broadcom (AVGO) - Get Broadcom Inc. Report  couldn't get messier, Intel  (INTC) - Get Intel Corporation Report has reportedly added a crazy new twist.
A Wall Street Journal report that arrived after the close on Friday said that Intel could make an offer for Broadcom if it looks like Broadcom's hostile bid for Qualcomm -- and by proxy, NXP, which Qualcomm is set to acquire -- will succeed. But, it's hardly clear just how willing Intel is to seriously pursue a deal for Broadcom in the name of preventing two major rivals from joining forces.
And in the event that Intel is willing to seriously pursue an acquisition of Broadcom, which would undoubtedly create a PC, mobile and data center chip monster, it's far from certain that Broadcom shareholders and antitrust regulators will play ball.
The WSJ's sources say that Intel has been mulling a bid for Broadcom since late 2017, and is eager for Broadcom's pursuit of Qualcomm to fail "as the combined company would pose a serious competitive threat." They caution, however, that it's "far from guaranteed" Intel will make an offer, and one source calls it "unlikely" to happen.
In a statement given to Reuters, Intel slightly downplayed the WSJ's report. The company said it won't comment on "rumors or speculation," and that its focus is on integrating recent major acquisitions. Broadcom shares rose 3.4% in after-hours trading on Friday, while Intel's fell less than 1%.
U.S. regulators may have just spared Intel from having to make any immediate decision regarding Broadcom. Earlier this week, Qualcomm postponed its annual meeting (originally set for March 6) to April 5 after the Committee on Foreign Investment in the United States (CFIUS) said it's reviewing Broadcom's bid for potential national-security issues related to the company's R&D spending plans in the event it lands Qualcomm. With Broadcom set to become a U.S.-incorporated company within two months and promising to make big 5G R&D investments should it acquire Qualcomm, it's by no means guaranteed the CFIUS review will force Broadcom to abandon its bid.
A tally of shareholder votes conducted by Bloomberg suggests that Broadcom was poised to succeed in its attempt to take control of Qualcomm's 11-person board with a 6-director slate, had the annual meeting been held on time. It's worth noting here that Broadcom's $79-per-share cash/stock offer for Qualcomm represents a 45% premium to where Qualcomm traded before the first reports of a Broadcom bid arrived last October, and a 25% premium to Qualcomm's Friday close.
A mid-February Financial Times report stated Qualcomm is open to a deal with Broadcom involving a price above $90 per share. On Friday, Qualcomm announced ex-CEO Paul Jacobs is stepping down as chairman following an 8-year run, and is being replaced by former Cardinal Health CFO Jeff Henderson. That has fueled speculation Qualcomm's board might be more willing to negotiate with Broadcom going forward.
If Qualcomm and Broadcom were able to come to terms, and Intel concluded it needs to bid for Broadcom to thwart this tie-up from happening, chances are that Intel would have to offer a hefty premium for Broadcom investors to agree to a deal. Part of the reason why many Qualcomm investors are open to Broadcom's overtures is that Qualcomm's shares have gone sideways for about 6 years. Broadcom, on the other hand, has been on a massive 5-year tear as the company's aggressive M&A strategy keeps paying dividends.
Broadcom closed on Friday with a $104 billion equity value. Intel, which closed with a $244 billion equity value, would likely have to offer more than $130 billion for a deal to be considered. After accounting for Broadcom's net debt, the deal's total cost could be around $140 billion or higher, partly offset by any free cash flow (FCF) Broadcom produces until the time the deal closes.
There's also a measure of risk that Intel investors will be reluctant to support a deal. Though the specifics depend on how much of the deal's payout is in cash versus stock, odds are a Broadcom purchase would significantly boost an Intel net debt balance that's currently at $13 billion.
And at $140 billion, the purchase price would be equal to about 17 times Broadcom's expected 2018 FCF. Not a sky-high valuation by any means, but not a dirt-cheap one either. Especially given that cost and pricing synergies (relative to deal size) might not be as high as they have been for many chip M&A deals to date, given Broadcom's reputation for running a tight ship and engaging in hardball pricing tactics.
Moreover, just as antitrust questions have swirled around Broadcom's pursuit of Qualcomm, regulators would very closely scrutinize any Intel-Broadcom deal. With the companies' product lines overlapping in several areas -- among them, Ethernet switching and controller chips, Ethernet adapters, Wi-Fi chips and solid-state drive (SSD) controller chips -- asset sales would be a prerequisite for any deal clearing.
But regardless of how seriously Intel winds up pursuing Broadcom, the WSJ's report does suggest the chip giant is quite nervous about the threat a Broadcom/Qualcomm/NXP pairing would pose. As it is, Qualcomm and Intel are rivals in the 4G modem and infotainment processor markets. And in 2017, Qualcomm took aim at Intel's core server and PC franchises, respectively, by launching its Centriq server CPU line and teaming with Microsoft (MSFT) - Get Microsoft Corporation Report  and PC OEMs to bring Windows notebooks powered by its Snapdragon 835 processor to market.
All this competition, by the way, might be why Intel is reportedly mulling a bid for Broadcom rather than Qualcomm. While it's not guaranteed that an Intel-Broadcom deal will pass regulatory muster, there's almost no chance that an Intel-Qualcomm deal would.
Now combine the various Qualcomm processor and modem lines that compete against Intel with Broadcom's RF and Wi-Fi chips, as well as the many Ethernet, storage and optical component products it offers to server/storage OEMs and cloud giants. And for good measure, throw in NXP's many products for the automotive and embedded/IoT markets, including ADAS processors and autonomous driving solutions that compete against Intel's Mobileye unit. Intel has good reason to want to prevent such a colossus from emerging.
But considering the challenges and question marks mentioned above, Intel's reported mulling of a Broadcom bid could end up being more bark than bite. Given that Broadcom's shares have only moved moderately higher on the WSJ's report, many investors are apparently wagering as much.
Subscribe on Youtube for extended interviews, Cramer Replays, feature content, and more!