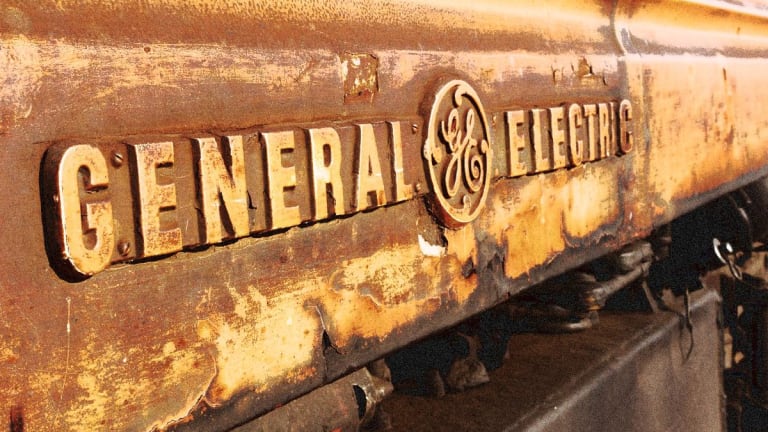 Don't Call It a Comeback: Can GE Continue Rising After Passing 2019 High?
GE shares close at highest level in more than a year.
GE shares close at highest level in more than a year.
General Electric (GE) - Get Report rose sharply Thursday following reports Wednesday that the Emirates airline is leaning towards the company's jet engines for its Boeing (BA) - Get Report 787 Dreamliner as rival Rolls-Royce has struggled to fix an issue with its engine. 
The stock traded as high as $11.61 Thursday, giving the company its highest stock price since late October 2018. Shares ended at $11.53. The stock is now up nearly 30% since its third-quarter earnings release before the opening bell on October 30. 
GE posted third-quarter adjusted profit of $1.28 billion, or 15 cents a share, vs. $980 million, or 11 cents a share, in the comparable year-ago period. Analysts polled by FactSet had been expecting per-share earnings of 12 cents. Revenue came in at $23.36 billion vs. $23.39 billion a year ago.
The results highlighted GE's ongoing efforts to turn itself around and become a leaner, more efficient company with fewer tentacles in unrelated business segments - and less debt.
"It would appear that company's painful turnaround is showing signs of progress," CMC Markets analyst David Madden said.
The company still has its naysayers, however. 
J.P. Morgan's Stephen Tusa wrote that the industrial group's core-business earnings before interest and taxes are falling 10% short of the estimates it made in March.
GE's core industrial EBIT is down $800 million this year, according to Tusa. The figures, he said, compare with an average miss of 1.2% by other large-cap companies.
In addition, many of GE's corporate peers have outperformed the Boston company, even after they'd laid out their projections much earlier. Emerson Electric (EMR) - Get Report and Rockwell Automation (ROK) - Get Report  did so last fall, the analyst said. "This is not in-line performance, [few other companies have] missed EBIT by this degree this year, and no one guided as late as March," Tusa wrote.