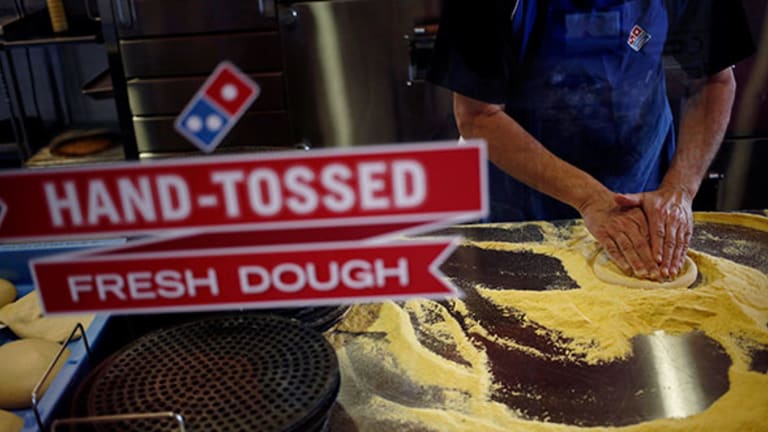 One Trick Domino's Pizza CEO Uses to Keep His Superstar Staff Motivated
It's not easy to cook up huge sales and stock gains.
It's not easy to cook up huge sales and stock gains.
Editors' pick: Originally published Jan. 11.
After the yearDomino's Pizza (DPZ) - Get Report just had, it would be very easy for CEO Patrick Doyle's team to sit back, relax a bit, and admire the many accomplishments.
But that is exactly what Doyle is trying to prevent as Domino's looks to continue its winning ways.
"I spend a lot of time thinking about how to keep people motivated," Doyle told TheStreet in an interview. "The real answer is to keep reminding everybody, and myself, that we built this momentum in the business by making investments and taking some smart risks."
Doyle added, "I talk to my team a lot, and we still have to invest in things that maybe will make us a little uncomfortable."
Domino's is still fresh off serving up one of the most mind-blowing earnings reports in the fast-food space last year. The pizza joint's third-quarter U.S. same-store sales surged 13% from the prior year, marking the 22nd straight quarter of gains. Earnings spiked 43.3% year over year to 96 cents a share, surpassing analysts' estimates of 90 cents.
Domino's continues to take risks, such as testing pizza delivery via drone
For Domino's, its strong quarter -- against a backdrop of sluggish spending on fast food due to people eating more at home amid falling supermarket prices -- could be boiled down to several reasons.
First is a relentless focus on making pizza easier to order on mobile devices. The company now gets over 50% of its U.S. sales done via mobile. Toss in building momentum behind Domino's loyalty program, launched nationally late last year, and it's pretty easy to understand how the pizza chain has baked savor results for investors.
Then's there's that sizzling stock price: Domino's stock has surged about 51% to $166 over the past year, trouncing the S&P 500's 17% gain. McDonald's (MCD) - Get Report stock --Mickey D's still has no mobile ordering app, but is rumored to be nearing a launch-- has risen a meager 2% over that same span, while Pizza Hut owner Yum! Brands (YUM) - Get Report has tacked on 29%.
"The day that we feel like we have got it all figured out, is the day when we could get into trouble," Doyle said.
Here's another risk taken by Domino's: reinventing the delivery car (which TheStreet got to test drive).