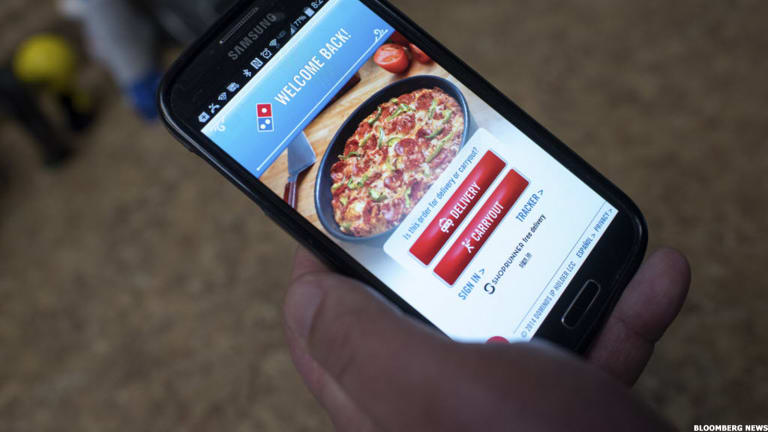 Domino's and Ford Join Forces to 'Kill' the Pizza Delivery Boy
Run like the wind, pizza boy, or girl!
Domino's Pizza Inc. (DPZ) - Get Domino's Pizza, Inc. Report is working with Ford Motor Co. (F) - Get Ford Motor Company Report on how they may axe the pizza delivery driver. OK, not literally.
Still, the companies' Tuesday, Aug. 28, announcement calls into question how long the pizza delivery boy (or girl) has left to live, as the Grim Reaper of self-driving cars looms.
Papa John's and Domino's Are Being Surprisingly Attacked by These New Foes
Through a partnership with Ford, Domino's said on Tuesday that it will begin testing pizza delivery with the Ford Fusion Hybrid Autonomous Research Vehicle. Ford plans to begin production on its self-driving vehicles in 2021.
The test will be conducted over the next several weeks by Domino's and Ford researchers in Ann Arbor, Mich., just west of Detroit. Domino's said it upgraded its delivery tracker to allow randomly selected customers to follow the autonomous car by GPS.
Participants will receive text messages along the way, updating them on the location of their order and how to retrieve it from the car when it arrives. Customers will get a special code via text to use to unlock the Domino's Heatwave Compartment, holding their food.
"As delivery experts, we've been watching the development of self-driving vehicles with great interest as we believe transportation is undergoing fundamental, dramatic change. This is the first step in an ongoing process of testing that we plan to undertake with Ford," Patrick Doyle, Domino's president and CEO, said in a statement on Tuesday.
To be sure, for this test, the self-driving car will be manually driven by a Ford safety engineer. So, customers needn't fret about glitches that could cause them, or their pizza, harm.
Russell Weiner, president of Domino's U.S., said, in a statement, that the company will be focused on how customers react to this test, specifically how they feel about meeting the car to retrieve their order.
"The majority of our questions are about the last 50 feet of the delivery experience," Weiner said. "We need to understand if a customer's experience is different if the car is parked in the driveway versus next to the curb. All of our testing research is focused on our goal to someday make deliveries with self-driving vehicles as seamless and customer-friendly as possible."
In an email to TheStreet, Domino's spokeswoman Dani Bulger said the pizza delivery chain employs 260,000 "team members" worldwide and 140,000 in the U.S. It is unclear how many of those workers are delivery drivers.
Domino's is likely years away from completely wiping out its delivery drivers for self-driving vehicles (that would probably be a pricey venture although the company declined to comment on that aspect). Still, drivers may consider now how long their jobs will last.
Domino's historically has led delivery innovation in the pizza space, beating competitors, including Papa John's Int.'l Inc. (PZZA) - Get Papa John's International, Inc. Report and Yum! Brands Inc.'s (YUM) - Get Yum! Brands, Inc. Report Pizza Hut, on being the first to launch an order-tracking system and ordering services through social media, for example.
Read More of What's Trending on TheStreet:
What to Do After a Catastrophic Hurricane Harvey Type Flood Damages Your Home
This Stock Owned by Billionaire Warren Buffett Might Soon Be a Screaming Sell