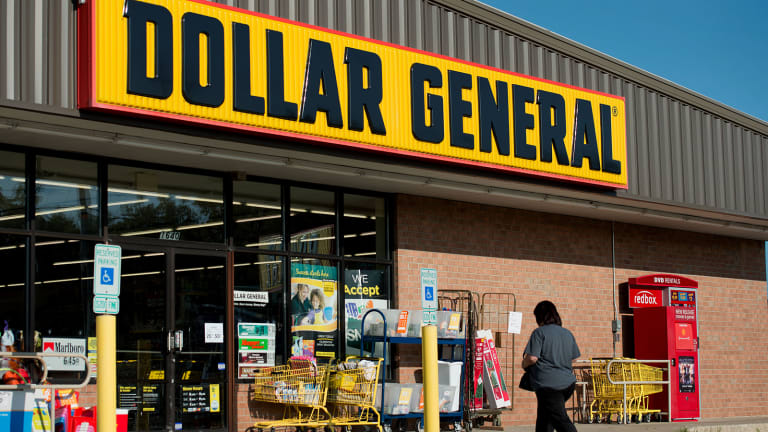 Dollar General and Dollar Tree Under Pressure as Economy Strengthens
Dollar General (DG) and Dollar Tree (DLTR) earnings disappoint and highlight problems with their businesses.
After reporting weaker-than-expected quarterly results, Dollar General (DG) and Dollar Tree (DLTR) saw their shares get crushed Thursday. Dollar General's stock fell more than 17%, while Dollar Tree's dropped nearly 10%. Are these stocks worth buying at their new low prices, or are there better investment opportunities elsewhere? Let's take a look.
Dollar General reported earnings per share of $1.08, up from 95 cents in the year-earlier quarter. Revenue also grew year over year, to $5.39 billion from $5.10 billion. Wall Street had expected better, however. On average, analysts were looking for EPS of $1.09 and revenue of $5.5. billion.
Dollar Tree reported revenue of $5.00 billion and EPS of 72 cents, but Wall Street had been expecting revenue of $5.09 billion and EPS of 73 cents. Dollar Tree is hard to compare on a year-over-year basis due to its acquisition of Family Dollar last year, which dramatically increased net sales and EPS.
Even though neither company beating Wall Street estimates, both showed good improvement from last year, but the main issues with both companies are the challenges that lie ahead.
The first thing affecting both businesses is the reduction of food-stamp benefits. According to the research firm Center on Budget and Policy Priorities, more than 500,000 people will lose Supplemental Nutrition Assistance Program, or SNAP, benefits this year. Dollar General told investors that SNAP reduction and grocery deflation hurt same-store-sales by 60 to 70 basis points this quarter. With the government now giving SNAP benefits to unemployed adults for only three months, and with half a million people losing those benefits this year, same-store-sales figures likely will decline for both Dollar General and Dollar Tree.
Competition, specifically from Wal-Mart Stores (WMT) , is also another issue both companies are facing. Wal-Mart Stores, the company behind the Walmart retail chain, cut prices to attract more customers the last few quarters, and the dollar stores are seeing the impact. To combat the customer exodus, Dollar General cut prices by 10% in the quarter on certain items and plans to expand the prices cuts moving forward. This is likely to have an effect on sales and margins.
The competition isn't just Wal-Mart, but also Kroger (KR) and other grocery stores. They've also been cutting prices. But, this all plays into the next issue for the dollar stores. The current economic situation with low unemployment is in general helping the middle-class consumer feel good about the economy, so fewer people are shopping at the discount locations for general items.
The lower-income earners are fleeing toward the lowest prices, while the middle-class earners are shopping wherever they would normally shop. When the economy is bad and the middle class feels the pinch, it goes to the discount locations in order to save a buck, but that's not happening right now.
Dollar General and Dollar Tree need to figure out not only how to attract more customers given their current challenges, but also how to keep those customers when other retailers cut prices to the bone. If they can do that, then both would be high on our buy list.
---
A crisis is coming. And when it hits, weak companies and their investors will be washed away. Don't let that happen to you! I've found seven companies you should own no matter what the economy is doing. Each one of these powerful, yet overlooked companies barely notices when the market tumbles. And they'll skyrocket when it rebounds. You can pick all seven up for pennies on the dollar right now. But that'll change the instant average investors catch wind of just how bad things really are. Get their names here before it's too late.
This article is commentary by an independent contributor. At the time of publication, the author held no positions in the stocks mentioned.