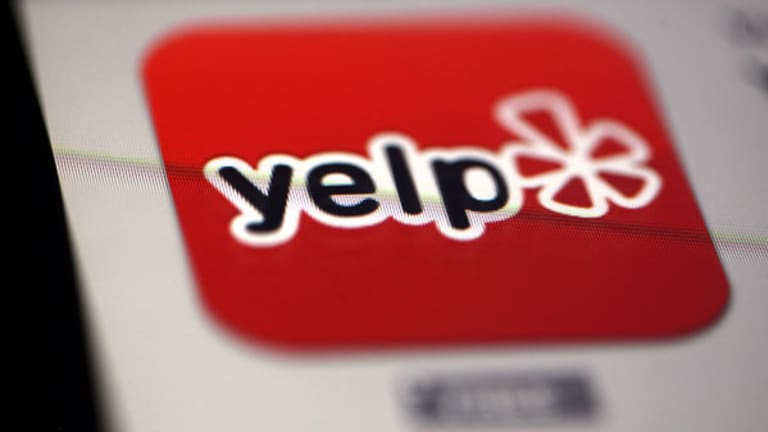 Does Yelp Need Help?
Yelp reported third-quarter results and the stock jumped 10%.
On Wednesday, online review site Yelp (YELP) - Get Yelp Inc Report reported third-quarter results, and the stock jumped 10%.
When I last wrote about Yelp in September, I wondered if shares of Yelp could go higher, especially after a 160% move off its lows.
Yelp reported third-quarter fiscal 2016 earnings of 22 cents per share, 4 cents ahead of the consensus estimate. Revenue rose 29.7% to $186.2 million. The cumulative number of reviews grew 29% to 115 million. The number of local advertising accounts grew 30% to 135,000. Earnings before interest, taxes, depreciation and amortization were $34 million, ahead of the $28 million consensus. EBITDA margin was 18%, the highest since 2014.
Local ad revenue jumped 41% and drove the upside to the quarter. Self-serve revenue increased 100% after the company released new tools for advertisers to place ads. Yelp is also adding ad bidding.
By my count, this is the third quarter in a row that local ad revenue grew in excess of 40%. Eat24 transaction revenue increased 33% to $15.9 million. Nowait, Yelp's reservation booking service, saw the total number of transaction increase 39% to 5.9 million.
The company also announced it would shut down its international business to focus on accelerating the U.S. business. The move will affect about 175 employees. The company will take a $3 million restructuring charge in the fourth quarter.
The company said it expects $191 million to $195 million in fourth-quarter revenue.
For the full year, Yelp said it sees revenue of $709 million to $713 million, above the consensus estimate of $707.6 million.
On a GAAP basis, the company is expected to lose 15 cents per share this year. But next year, analysts think Yelp can earn as much as 16 cents per share.
While that's not a lot, Yelp is certainly headed in the right direction. Yelp has beat the consensus analyst estimate three quarters in a row, which should give investors increased confidence in the company's execution. Yelp is on track to deliver 25% revenue growth in fiscal 2017.
I don't see any reason why this stock can't continue into the mid $40s based on pure earnings momentum.
This article is commentary by an independent contributor. At the time of publication, the author held no positions in the stocks mentioned.