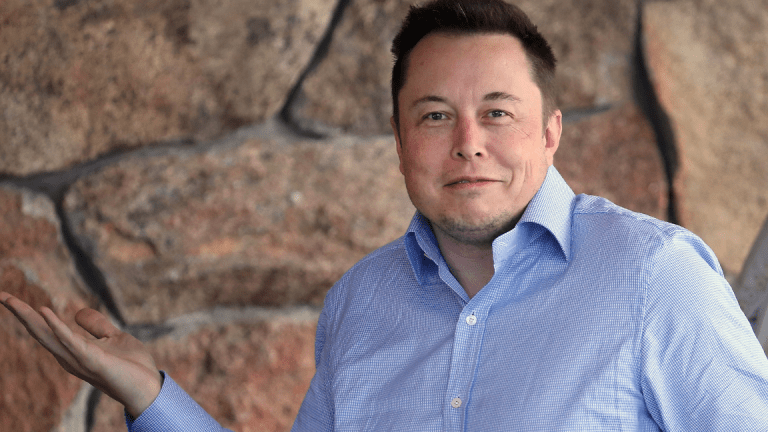 Publish date:
Does Tesla Urgently Need to Raise $10 Billion?
Goldman Sachs analysts say Tesla may need to raise an additional $10 billion by 2020.
Goldman Sachs analysts say Tesla may need to raise an additional $10 billion by 2020.
According to Goldman Sachs analysts, Tesla Inc.  (TSLA) - Get Tesla Inc Report needs to raise a ton of money -- and fast.
By 2020, analyst David Tamberrino says the automaker may need to raise up to $10 billion in the capital markets. Whether that comes from secondary stock offerings, bonds, debt, convertibles or some combination of all these options doesn't matter.
The point is still the same: Tesla needs capital.
CEO Elon Musk has made it pretty clear so far this year that he doesn't want to raise funds, though. The most recent instance came on Tesla's quarterly conference call where he said, "I specifically don't want to."
Musk says that Tesla should be profitable and cash flow positive in the third and fourth quarter of 2018. Even if we assume that to be true and that current automotive production boosts Tesla's bank account rather than draws on it, there's still a question of how it will fund other growth initiatives.
Think about it. This quarter (Q2) will hopefully be a bottoming period for Tesla. Break-even results in Q3 would be great and slight profit in Q4 would build on that momentum. But that takes us to 2019 already. Be generous and just assume cash stays near $2.7 billion. How then does Tesla start dolling out funds to these new initiatives? 
Last quarter, we saw Tesla's cash balance fall to roughly $2.7 billion from ~$3.4 billion just three months prior. Its debt climbed to $10.8 billion from $10.3 billion. Management slashed its CapEx budget to $3 billion from $3.4 billion and is undergoing a management restructuring. All of this is being done to cut down costs and improve efficiency. It's something that, quite frankly, anyone bullish on Tesla should want to see.
Given Tesla's growth projects -- the Model Y, a production facility and Gigafactory in China, the semi truck, Roadster and Solar Roof are the main ones -- it will need to deploy billions in expenditures.
Pro Tears Down Tesla's Model 3 and Here's What He Found
In that sense, Tesla has two options: Become wildly profitable with huge cash flows in the next six to nine months or raise capital. Even if the former were to come true, Tesla may still need to raise funds. Although admittedly, if it would be more advantageous to raise capital when its financials are stabilizing or improving rather than floundering. 
Personally, I think that's why Tesla is holding off on raising capital right now. They don't want to do it while struggling with Model 3 production and having other projects on the back-burner. Instead, Musk & Co. want to show that they can profitably produce the Model 3, S and X and then pitch investors on the future, where raising debt would be an easier endeavor.
Earlier this week, we looked at one way Tesla could raise capital this year without causing a stir among its current investors. With China lifting its joint-venture (JV) requirements, Tesla is in a unique position to own 100% of its operations in the country.
While one could certainly make a case for why Tesla should still go the JV route from a financial and execution standpoint, it's likely that Musk will not want to do that. That will leave Tesla needing billions to get up and running in the country, something it doesn't have at the moment.
Depending on how much Tesla wants to do, how fast it wants to do it and how much it can improve Model 3 production will determine how much capital it needs. In that sense,Tamberrino's estimate may prove to be too high, but there's no way of knowing for sure just yet.
Worth noting is that Goldman Sachs has a sell rating and $195 price target on Tesla.
This article is commentary by an independent contributor. At the time of publication, the author had no positions in the stocks mentioned.