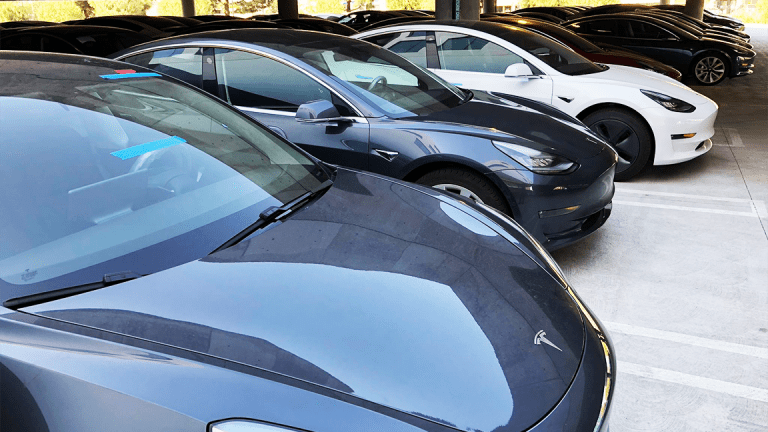 Does Tesla Have a Problem Delivering the Model 3 Right Now?
Tesla produced more than 53,000 Model 3s in the quarter, but it clearly has a logistics issue.
On Monday, reports surfaced that Tesla Inc.  (TSLA) - Get Tesla Inc Report had produced about 80,000 vehicles in the third quarter.
It was a rough estimate and not the official tally from the automakers. On Tuesday, though, Tesla confirmed that it had indeed eclipsed the mark, churning out 80,142 vehicles.
From TheStreet's early reporting, we know that Tesla produced 53,239 Model 3s - right in the middle of its prior forecast for 50,000 to 55,000 units. On the delivery front, Tesla delivered 55,840 Model 3 units to customers during the quarter, just shy of the 56,000 estimate analysts were looking for.
In total, it delivered 83,500 vehicles. Despite the news, shares are down about 1.5% to $305 a share near midday trading Tuesday. However, the stock's 17% rally Monday could be part of the blame. 
Making Sense of the Numbers
Doubters may point out a couple of things, the first being that Tesla didn't meet delivery expectations for the quarter. They may also note that producing 53,239 Model 3 units over a 13 week span doesn't come out to the 5,000 units per week that Tesla had achieved in the last week of June and was expected to maintain from there on out. It also highlights that Tesla was unable to achieve a production rate of 6,000 vehicles by the end of August.
But a realist will note that, based on the guidance management provided investors last quarter, we already knew production would fall near this rate. It wasn't a shortage of cash that constricted operations and it wasn't incompetence.
Management told us what to expect and they delivered. For this reason, Tesla continues to build credibility in many investors' eyes. Despite the "go-private" fiasco and ensueing settlement between the SEC and CEO Elon Musk, Tesla continues to deliver on its outlook.
Concerns persist, though. There have been a number of reports -- whether its "troops on the ground" reporting on Twitter (TWTR) - Get Twitter, Inc. Report or well-known publications -- showing that Tesla Model 3s are sitting in empty lots waiting to match with a buyer. Does that show that Tesla is producing Model 3s for the sake of production, without a buyer placing orders?
Perhaps.
What Are "Closed-End" Mutual Funds and How Do They Fit into Savvy Investors' Portfolios?Click here to register for a free online video in which TheStreet's retirement expert Robert Powell and an all-star panel run down all you need to know. 
There are several explanations for this situation. The first could be that, it's not efficient to produce each car based on individual orders. Rather, mass producing popular models and configurations then matching with a buyer post-production makes more sense. Also, Buyers could cancel their order after Tesla begins producing the vehicle, thus leaving it without a buyer at the moment. Or lastly, Tesla could be producing vehicles just to produce them and beat the numbers.
In the last scenario, though, it would burn through a ridiculous amount of cash as it's not generating any revenue or income based on the cars it's making. We'll find out in early November whether the company was able to generate positive cash flow and a GAAP profit - something management also said it was aiming for in the third quarter.
Flummoxed With Delivery
It's not all roses and sunshine with Tesla. One other explanation for Model 3s waiting for a match would be logistics. Tesla has gone from "production hell" on the Model 3 to "delivery hell" now that it is churning out units in excess of 50,000 per quarter.
The growth is impressive, as Tesla produced 50% more total vehicles than just last quarter. But that's causing many, many issues down the line.
Repairs can take weeks or months based on a shortage of spare parts. Delivery dates with customers who have waited months (or years!) for their car can be cancelled and rescheduled. Getting these Model 3s from Point A to B to C has proven to be a huge headache, and that's no surprise given that it went from producing barely any Model 3s to producing about 4,000 per week in a very short period of time.
Now in Q4, Tesla will need to find a way to alleviate its logistic issues and improve upon its delivery methods, all while continuing to improve production, margins and the bottom line.
Want to Buy Stocks for a 10% or Greater Discount? You can with certain so-called "closed-end" mutual funds - an often overlooked investment class. Click here to register for a free online video in which TheStreet's retirement expert Robert Powell and an all-star panel run down all you need to know.
This article is commentary by an independent contributor. At the time of publication, the author had no positions in the stocks mentioned.