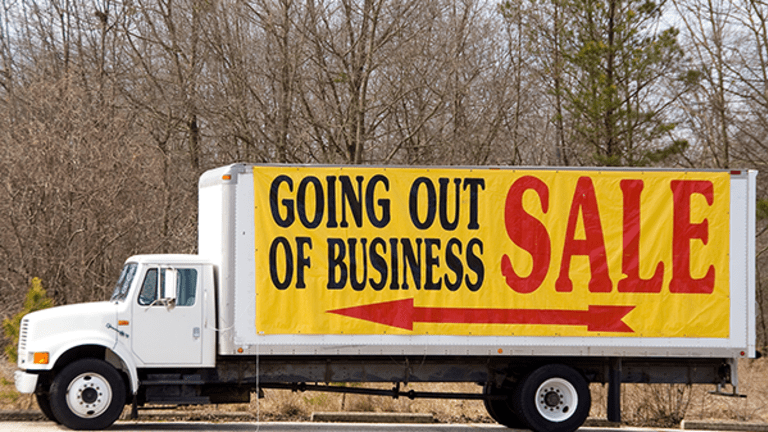 First Sears Will Die. Then Maybe J.C. Penney. Then...
Bricks-and-mortar retailers can't use slight improvements to fight off Amazon, RBC Capital Markets analyst Brian Tunick says.
Traditional retail is dying, that much is certain. What's uncertain is how fast it will take companies in the sector to bite the dust, and when that happens, which retailers will be left standing next to e-commerce titan Amazon.com Inc. (AMZN) - Get Amazon.com, Inc. Report .
The recent wave of second-quarter earnings from department stores gave us some insight into the latter.
J.C. Penney Shares Suffering Vicious Bear Siege as Wall Street Questions Future
No Doubt, the Retail Apocalypse Is Eating the Sector's Stocks Alive
J.C. Penney Co. Inc. (JCP) - Get J. C. Penney Company, Inc. Report , Macy's Inc. (M) - Get Macy's Inc Report , Kohl's Corp. (KSS) - Get Kohl's Corporation (KSS) Report and Dillard's Inc. (DDS) - Get Dillard's, Inc. Class A Report , for example, saw their stocks amass major losses, some more than others, over the past two days as earnings reports, despite some beating estimates, failed to prove that their businesses can survive the long haul. Nordstrom Inc.'s  (JWN) - Get Nordstrom, Inc. (JWN) Report stock originally rose after its earnings release on Thursday, Aug. 10, showing a same-store sales and online sales growth of 1.7% and 20%, respectively, but have since scaled back some of those gains on Friday.
"These are beaten up, hated names. They missed out on the entire market rally this year. Investors are just figuring out who's going to survive," RBC Capital Markets analyst Brian Tunick told TheStreet in an interview on Friday.
Read More: Is J.C. Penney Going the Way of Dying Sears?
Tunick said the market undoubtedly predicts the ever-struggling Sears Holdings Corp. (SHLD) will go belly up first, then possibly J.C. Penney, as it increasingly burns through cash. In the three months ended July 30, J.C. Penney held a scant $314 million in cash, from $429 million in the year-ago period.
"There's not a lot of conviction that J.C. Penney will survive five to 10 years," Tunick said.
Nordstrom is the best positioned of the group long term, with Macy's and Kohl's, although predicted to be less profitable, next in line in no particular order, according to Tunick. But, investors are still concerned about their lack of traffic growth (Macy's tourist traffic was down an alarming 9%), and they expect gross margins at all to remain pressured given the heightening promotional environment.
"Number one, we're going to remain very promotional," Macy's CEO Jeff Gennette assured analysts on a Thursday company earnings call. That statement likely only assured Wall Street that the legacy retailer's margins and profits will continue their slide.
Still, Tunick highlighted points of strengths in the quarter: most, including Kohl's and Macy's, began getting their inventories under control, and Nordstrom's online sales grew 20%. But, he said with mall traffic declining 5% to 10% each week, slight improvements here and there will not be enough for traditional retail to compete with Amazon.
"It's just going to be a bloody war as Amazon is on one side trying to gain market share," Tunick said, adding that the e-commerce conglomerate is taking steps, including its planned rollout of private-label clothing brand Prime Wardrobe, to capture $20 billion of the total roughly $315 billion U.S. apparel market.
Year to date, J.C. Penney stock is down 52.89%; Macy's, 42.36%; Kohl's, 20.28%; Dillard's, 5.54%; and Nordstrom, 7.2%. Meanwhile, the S&P 500 is up 9.22% year to date.
Don't miss these top stories on TheStreet:
Retail Rally and Anticipation About Jackson Hole Cause Market Jitters
50 Reasons Dying Sears Had No Choice But to Strike a Deal With the Ruthless Amazon