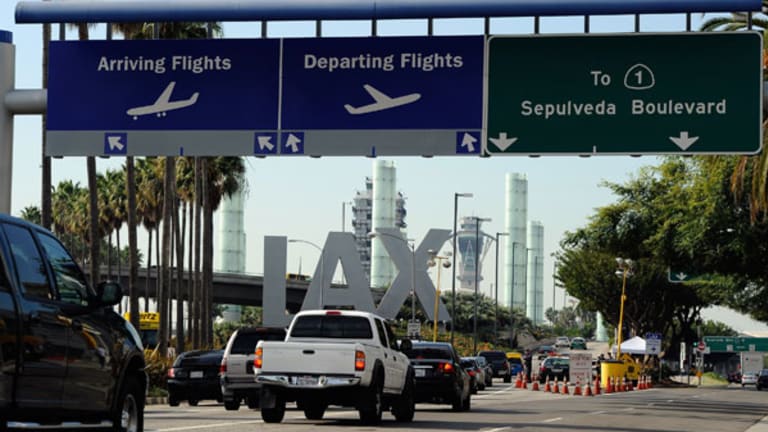 Does LAX Hold the Key to American Airlines' Future in Asia?
Delta connects in Seattle and United hubs in San Francisco, so to compete on the West Coast American must rely on LAX..
LOS ANGELES (
) -- Merger or no merger,
American
( AAMRQ) needs to get stronger in Asia and Los Angeles International Airport may offer its best hope to do that.
But LAX, despite holding vast advantages as an Asian gateway, is a tough place to bulk up because it is both intensely competitive and geographically impaired.
Delta
(DAL) - Get Delta Air Lines, Inc. Report
and
United
(UAL) - Get United Airlines Holdings, Inc. Report
, American's primary competitors, benefit not only from the post-World War II treaties that offered predecessors
Northwest
and
Pan Am
access to Asia, but also from strong positions at the other key West Coast airports -- San Francisco International and Seattle Tacoma International.
San Francisco is so strong a hub that United plans to try a new airplane, the
Boeing
(BA) - Get Boeing Company Report
787 Dreamliner, to fly to
, China, which has never before had non-stop service from the U.S.
Delta, meanwhile, is growing rapidly in Seattle, the closest major U.S. mainland airport to many Asia destinations. Delta said last week it will add 11 new domestic flights from West Coast cities (including Los Angeles) to Seattle in order to feed its six daily non-stops to Asia.
That leaves LAX, the third-busiest U.S. airport in 2012 with 64 million passengers, as well as the third-busiest U.S. international gateway after John F. Kennedy International and Miami International, as the best opportunity for a West Coast, Asia-oriented hub for American.
Unfortunately, it's tough to gain an edge at LAX, where four carriers -- the big three plus
Southwest
(LUV) - Get Southwest Airlines Co. Report
-- each have more than 10% of the traffic. According to airport figures for the first eight months of 2013, United had a 16.9% passenger share; American had 16%; Delta had 13.2%; and Southwest had 11.1%. In other words, every single domestic route presents a challenge, making it hard to build feed for international routes even as the vast amount of local Los Angeles traffic to Asia makes them seem alluring.
United's LAX hub offers about 200 daily departures to 65 destinations including three in Asia, while American's has about 160 daily departures to 51 destinations including two in Asia, Narita and Shanghai. Delta offers 125 daily departures to 38 destinations.
"American does need a strong anchor city on the West Coast, and the only one left that really matters is Los Angeles," said David Cush, a former American executive who is CEO of Virgin America, which ranks sixth at LAX with about 5% of passengers. "Los Angeles is a big market that is also a rich market, but it's complicated. It's been fragmented for a long time (and) it's as brutal as it can get in terms of competition. Several airlines have tried to claim it, and no one has been successful.
"I think American can, but you need to be patient when you expand in LA," Cush said, in an interview. "It takes a while for routes to mature; that's the lesson we all have to learn at LAX. There is no overnight success."
American does have some advantages at LAX, starting with a large presence by its Oneworld partners.
Air Berlin
,
British Airways
,
Cathay Pacific
,
Iberia
,
Japan Airlines
,
LAN
,
Malaysian
and
Qantas
all serve LAX.
Also American's Terminal Four is one of the two closest terminals to newly renovated Tom Bradley International Terminal, where most international carriers operate. The layout enables departing passengers who are connecting to international airline partners avoid going through security twice.
"LAX will be helpful for an improved Asian presence for American, but it will take a herculean effort to get control of that gateway," said aviation consultant Sandy Rederer. "LAX is integral to the strategic plans of United and Delta as well as American, which is to say that it's very hard for any of them to get the upper hand."
A problem is that LAX is too far south to be the most efficient gateway for Asia traffic to and from the large business centers of the U.S. interior. "The great circle from LAX to Incheon (Korea) or Narita runs right over San Francisco and close to Seattle," Rederer said. "For the Northeast, which generates a large share of the Asia premium traffic, LAX is very circuitous except to or from Southeast Asia and Oceania.
"Hong Kong and Taipei probably work but not Seoul, Tokyo, Beijing, Shanghai and smaller cities such as Chengdu," he said. "Depending on where you are, Washington Dulles, JFK, Detroit and Chicago are most direct followed by Seattle and San Francisco, then LAX. Delta also carries Asia traffic over Minneapolis and Salt Lake."
Looking ahead, the emergence of the Boeing 787 aircraft, smaller than other models used across the Pacific, creates the likelihood that more inland airports will have non-stop service to key Asia cities. Big hubs like Atlanta, Chicago O'Hare, and Dallas will very likely get more Asia service. "American could gain an agreement with its pilots to fly DFW-China (and) the 787 might make Charlotte a Pacific gateway," Rederer said.
For the moment, American's most pressing problem is to resolve the questions surrounding the planned merger with
US Airways
(LCC)
, which the Justice Department opposes. A merger could give American a somewhat bigger presence at LAX, although US Airways' market share is just 3%, ranking it eighth. Conceivably, a merger would lead to more capacity from US Airways hubs in Philadelphia and Charlotte or perhaps a change in traffic flows involving the Phoenix hub.
At the same time, veteran airline analyst Bob McAdoo of Imperial Capital in Los Angeles said American should be extremely careful as it seeks to grow its Los Angeles hub and its Asia presence. "Over time it will be impossible for American ever to have a comparable presence to Delta's or United's in Asia, just as it will be impossible for United to have a comparable presence to American's in Latin America," McAdoo said.
"If American is going to try to create a comparable presence in Asia, it will have to add a lot of service at LAX that doesn't make sense," he said. "They would waste hundreds of millions of dollars trying to do that."
McAdoo said a merger with US Airways might, in fact, result in less presence at LAX. He noted that US Airways eliminated the Las Vegas hub operated by predecessor
America West Airlines
because it lost money, and said he awaits the completion of the merger and the day when "Scott Kirby (US Airways president) gets his hands on the American operation at LAX, because he will make it profitable."
-- Written by Ted Reed in Charlotte, N.C.
>To contact the writer of this article, click here: