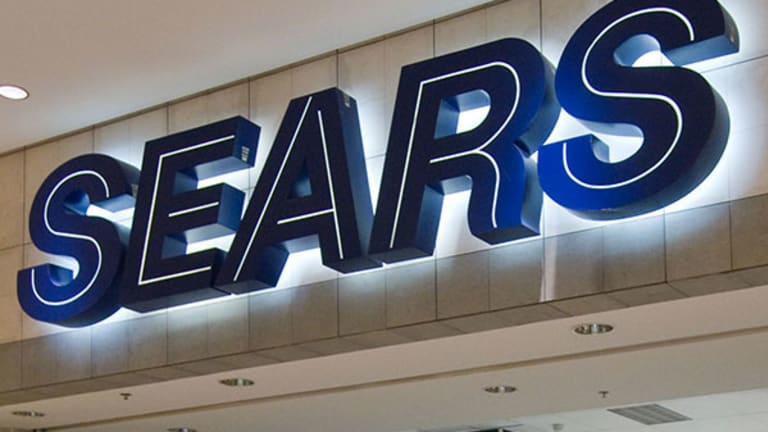 Does Anyone Shop at Sears Anymore?
If there is anything good to say about Sears Holdings' third-quarter earnings report, it's hard to find.
NEW YORK (TheStreet) -- If there was anything good to say about Sears Holdings' (SHLD) third-quarter earnings report, it was hard to find.
The Hoffman Estates, Ill.-based retailer, run by hedge fund manager Eddie Lampert, reported a net loss attributable to shareholders that widened in the Nov. 2-ended quarter to $534 million, or $5.03 a share. Last year's quarterly loss attributable to shareholders was $498 million, or $4.70 a share.
Revenue dropped 6.6% to $8.27 billion, which Sears attributed to fewer Kmart and Sears full-line stores in operation, lower domestic comparable-store sales and the separation for the Sears Hometown and Outlet stores, which occurred in the third quarter of 2012.
Analysts, according to Thomson Reuters, expected the company to post a whopping loss of $3.13 a share on revenue of $8.38 million.
Sears' adjusted loss of $286 million for the quarter was in the range that the company had previously announced.
Sears' results beg the question: Is anyone even shopping at Sears or Kmart anymore? The competition may be too much to bear for this retailer.
"The results from Sears are not those of a company set up to thrive and survive in holiday 2013, or be around for holiday 2020," said Brian Sozzi, CEO and chief equities strategist at Belus Capital Advisors.
The company announced at the end of October that it was considering spinning of Lands' End and possibly selling its Sears Auto Centers. It was also selling five Canadian store leases.
Sears forecast a third-quarter adjusted operating loss between $250 million and $300 million, compared to a loss of $156 million in the prior year's quarter. It also said that quarterly comparable-store sales through Oct. 26 dropped 3.7% overall and by 4.8% in its domestic stores.
Sears said Thursday that comparable-store sales declined 3.1%, with Kmart comp sales falling 2.1% and Sears' domestic stores dropping 4%. The company must have seen some pick-up in the final week, as the numbers are slightly better than the comps it previously reported.
"The decline at Kmart reflects decrease in our transaction categories, such as grocery and household and drugstore, as well as declines in consumer electronics and toys," according to the company's earnings release. "These decreases were partially offset by increase in the apparel and seasonal and outdoor living categories."
"The decline at Sears Domestic reflects decreases in most categories including the consumer electronics, lawn and garden, tools, home appliances and apparel categories as well as declines at Sears Auto Centers, partially offset by an increase in the home category," it said.
Gross margin fell 23.3% of revenue compared to 25.4% in the prior-year period.
Written by Laurie Kulikowski in New York.
Disclosure: TheStreet's editorial policy prohibits staff editors, reporters and analysts from holding positions in any individual stocks.