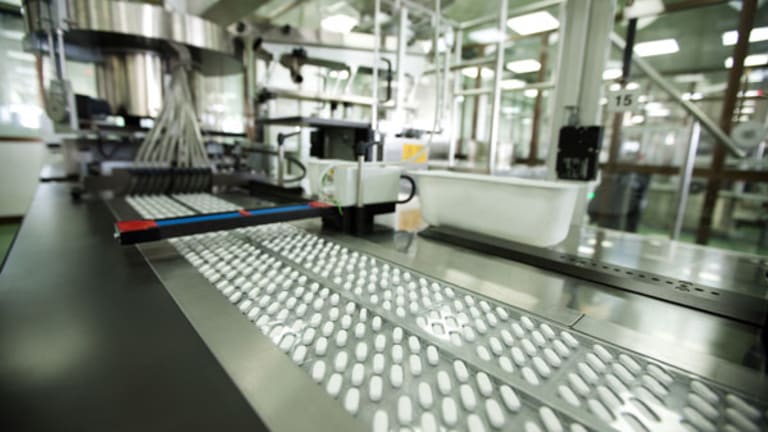 Doc Offers Top Hep C Drug Picks: BioBuzz
Vertex, InterMune, Pharmasset get positive reviews after recent Hep C meeting.
Vertex, InterMune, Pharmasset get positive reviews after recent Hep C meeting.
CAMBRIDGE, Mass. (
) --
Vertex Pharmaceuticals'
(VRTX) - Get Report
experimental hepatitis C drug telaprevir was the star of last week's big hepatitis C research meeting, according to a well-respected doctor in the field who briefed institutional investors this afternoon.
Dr. Stefan Zeuzem of the Saarland University Hospital in Germany was the featured speaker on an investor conference call sponsored by JMP Securities Monday. JMP analyst Liisa Bayko asked Zeuzem to offer his thoughts on the hits and misses coming from last week's annual meeting of the American Association for the Study of Liver Disease.
Zeuzem is a key opinion leader in Hep C, works with most if not all of the experimental drugs in clinical trials, and is therefore widely sought out by professional investors for insights into what's working -- or what's not -- in Hep C drug development.
Among Zeuzem's comments on Monday's conference call:
Data from Vertex's telaprevir was the most important and discussed during the meeting. The high cure rates seen in the so-called C208 study of treatment-experienced patients were probably as high as the field will ever see with a protease inhibitor. Zeuzem also called the data on twice-daily dosing of telaprevir "convincing," but he's still cautious and would like to see additional, confirmatory data from a larger study.
The Hep C field is moving quickly to test treatment with two direct anti-virals against the Hep C virus, and hopefully eliminate the need for long-acting interferon and ribavirin -- the current standard of care for the disease.Zeuzem was impressed with the two-week antiviral activity shown in the so-called INFORM-1 study in both treatment-naïve and treatment-experienced patients. This study treats patients with a combination of InterMune's (ITMN) RG7227 and Pharmasset's (VRUS) RG7128. (The study is being co-sponsored by Roche, which co-owns development rights to both drugs.)He also noted that other companies, including Vertex and Bristol-Myers Squibb (BMY) - Get Report, plan to begin their own two-drug direct anti-viral combination studies next year.
Side effects of earlier-stage Hep C drug continue to raise some concerns, including elevated levels of jaundice and bilirubin in patients treated with Boehringer Ingelheim's BI-'335. Zeuzem said more analysis was needed before the side-effect profile of the drug was clear. Zeuzem said the jury was also still out on Schering-Plough's( SGP) second-generation protease inhibitor narlaprevir, which uses a common HIV drug known as ritonavir to boost blood levels.
Zalbin, a twice-monthly interferon from Human Genome Sciences( HGSI) and Novartis (NVS) - Get Report, might appeal to some patients who care most about reducing the number of injections required. He was less enthusiastic about another long-acting interferon from Zymogenetics( ZGEN) and Bristol-Myers Squibb, mainly because the drug is so early in development that it may become irrelevant if treatment with interferons and ribavirin are shelved due to the success of direct anti-viral drugs.
Xoma Waffles on Timing of Drug Partnership
(At 10:23 AM ET)
Xoma
(XOMA) - Get Report
management backed away Monday from its previously stated promise of a Big Pharma partnership for its diabetes drug XOMA 052 by year's end.
The company now says that potential partners may need extra time to review new preclinical data of XOMA 052 in cardiovascular disease, which could significantly increase the value of the drug beyond diabetes.
Um, OK, but I bet if Xoma polled its shareholders today, most would be more than happy to see the company make good on its initial promise and bring home a diabetes partnership for '052 this year.
What we're getting instead looks suspiciously like stalling tactics, even with the dangled promise of a bigger deal that could encompass diabetes and cardiovascular indications.
At best, Xoma is sending investors mixed signals. On the one hand, the company says it has all the '052 data necessary to land a partnership today. But why, then, is the company also starting new studies in diabetes and cardiovascular disease, which it says partners may want to look at?
Xoma says it is speaking to many interested partners and those who wait for the next slug of '052 diabetes data expected in the third quarter 2010 may risk losing out to a competitor. But if there's already multi-party interest in '052, why can't Xoma management get a contract signed sooner rather than later?
Xoma's stock price clearly reflects a skepticism over '052 and the company's ability to pull off a significant partnership. Monday's conference call did nothing to dispel those doubts.
Ariad Upgraded, Xenoport Drug Delayed
(At 7:51 AM ET)
Shares of
Ariad Pharmaceuticals
(ARIA)
may see some action Monday after a JPMorgan analyst upgraded the stock to overweight from neutral
Cory Kasimov boosted his Ariad rating Monday morning based on two upcoming catalysts from the company's drug pipeline: 1) Results from a phase I, proof of concept study of AP24534 chronic myeloid leukemia expected at the American Society of Hematology meeting in early December; and 2) the second interim analysis from a pivotal phase III study of ridaforolimus in sarcoma in the first quarter of next year.
"All in, we believe ARIA shares are attractive given an enterprise value of
less than $200 million despite having an oncology asset (partnered with Merck) in a pivotal program, and a second wholly owned asset with exciting, albeit early, data that is poised to move into pivotal development in 2010," writes Kasimov. He has a $6 price target on the stock.
Aria shares closed Friday at $2.17.
FDA Delays Approval Decision on Xenoport Drug
The Food and Drug Administration has delayed by three months an approval decision on XP'512 for restless leg syndrome.
GlaxoSmithKline
(GSK) - Get Report
and
Xenoport
(XNPT)
are the drug's developers.
In a statement late Friday, the two companies says FDA is taking another three months to review a risk management plan for XP'512, which will push back the approval decision date to Feb. 9, 2010 from today.
-- Reported by Adam Feuerstein in Boston
.
Adam Feuerstein writes regularly for TheStreet.com. In keeping with TSC's editorial policy, he doesn't own or short individual stocks, although he owns stock in TheStreet.com. He also doesn't invest in hedge funds or other private investment partnerships. Feuerstein appreciates your feedback;
to send him an email.